Once a working fishing village and thriving smuggling port, now Polperro has emerged as a delightfully charming tourist destination equipped with spectacular seascapes, a picturesque harbour with colourful boats, attractive coastline, and untouched ancient fishermen's cottages set on steep hillsides with narrow lanes. Undoubtedly, a serene landscape for those who are looking for an amazing holiday in Cornwall. Although Polperro is small, there's more to do than meets the eye. Nestled within Polperro Heritage Coastline in South East Cornwall, this timeless village offers a rich fishing heritage.
This post may contain affiliate links, which means I may receive a commission, at no extra cost to you, if you make a purchase through a link. Please see my full disclosure for further information.
Here are the best things to do in Polperro and things to do near Polperro with kids.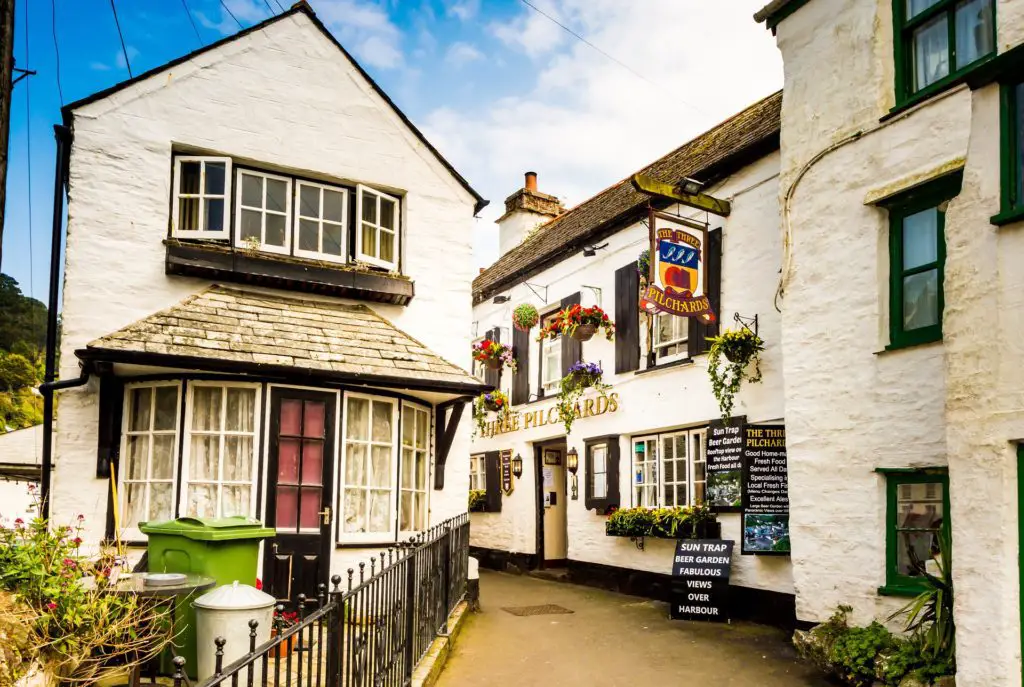 Best Things to Do in Polperro, Cornwall With Kids
#1 Learn About the Remarkable Smuggling and Fishing History of Polperro at Polperro Heritage Museum
Among the best things to do in Polperro, the quaint little museum overlooking a harbour will guide you through the local history of skulduggery, smuggling, and fishing that are all a huge part of the town's heritage.
Your kids will be fascinated by hundreds of beautifully handwritten exhibits with old photographic records, odd artefacts, and an amazing collection of ship models spreading over two floors in the museum!
Opening Times: 10.30 am – 4.30 pm (low season), 10 am – 5 pm (high season) from Easter to October
Admission: Adult £2.00 | Children (under 12) £0.50 | Children (under 5) FREE
#2 Visit Polperro Model Village and Watch Superstitious Cornish Folklore Show
Your little ones will enjoy the detailed and accurate depiction of Polperro at Polperro Model Village while spotting key sites around the village. Kids will be fascinated by the history of Polperro, including the devastating flood which befell the village years ago and learn about the legends and superstitious Cornish folklore that have been around for many years.
Opening Times: Sunday to Friday, 10.30 am – 6.00 pm from Easter to October
Admission: Adult £3.00 | Child £2.00 | Seniors £2.00
#3 Walk Around Scenic Polperro Harbour and The Surrounding Headlands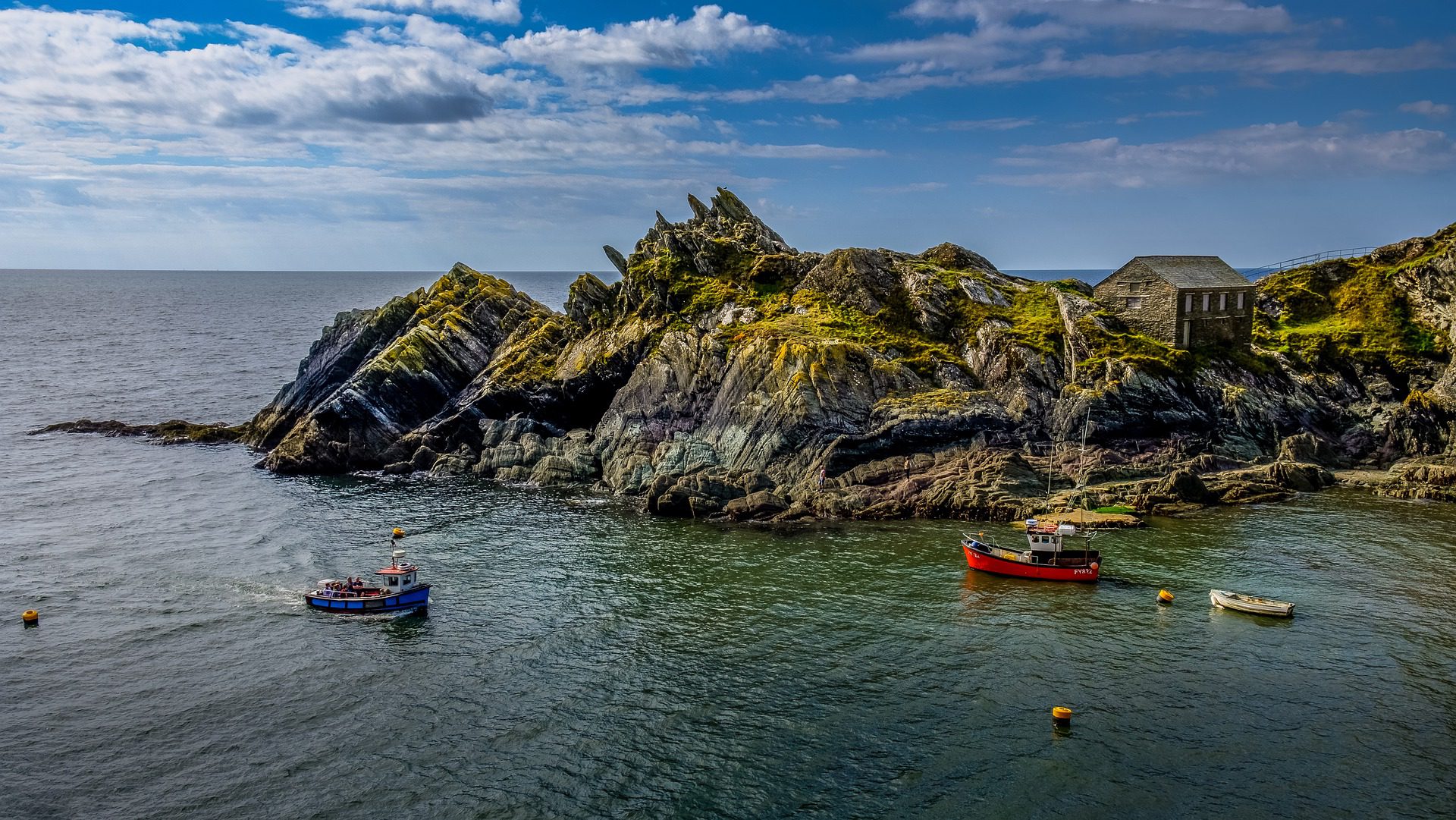 Without a doubt, walking around Polperro Harbour and the surrounding headlands is one of the best things to do around Polperro. Let the kids follow their natural curiosity by exploring the stunning Polperro Harbour and its surrounding headlands on foot.
A stroll through the old narrow streets to the harbour while watching the colourful boats coming in and out. Stop by at one of the best Polperro restaurants or some of the historic sites in Polperro, such as the old net loft set on Chapel Rock, the lighthouse, Chapel Pool, and nearby medieval chapel site.
#4 Take a Dip or Snorkel in Nature's Creation Swimming Pool Called Chapel Pool
This hidden gem created by nature is a tidal pool, which is filled up naturally by the sea at high tide and becomes a swimming pool when it is half tide.
You can either take a dip or snorkel as the water is being heated throughout the day. There's plenty of sea life to spot, too, including seaweed, starfish, crab, and other sea life creatures. Why not bring a bucket, crab lines or nets; who knows what you might be able to catch.
Opening Times: All year, but make sure you check the tides. Late summer is the best.
#5 Splash Around and Build Sandcastles on Polperro Beach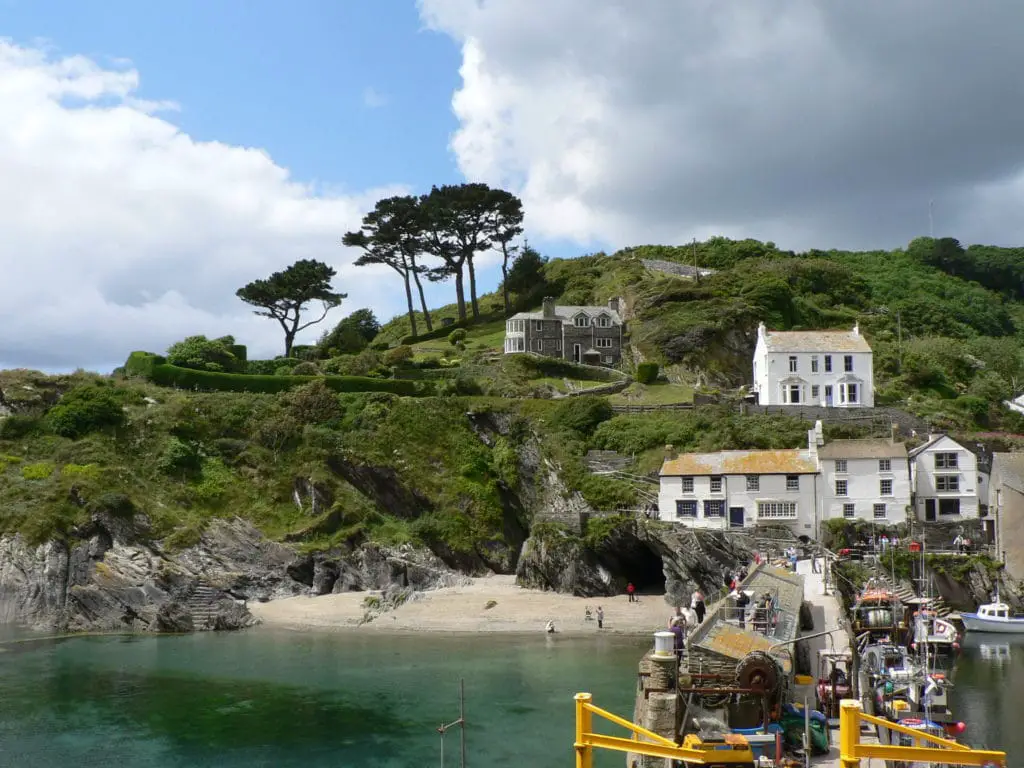 Although Polperro Beach is just a tiny sandy beach and available only at low tide, this spot is still one of the best things to do in Polperro and perfect for families with small kids to spend few hours splashing around, building sandcastles or even go for a paddle! Not to mention that the gorgeous beach features old smugglers' caves, steps, and old moorings carved out of the rocks.
It is also very close to the village, so you can easily access the nearby toilets, shops, and cafes. Such a convenience if your kids suddenly craving for an ice-cream after spending their good time on the beach.
#6 Take a Boat Trip from Polperro Harbour
Polperro Harbour is still a working harbour, and you can still see the fishing boats coming in and out of the harbour as part of daily life. For that reason, fishing in the sea and going for pleasure boat trips are considered among the best attractions near Polperro.
What better way to brighten your day than watching the dolphins swimming under your boat or bringing back your catch of the day, from pilchards and Pollock to mackerel. A boat trip is a great way of creating a memorable experience with your kids! Besides that, it is just a fantastic way of seeing the beautiful Cornish coastline from the boat.
Admission: Adult £6.00 | Child £3.00 | Baby FREE
#7 Visit The Many Art Galleries & Gift Shops
Polperro has attracted many fantasic artists and photographers. Polperro things to do with kids include visiting the art galleries showcasing a spread of unique arts and crafts exhibits such as painting, ceramics, woodturning, and sculptures.
Besides that, Polperro shops also offer a wide selection of beautiful things that might interest you and your kids, such as books, large crystals, mystical paintings, shells, and more!
Things to Do Near Polperro With Kids
#8 Take the Cliff Path to Explore the Secluded Smuggling Coves of Talland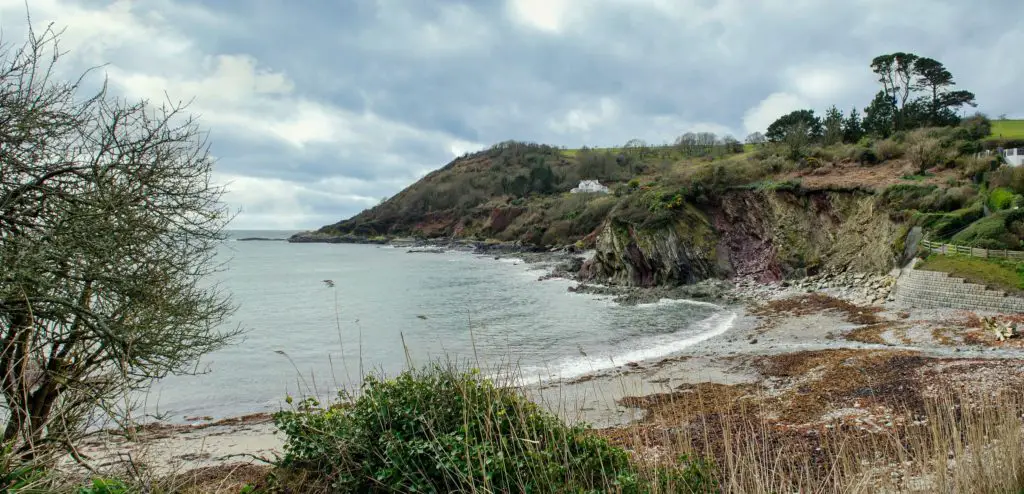 If you are a family with older kids and feeling adventurous, Talland Bay is one of the best places to visit near Polperro and one of the best things to do. Polperro has a walking trail along the coastlines for about 20-30 minutes, and you can enjoy the spectacular sea view before reaching the secluded twin coves of Talland Bay.
The main beach, Talland Sand, is top-rated among family holidaymakers due to the nearby facilities such as car park, toilet, shop, and Talland Bay Beach Café. Meanwhile, Rotterdam Beach is being famous for being the site of many shipwrecks!
Best Places to Eat in Polperro With Kids
Michelle Restaurant: A little hidden gem with outstanding atmosphere, reasonably priced, gorgeous food, and generous portion provided by a lovely team. They also provide a highchair, a colouring book, and pencils for those families with children.
The Three Pilchards: The oldest pub around Polperro Harbour with a huge range of food for children, vegans, and those with allergies! A family and dog-friendly place with well-priced food and generous portions.
The Blue Peter Inn: A small, authentic Cornish inn in the heart of Polperro offers a great view, fantastic food, and services. Family seating is set upstairs, out of the bar area and overlooking the harbour. A dog-friendly place!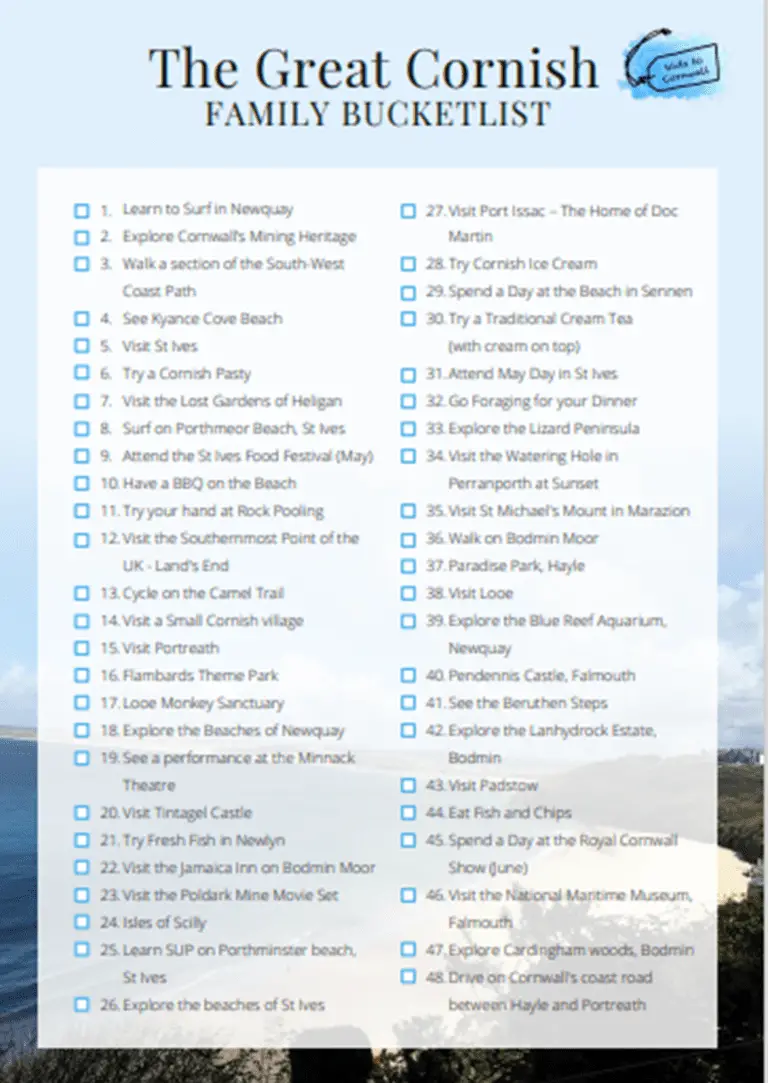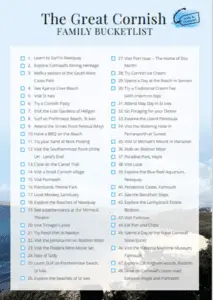 FREE FAMILY BUCKET LIST PRINTABLE
Subscribe to our email list today to gain access to our monthly newsletter and a FREE Ultimate Cornish Family Bucket List Printable:
Bet Family Holiday Cottages