Looking for stone circles in Cornwall? Cornwall's ancient sites are some of the most beautiful and unique in the world. If you, or your loved ones, are charmed by stone circles, you're not alone.
Thousands flock to Cornwall every year to witness the splendour of these prehistoric monuments. But don't worry, due to their outdoorsy locations, the stone circles in Cornwall never feel busy or crowded.
Plus, you get to enjoy the great Cornish landscape while exploring these ancient stone monuments, which are so central to the history of Cornwall.
This post may contain affiliate links, which means I may receive a commission, at no extra cost to you, if you make a purchase through a link. Please see my full disclosure for further information.
The Stone Circles of Cornwall
What we call stone circles are prehistoric stone structures, sometimes formed of straight lines but more typically arranged in a circle, or at least the remains of one.
They're extremely old, dating back to the early Neolithic period and the Bronze Age – the oldest are around 5000 thousand years old!
Almost all stone circles are found in Northwest Europe, and – fun fact – West Cornwall has the highest concentration of ancient sites in Europe!
If you're hungry for more interesting Cornish trivia, you can check out our fun Facts about Cornwall.
How Many Stone Circles are in Cornwall?
There are 16 stone circles in Cornwall – that we know of. Undoubtedly there are countless ancient stones in England lying hidden under the earth.
The ones we know about are some of the most famous stone monuments in Britain. Most of the stone circles in Cornwall are scattered widely around the region and as such, this could be a perfect opportunity to take a family Cornwall road trip!
Where are the Standing Stones in Cornwall?
Most of the best-preserved remains of Britain's standing stones can be found in remote areas of southern UK, such as Bodmin moor or Dartmoor – which sits in Devon, right on the edge of Cornwall.
Usually, they form part of field systems or ancient pathways, though occasionally, they can be found in courtyard houses. Along with standing stones, there are also many holy wells, burial chambers, and Iron Age ruins to check out.
Stone Circles in Cornwall
There are many stone circles in Cornwall to explore:
Pipers of Boleigh, Near Penzance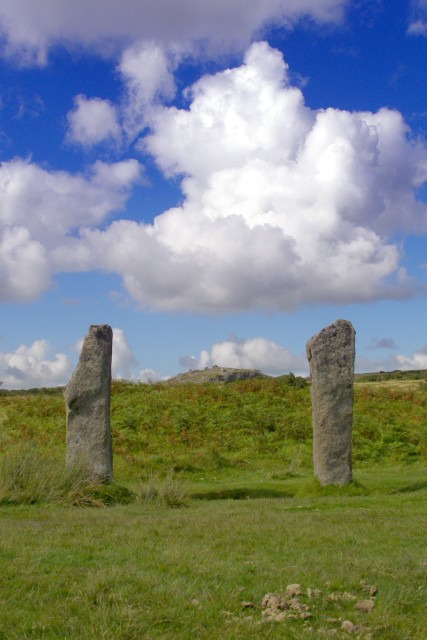 Every stone tells a story. The Pipers are some of the most well-known standing stones in Cornwall and some of the easiest to find. Located in West Cornwall, only about 4 miles out of Penzance, these two huge menhirs sit about 100 metres apart and measure 4.5 and 5 metres high, respectively – the largest surviving standing stones in Cornwall.
While nobody knows for sure why these ancient structures were built, there are certainly numerous stories to explain their existence. The best-known myth is that these two standing stones were once two people playing the pipes and offering musical accompaniment to the nearby merry maidens who were dancing to their tune on the Sabbath day and as such, cursed for their actions and turned to stone forever!
Merry Maidens Stone Circle, Penzance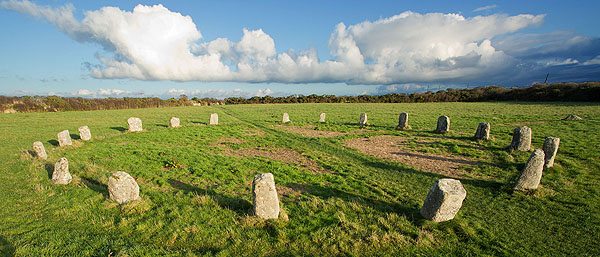 Another of the best-known landmarks in Cornwall; the maidens stone circle. Made up of 19 granite blocks of different shapes and sizes, they form a circle around 23 metres wide.
As mentioned above, the story goes that these nineteen stones were once young maidens who dared to dance on the Sabbath day, thereby insuring God's wrath, and were punished along with the two pipers as a warning to others.
Today, the site is a popular pagan monument, and people often gather to celebrate special occasions such as the solstice or equinox.
The perfect circle is also rumoured to have mystical fertility powers for any who gather there, so it might be best not to visit after dark.
Both the Pipers and the Merry Maidens date from the late Neolithic Bronze Age – around 2500 – 1500 BC and are believed to have been erected roughly the same time.
Mên-an-Tol, Morvah, Penzance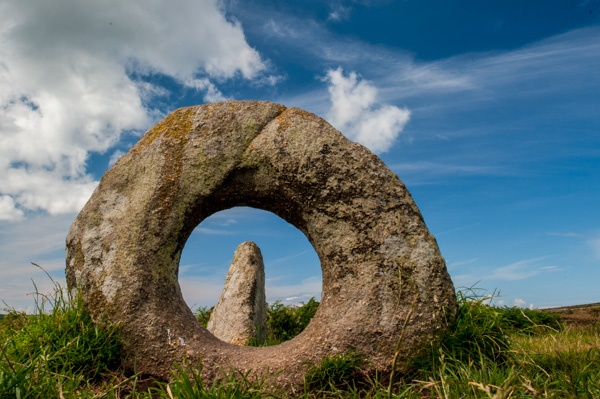 A great one for curious kids, the Mên-an-Tol – meaning 'the stone of the hole' consists of several stones about 3 miles northwest of Madron.
The reason kids love it is the central stone which has been carved into a near-perfect circle and makes for an ideal feature in any child's imagination.
Again, nobody knows the real reason for the construction of this monument, but the circular stone is rumoured to have mystical healing properties.
Legend says that if you can cure your child of rickets if you perform a complicated ritual which involves walking around the stone anti-clockwise 9 ties with the baby in your arms before passing it through the hole backwards.
It was also said to cure back pain and protect against evil charms in adult, though of course, grown-ups had to crawl through the hole.
Mên-an-Tol can be found on moorland in an Area of Outstanding Natural Beauty by following a path from Ding Dong mine or the way from the road out of Penzance to Morvah.
Boscawen-Un, Penzance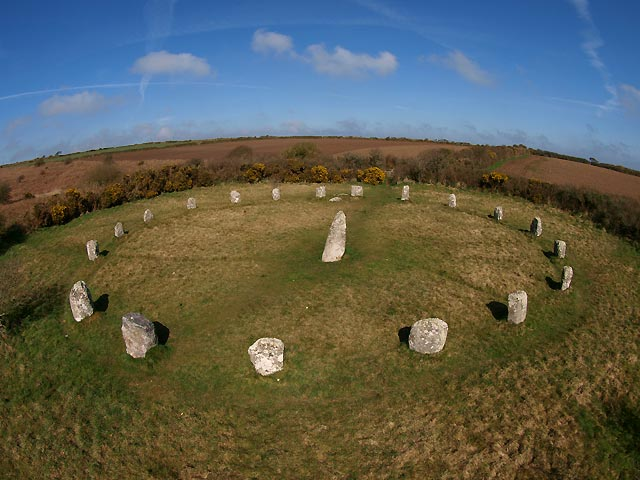 In some ways similar to the Merry Maidens, the Boscawen-Un – Cornish for 'elder tree on the downs', are a set of 19 granite stones with one central leaning stone which seems to point toward the direction of the midsummer solstice sunrise. They are not particularly large at around 1 to 3 metres tall but are beautiful to behold.
Once again, the origins of this place are lost in the mists of history, but these upright stones undoubtedly held sacred and ceremonial importance for those who built it.
There is a faint carving of two axes on the central stone, which could also be a set of feet. Nobody knows!
Located between Penzance and Land's End, this site can be a bit trickier to get to as there is no set car park, and you may have to follow a winding path or two.
Duloe Stone Circle, Near Liskeard and Looe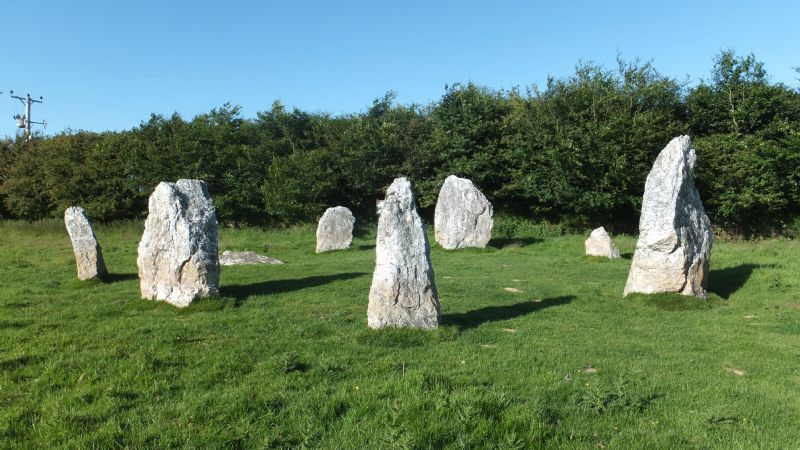 The Duloe stone circle isn't actually a circle – it's an oval, but that doesn't stop it from being one of the most beautiful sites in England. This circle is actually the smallest in Cornwall, though it has some of the largest stones.
But what's really remarkable is the type of stone. While most stone circles in the UK are made of granite blocks, the Duloe circle is formed of quartz, meaning that they shine almost bright white when the sun hits them.
Easily to find between Liskeard and Looe, there is a signposted track from the village which leads you right to them.
Recent Posts
5 shares Share Tweet Pin The coastal path from St Ives to Carbis Bay is one of the most scenic walks in Cornwall. This St Ives to Carbis Bay walk is a small yet beautiful part of the Carbis Bay coastal path. The route is part of the South-West Coastal Path, a long-distance footpath of…

Looking for stone circles in Cornwall? Cornwall's ancient sites are some of the most beautiful and unique in the world. If you, or your loved ones, are charmed by stone circles, you're not alone. Thousands flock to Cornwall every year to witness the splendour of these prehistoric monuments. But don't worry, due to their outdoorsy…

When planning a trip to Cornwall with kids, one of the biggest concerns is finding suitable accommodation. Luckily, there are plenty of options in Cornwall; hotels, b&bs, holiday parks, and guest houses are all great options. But, if you are looking for something a bit different, with a bit more freedom, why not consider staying…