If you're searching for a luxury hotel in Cornwall, let yourself be guided to Talland Bay Hotel, which claims to offer the best sea view in the West Country. It can feel overwhelming figuring out Where to Stay in Cornwall; however, Talland Bay Hotel appeals to everyone – from families used to 5 star hotels in Cornwall and those who like embracing nature and exploring the South West Coast Path. If your criteria for a place to stay include hotels that take dogs in Cornwall, Talland Bay Hotel is just the place. Dogs, children and parents alike will love the beach that is walkable from Talland Bay Hotel- a hidden gem just waiting to be found.
This post may contain affiliate links, which means I may receive a commission, at no extra cost to you, if you make a purchase through a link. Please see my full disclosure for further information.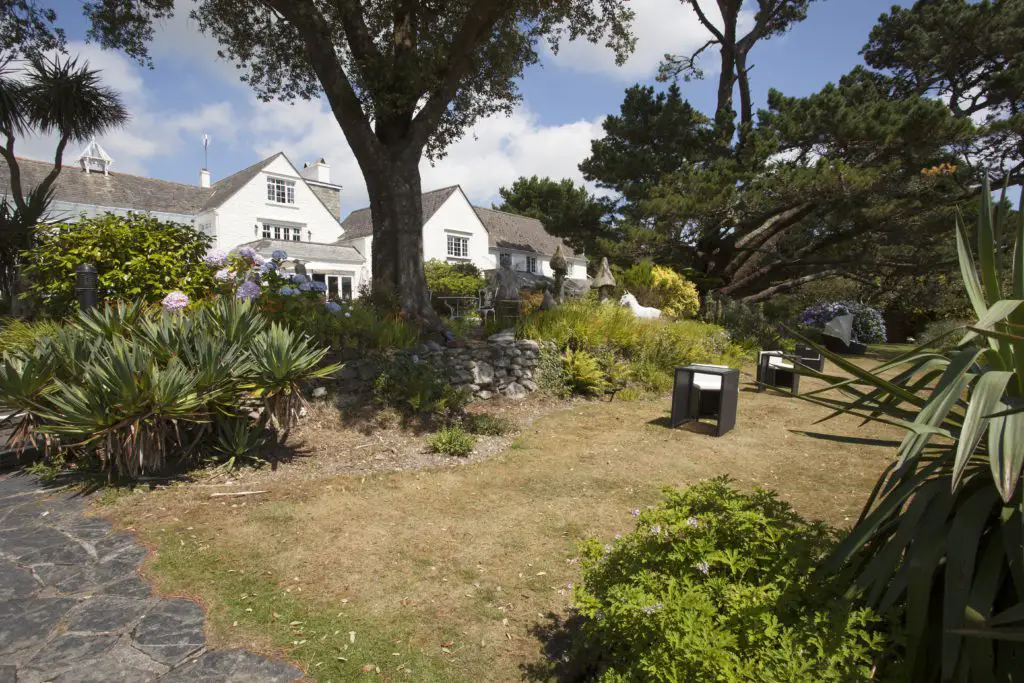 Booking Process at Talland Bay Hotel
The high standard of everything you experience at Talland Bay Hotel Porthallow, Looe, begins with the booking process. Availability is released far in advance, so go ahead and book your trip ahead of time.
The summer months are definitely the busiest at Talland Bay Hotel. Similarly, weekends get booked up far in advance at this luxury Cornwall hotel. Why not try booking a mid-week break, exploring some of their special offers, or even checking in during the cooler months of either April/May or September/October?
We found it easy to find all of the information about what rooms were on offer for us when staying in Cornwall with kids. There are lots of useful reviews to take a look at if you're unsure of which is the best option for your needs.
Where is Talland Bay Hotel Located?
Talland Bay is located among beautiful surroundings, overlooking the Southwest coast path and a very short distance from Talland Bay Beach. Jusr a short drive away, you'll find the beautiful Polperro. You can view some amazing things to do in Polperro with kids here. Driving North up the Cornwall coast, you'll find the stunning town of Looe – a favourite for families. View the best things to do in Looe here.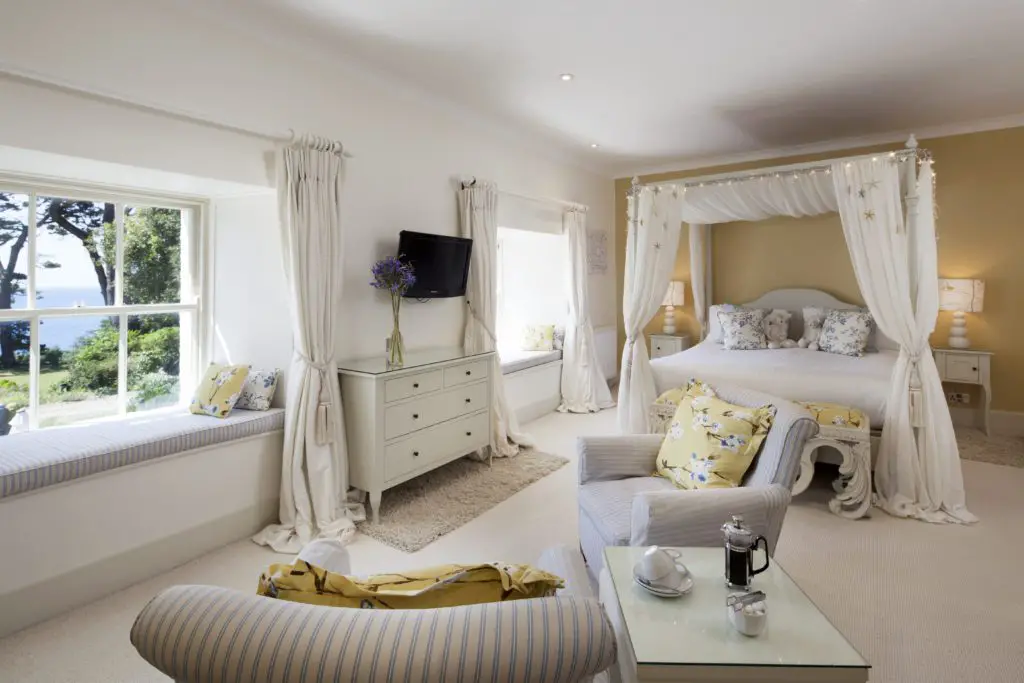 Despite being undeniably a luxury hotel in Cornwall, there is an endlessly welcoming feel to Talland Bay Hotel. Parents will appreciate the White Company toiletries in the rooms, whilst kids will love running around the gardens and exploring the trinkets tucked away behind every corner.
If you're staying in Cornwall with kids, we'd really recommend going for one of the lovely Talland Bay Hotel Garden Cottages, which are located on the grounds. Easily accessible to all of the hotel's amenities, these cottages give you a little extra space to settle in, and you won't have to worry about keeping the kids quiet if they wake early!
Staying with children in Cornwall usually means squashing into one room or finding larger options. The Talland Bay Hotel cottages are an excellent middle option with a comfortable double bed as well as a sofa bed offering a good night's sleep for 2 young children. Plus, with all the fresh sea air to enjoy, you'll all be fast asleep before you know it!
View the latest rates here:
Walks from Talland Bay Hotel: Exploring South West Coast Path
Hotels that take dogs in Cornwall are great, but they're even better when they have such instant access to the South West Coast Path. Be careful when you're at the beach and check whether dogs are allowed to go off lead, as rules can vary depending on the time of year.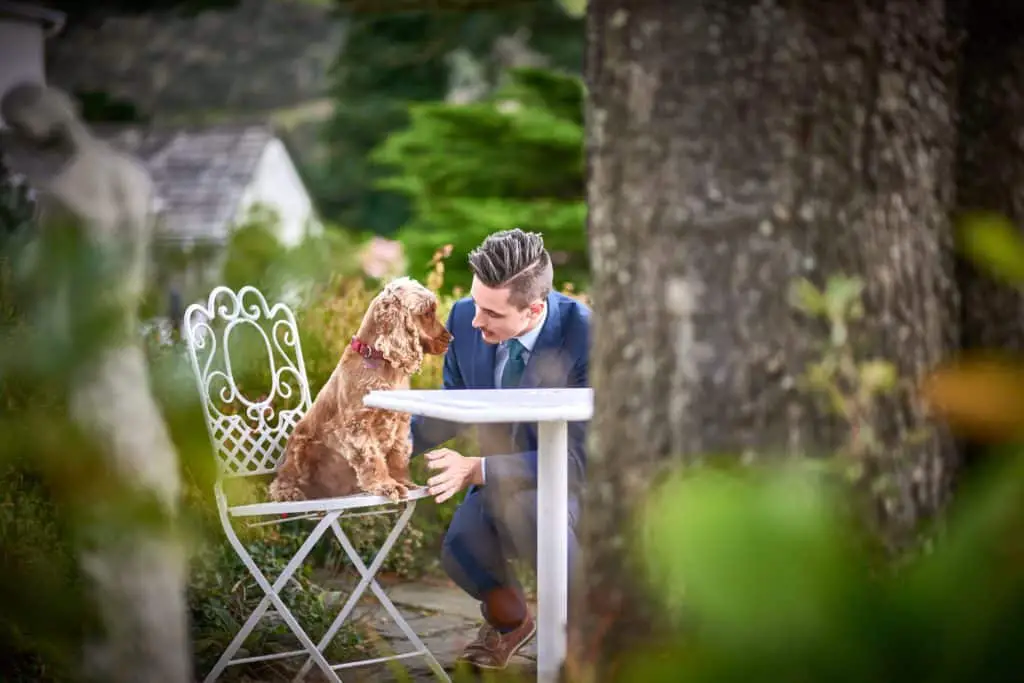 The terrain is relatively steep here – we had a young toddler in a backpack which was ideal, but younger children could just do shorter walks. The captivating sea views will provide an excellent distraction, and you can stop to try and spot dolphins and seals as you go. The closest beach to the hotel is down a hill, but you'll find other family friendly beaches close by.
There are so many incredible walks along Cornwall's South Coast, and Talland Bay Hotel has the ideal spot to explore this more secluded South East spot.
If you're looking to head for some more town-based activities, why not take a drive and visit some of the beautiful towns in Cornwall nearby?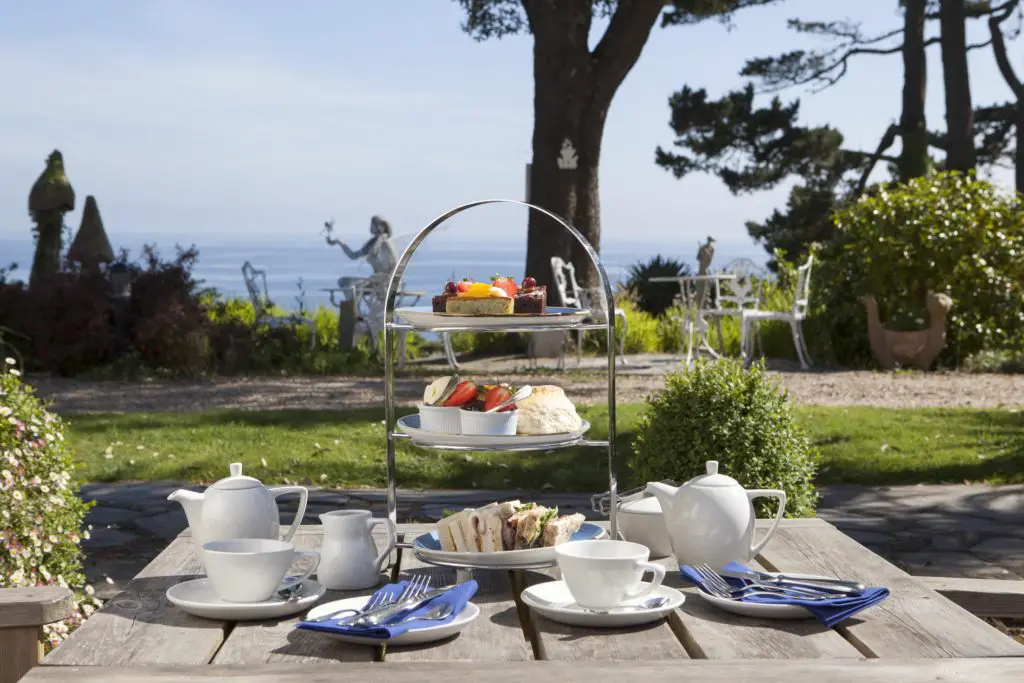 From a hearty breakfast, dinners and the lovely Talland Bay afternoon tea in between (which is known for miles around), the food here is excellent.
Exploring Cornwall with kids can be hungry work, and you'll probably all work up an appetite running on the beach, splashing in the waves and exploring nearby walks. At Talland Bay Hotel, all of the food is made from the highest quality local ingredients. The menus change seasonally, so you'll get to experience a true farm-to-fork experience.
The Afternoon Menu is perfect for sharing, and there's a sweet and a savoury option available. There are lots of excellent restaurants in Looe but there's something comforting about coming home from a day of activities to enjoy Afternoon Tea at your hotel.
Dinner at this luxury hotel in Cornwall is a smart affair, and it's worth asking the chefs in advance to prepare some child-friendly options if you are dining with the children. If you have childcare or can make use of a baby monitor or listening service, you'll be in for a treat – expect a warm welcome, good service and a whole host of gins on offer in the bar area.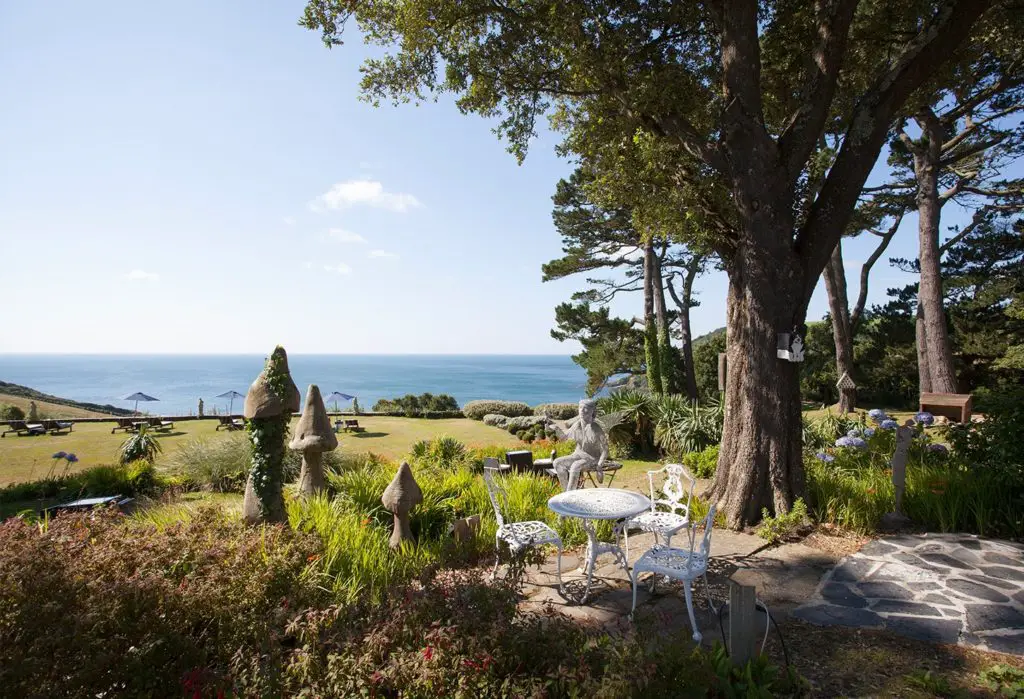 Most tourists visit the Talland Bay Hotel during the summer, but we actually visited in the depths of winter. Navigating the narrow country lanes to reach the hotel, we were grateful that we weren't getting stuck in summer traffic or fighting for spaces with everyone else on the Cornish coast. Saying that this is a secluded spot, so it doesn't get as busy as many family-friendly hotels in the area.
Whether you opt for winter walks along the beach with afternoons spent sitting by the fire or go for a spring or summer visit when you can make the most of the gardens overlooking the sea, you won't regret a visit to Talland Bay Hotel. Book today, and you'll have an exciting date to look forward to for a luxury hotel stay in Cornwall. 
Plan Your Trip to Cornwall with Kids
View the latest rates at Talland Bay Hotel:
Book your train tickets in advance for the best rates >>>
Book your flight to Newquay Airport:
Discover More Family-Friendly Places to Stay in Cornwall
0 shares Share Tweet Pin When planning a trip to Cornwall with kids, one of the biggest concerns is finding suitable accommodation. Luckily, there are plenty of options in Cornwall; hotels, b&bs, holiday parks, and guest houses are all great options. But, if you are looking for something a bit different, with a bit more…

Newquay's location in the centre of the Cornwall coast makes this place a must-stay destination to explore the rest of Cornwall and its surrounding family attractions. Here is a complete guide to the very best holiday parks in Newquay to help you plan your perfect stay in Newquay, Cornwall. Surrounded by gorgeous golden sandy beaches, secluded coves…

If you're wondering Where To Stay In Cornwall and you're looking for a that will wear the kids out while providing you relaxation and pampering… look no further. China Fleet Country Club Saltash is one of the best places to stay in Cornwall and for very good reason! This post may contain affiliate links, which means…
More on Looe
If you're searching for a luxury hotel in Cornwall, let yourself be guided to Talland Bay Hotel, which claims to offer the best sea view in the West Country. It can feel overwhelming figuring out Where to Stay in Cornwall; however, Talland Bay Hotel appeals to everyone – from families used to 5 star hotels in Cornwall and those…

Divided into two parts by the Looe river running through its centre, Looe is a small coastal town and fishing port on the south coast of Cornwall. East Looe is the main tourism centre with a collection of narrow streets lined with shops and cafes, all with amazing views around every corner. Looe is a…