Cornwall is one of the best places to learn to surf in the UK. The northern coast is situated on the rugged South Western tip of England, exposed to the full force of the prevailing winds, with extensive stretches of stunning golden sandy beaches and gorgeous coastline – perfect for surf lessons.
You'll find many Cornwall surf schools across the North Coast of Cornwall, perfect for kids surfing. Kids surf schools have well-trained instructors and fun lessons.
Here is a complete guide to the very best Cornwall surf schools to help you decide which school provides the best surf lessons suitable for your kids!
This post may contain affiliate links, which means I may receive a commission, at no extra cost to you, if you make a purchase through a link. Please see my full disclosure for further information.
#1 St Ives Surf School
Location: Porthmeor Beach, St Ives, TR26 1JZ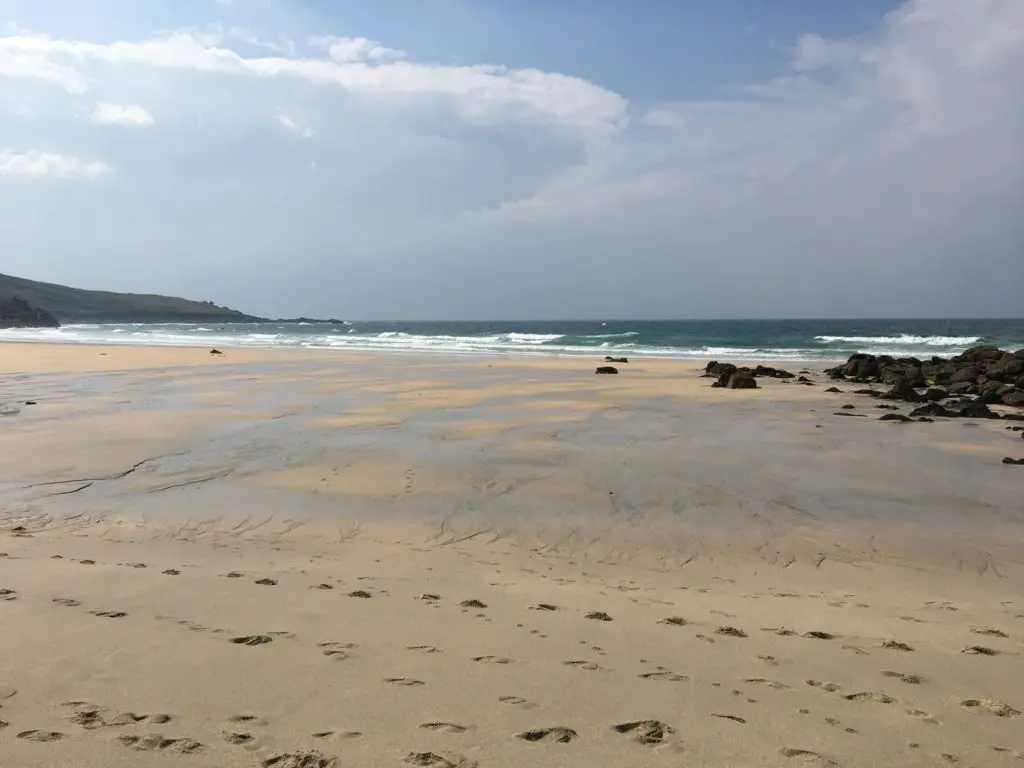 Located on Porthmeor beach, which has blue flag status and is sheltered from the biggest swells or the prevailing wind, St Ives Surf School is located in one of the best Cornwall surf spots. You can find various surfing lessons for different abilities. A level system ranging from beginner to advanced ensures the relevant challenges for each family member.
The picturesque setting and the experienced and friendly instructors enthusiastically guiding your kids during the lessons make this spot one of the best places to learn to surf. Not to mention you can find top-quality equipment such available on-site. St Ives school is one of the best St Ives surfing schools for families!
Starting Age: Children under 8 must be accompanied by a non-surfing adult.
#2 Big Blue Surf School, Bude
Location: Summerleaze Cres, Bude, EX23 8HH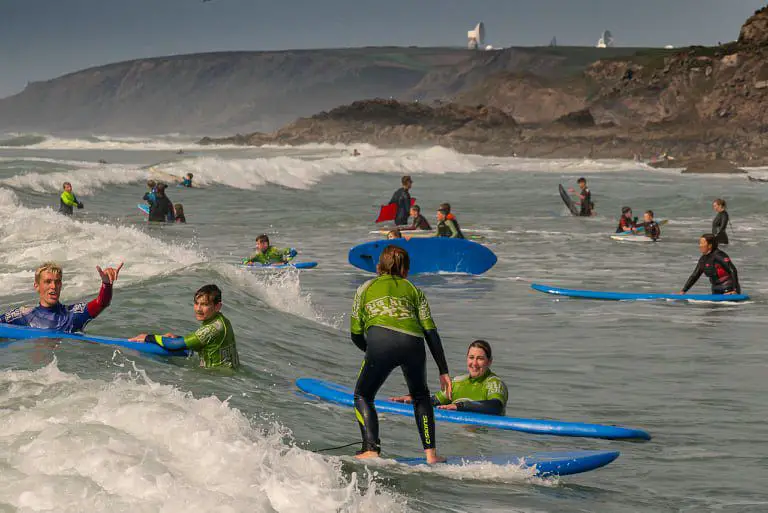 As a Surfing England and International Surfing Association surf school with experience teaching people of all ages and abilities for over 20 years, Big Blue Surf School is one of the very best places to learn to surf. The company provides excellent surfing lessons for individuals and groups as well as fun lessons for those with disabilities.
This Cornish surfing spot is best for families and little kids surfing as it offers a variety of surf conditions for all ability levels. Ranging from the famous point-break surf during high tide, open sandy beach from mid to low tide, and a sheltered bay when the conditions are too much.
Your kids will receive a perfect combination of fun and top-quality teaching from fully qualified instructors. A variety of equipment is available for the lessons free of charge, from wet suits, hats, boots, a soft foam surfboard, and gloves during the winter. Read more about the amazing beaches in Bude here >>>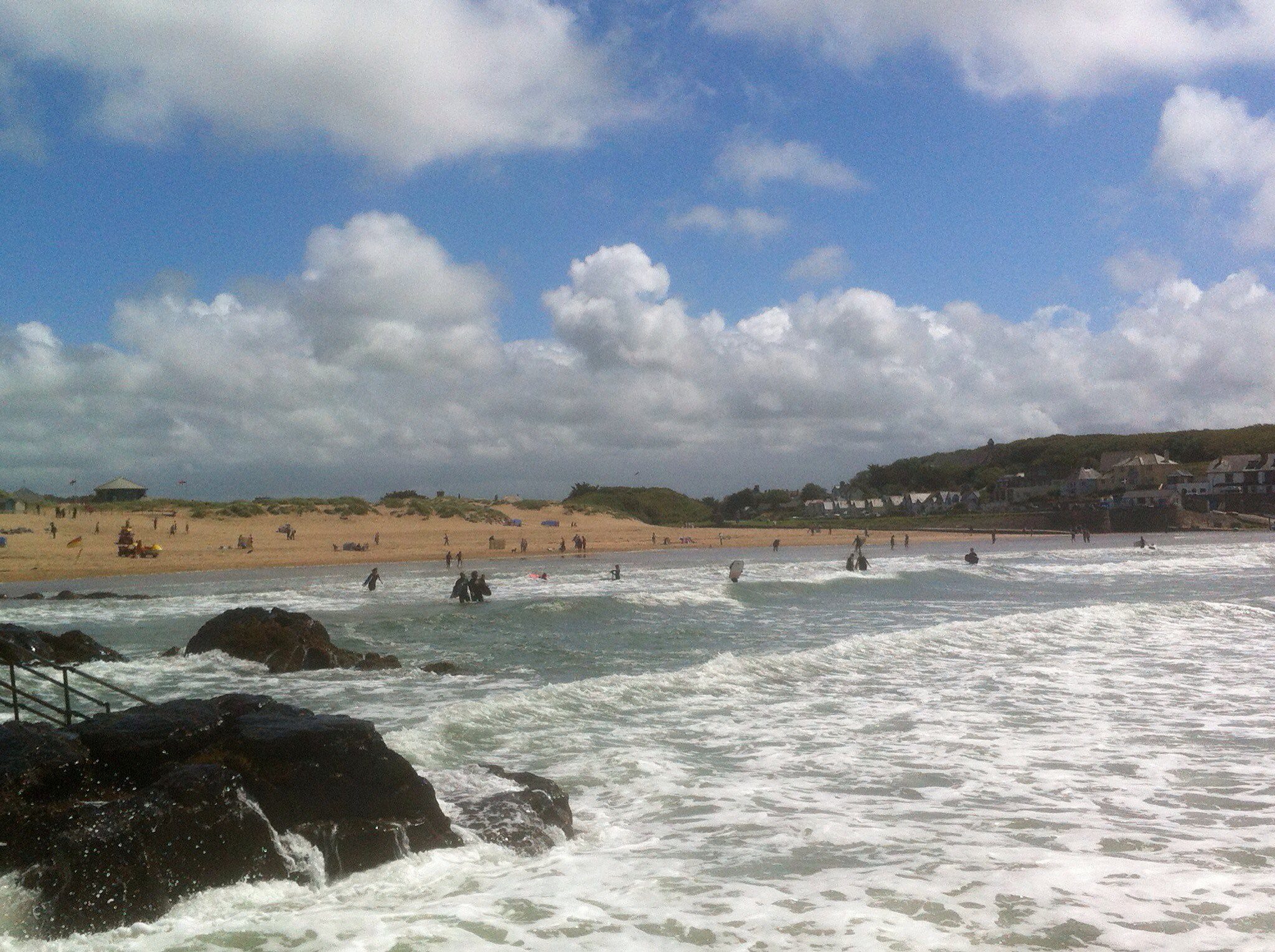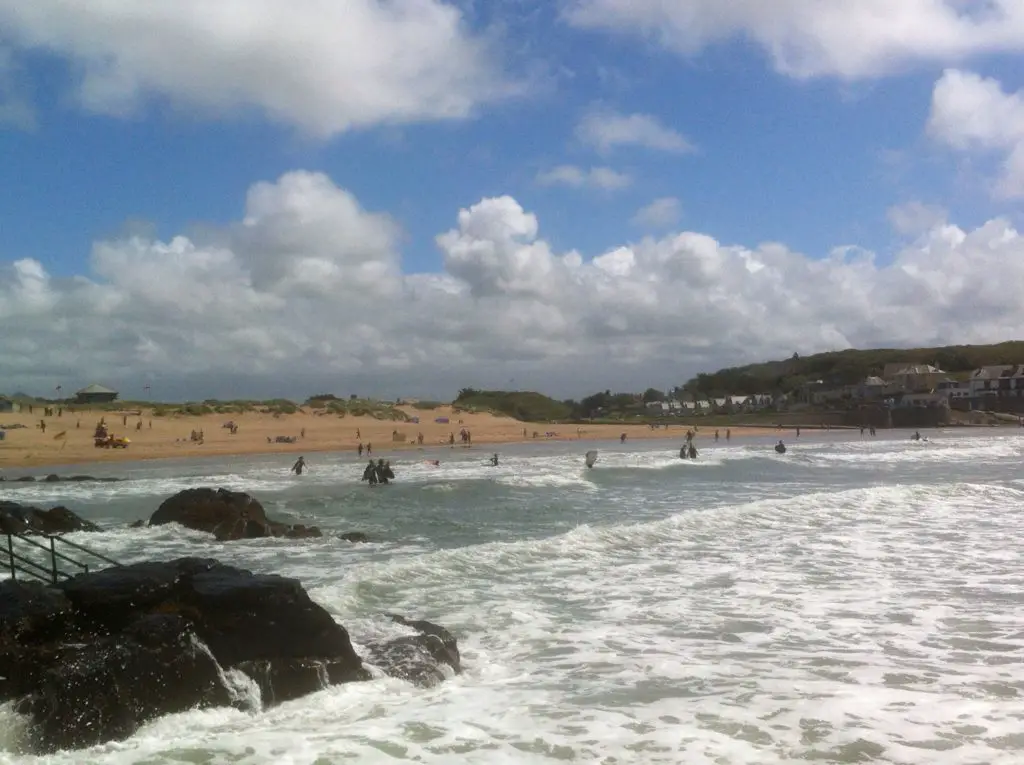 Starting Age: From 5 years
#3 Falmouth Surf School
Location: Maenporth Beach, Falmouth, TR11 5HN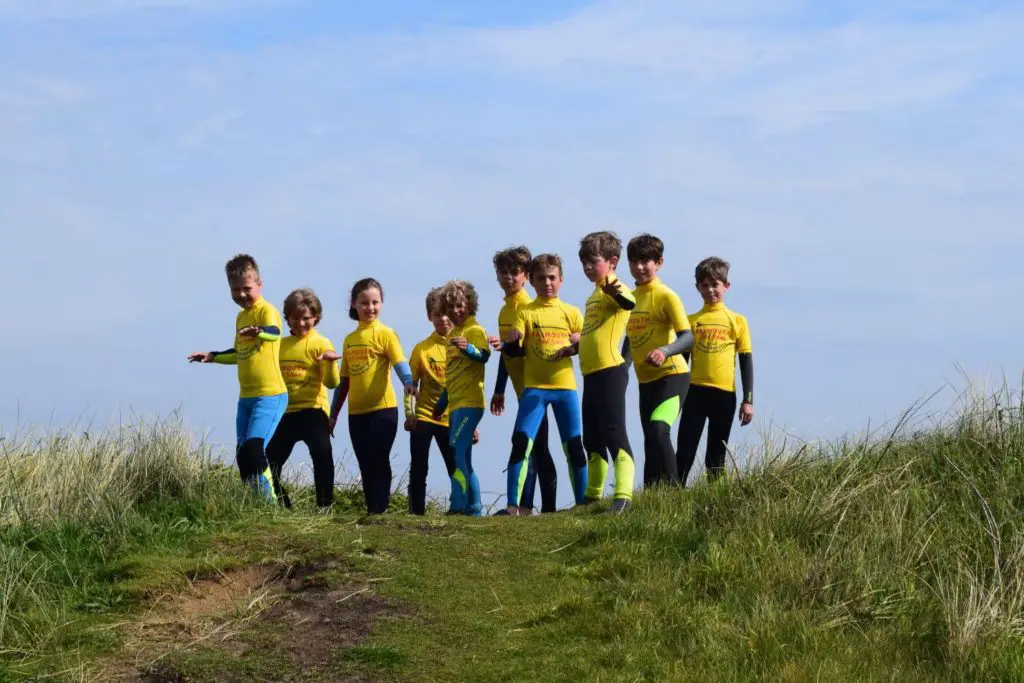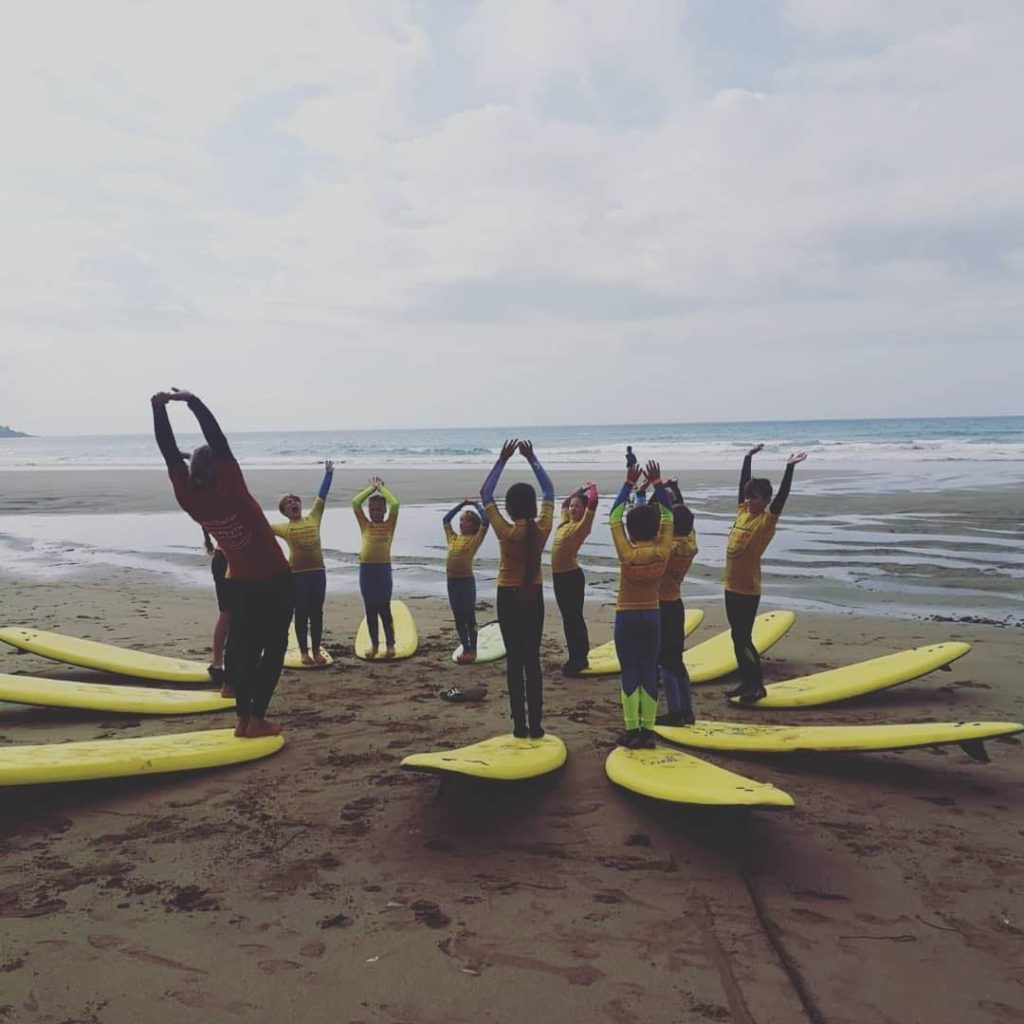 Falmouth Surf School has been operating since 1995 and offers some of the best surfing for kids in Cornwall. Due to the inconsistent waves of the Falmouth beaches, this mobile surf school will take you to a nearby beach if needed, where the waves are on the day of the lesson. With fully trained and highly experienced instructors, they are specialised in coaching intermediate and advanced level surfers.
Cornwall has numerous surf schools but, this school is one of the best places to learn to surf as they offer a kids' club where your kids can learn skills like how to catch waves, surf etiquette, beach safety, ocean knowledge, board types, video analysis and improvement skills.
There's fun for all the family here with over 50's surf lessons, stand up paddle-boarding lessons, stand up paddle-boarding yoga, beach yoga, and kayak hire all on-site.


#4 Perranporth Surf School
Location: Perranporth Beach, Perranporth, TR6 0JL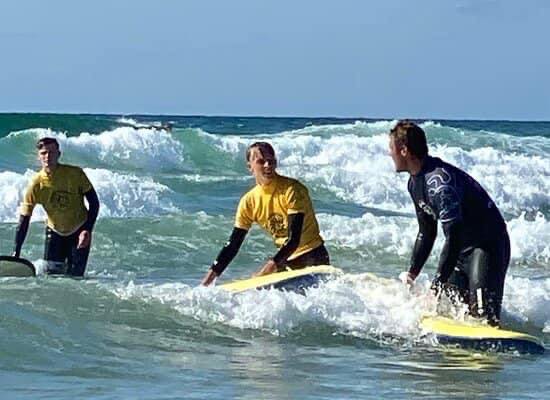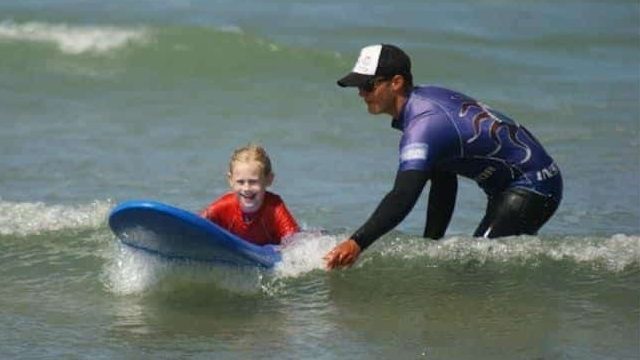 Set on Atlantic Coast with miles of golden sand, this beach is where Perranporth Surf School is located. Famous amongst Cornwall surf community regarding its great swell catcher and relatively gentle slopes suitable for beginners and intermediates.
The main beach is ideal for surfing for children where you can find small to medium surf. Cornwall has many surf schools, but this accredited Surfing England surf school is perfect for families looking for a great location, top-qualified instructors, fully insured, and great value with different types of discounted families lessons! They also offer fun and informative teaching for all abilities, and a sufficient understanding of basic techniques, and surf or beach safety.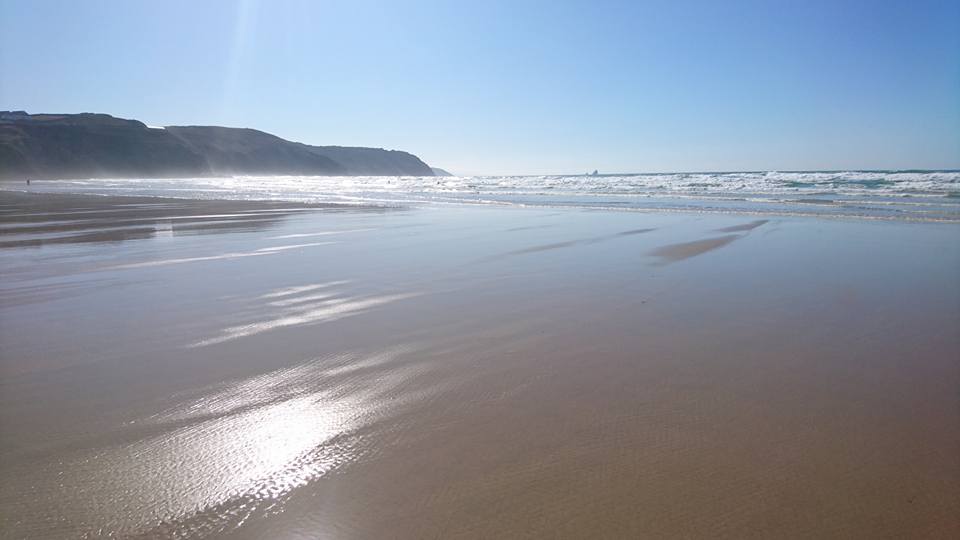 Starting Age: From 7 years
#5 Surfs Up Surf School, Polzeath
Location: Polzeath Beach, Polzeath, PL27 6TB
Rated as one of the top surfing centres in the UK, Surfs Up Surf School is one of the best Cornwall surf schools, offering an extensive range of surf lessons. Cornwall is known for surfing and has plentiful established surf schools, but this Polzeath surf school is a legend amongst the surfing Cornwall community.
With its fun learning process for surfing kids, an innovative and progressive learning method, and the highest levels of instruction by the most experienced coaching team in the UK, many top surfers choose to train here besides their junior surfers were competing as part of the British team in 2009.
From complete beginner to national competition with different types of courses available like a beginner, novice, intermediate, elite, and much more. The taster lesson dedicated to surfing for kids offers a fun and gentle introduction to riding small broken waves, catching the waves, and standing up at the end.
Starting Age: From 5 years
#6 Gwithian Academy of Surfing
Location: Hayle Beach, Hayle, TR27 5ED
As one of only three Academy of Surfing Instructors Accredited Surf Schools in Britain, the Gwithian Academy of Surfing is located on Hayle Beach. You can find a gently sloping beach with calm breaking waves perfect for little kids surfing and old and unarguably the best surf school. Cornwall has many surf schools scattered in the county, but this place is one of the best places to learn to surf as you can find Junior Surf Club, where they teach the basic of surfing lessons, safety and etiquette in the sea.
For more experienced surfing kids, the highly qualified coaches will help you improve your surfing by working on your technique, understanding waves and why they break, surf forecasting and many more. This Gwithian surf academy is an ideal place to learn to surf with a family as they also provide lessons for beginner to advanced surfers and private to the groups.
Starting Age: From 6 years. Children under 10 have to be accompanied by an adult.
Newquay Surf Schools
Famous amongst surfers from all over the world, Newquay emerged as the UK surfing playground and one of the best surfing spots in Europe, apart from plenty of surf schools! Newquay's geographical position facing the Atlantic Ocean is superb for surfing as the mega-waves coming from the ocean unleash powerful swells that offer consistent waves throughout the year.
As Newquay surf competitions are national and world rankings, therefore you may find some of the best surfers in the world are training here or offering surf lessons. Newquay is undeniably a good place for kids to learn to surf as you'll find plenty of stunning surfing beaches apart from the Newquay top attractions for kids or exploring the South West Coast Path as a family!
View More Things to do in Newquay with Kids Here >>>
#7 The Surf Club Cornwall
Location: Mawgan Porth Beach, Newquay, TR8 4BA
Situated between Newquay and Padstow, Mawgan Porth is a quiet, west-facing beach full of golden sand with large tidal ranges suitable for various surfing conditions. Surf Club Cornwall offers lessons to either learn to surf or advance your surf techniques from beginners and intermediates to advanced surfers. As one of the leading providers of surfing lessons in Cornwall, their instructors are active recreational and competitive surfers who can provide the best surf lesson for all ages and abilities.
This Mawgan Porth surf school is one of the best Cornwall surf schools for surfing kids as they offer a step-by-step approach that will help your kids reach their goals. Besides that, the clear water and long rolling white water waves in this area provide a beautiful surfing experience and perfect conditions for little kids surfing.
Starting Age: From 6 years
#8 Extreme Academy
Location: Watergate Bay, Newquay, TR8 4AA
Set on the spectacular surfing beach of Watergate Bay, rated as one of the must-visit destinations in the UK, Extreme Academy has the perfect location on one of the finest surfing beaches experience and surf lessons. Cornwall is famous for numerous surfing schools, but if you are looking for a place that provides a wide range of extreme sports, including surfing, stand up paddleboarding, kitesurfing, bodyboarding, and wave skiing, this is the right place for you.
Awarded English Surf School by Surfing England, this academy operates in all seasons and is suitable for all levels and ages. Perfect academy of surfing for children as qualified instructors will match the lessons according to your ability and conditions. Undoubtedly, one of the best places to take surf lessons in Cornwall!
Starting Age: From 8 years
For close access to Watergate Bay, why not stay at the family-friendly Watergate Bay Hotel? Read Our Full Watergate Bay Hotel Review Here >>>
#9 Escape Surf School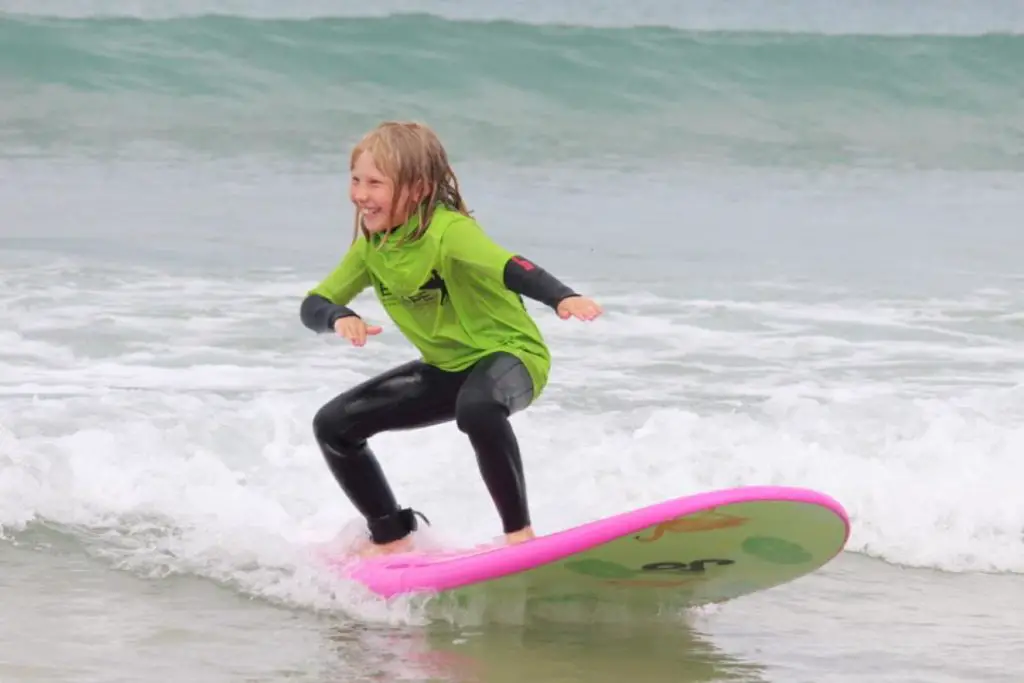 Location: Towan Beach, Newquay, TR7 1HD
If you are looking for one of the best Cornwall surf schools in Newquay that includes ex-professional surfers in their coaching team with fully qualified ISA surf coaches and RLSS beach lifeguards,
Look no further than this Surf School.
Cornwall has countless places for kids to learn to surf, apart from Escape Surf School.
However, this Specialist Surf School specialises in teaching surfing only, offering innovative teaching methods to all abilities.
They offer children's surf lessons during the school holidays that teach children ages 8 to 13 how to surf in a safe and fun environment. The kids will learn how to catch the waves, build their confidence, learn valuable ocean knowledge, and get expert surf coaching from the instructors.
They also offer surf lessons to families, school groups, stag groups, hen parties, corporate events & surf clubs.
If you are already surfing and need to perfect your technique, these guys can help get you to the next level by offering more technical advice and coaching & they also have options of video analysis and feedback.
Towan Beach in Newquay is known as the best beginner surfing beach as it is in a Bay and mostly sheltered from the wind, which provides great learning waves.
Starting Age: From 8 years. Children under 12 have to be accompanied by an adult.
#10 Fistral Surf School
Location: Fistral Beach, Newquay, TR7 1HY
Located on the famous Fistral Beach and the home of British Surfing, Fistral Surf School is one of the best places to learn to surf as its location facing the Atlantic Ocean ensures consistent waves suitable for surfing. The school offers beginner to advanced surf lessons for all abilities and conditions, teaching kids how to carry the surfboard, catch the waves and various ways of standing up.
Undoubtedly, one of the best Cornwall surf spots for little kids surfing as they provide several types of kids surfing lessons from Micro-Grom ages 6 to 10 years old, Mini-Grom ages 6 to 9 years old, and Junior Surf ages 8 to 14 years old. Safe and fun-quality coaching from the instructors while learning the beach safety and sea-awareness skills apart from water skills.
Starting Age: From 5 years
#11 Newquay Activity Centre
Location: Towan Beach, Newquay, TR7 1LW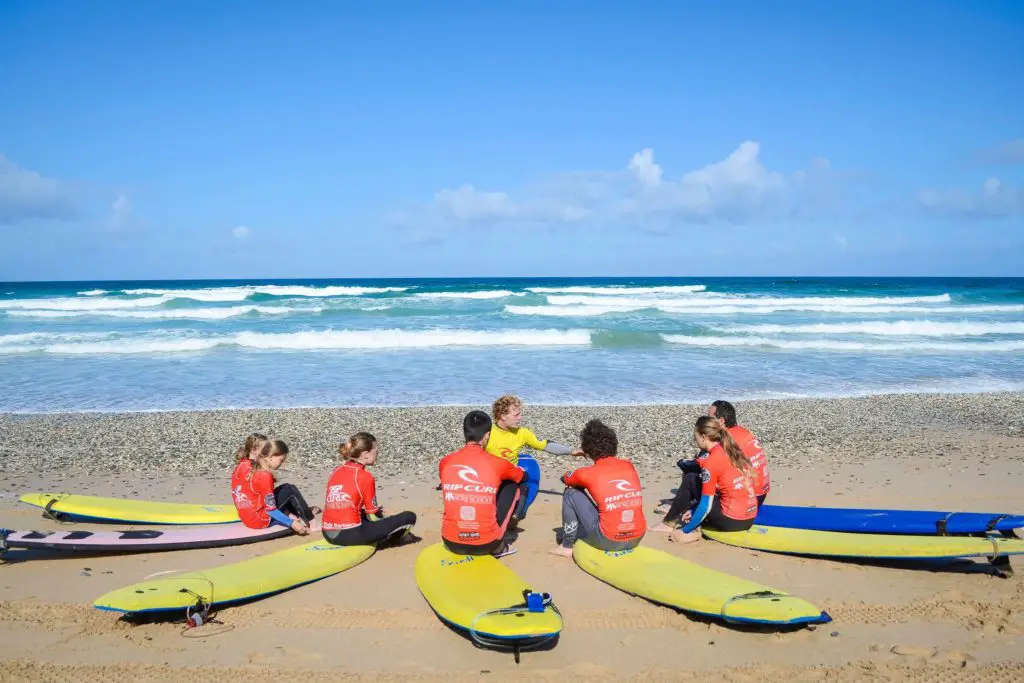 With a former British Surf Team coach, multiple Nationals Surfing Champion, and ISA with lifeguard qualified instructors, Newquay Activity Centre, located between Fistral and Towan Beach, has good surfing conditions regardless of winds and weather and is the perfect place for taking surf lessons. This award-winning centre offers an extensive range of extreme activities for all ages and abilities, from wild wave riding of surfing to the rebellious escapades of cliff line coasteering, outlandish Super SUP challenges and much more.
They offer tips and tricks to bring a new dimension to your wave riding apart from teaching the core surfing skills and basics of beach safety to stand up surfing for beginners. In addition to that, they provide a family surfing lesson suitable for little kids surfing of all ages and get a chance to learn how to catch the first wave, stand up and ride a white-water breaker.
Starting Age: From 3 years. Children under 8 have to be accompanied by an adult.
#12 SSS Newquay
Location: Towan Beach, Newquay, TR7 1DU
Apart from being the only surf school in Newquay that design and customise the surfboards by professional surfers for ultimate riding potential, SSS Newquay, located on a sheltered beach, is perfect for the first-wave experience. You can find different types of lessons available, including beginner, improver, family, kids, couples, etc.
One of the best Cornwall surf schools for surfing kids as there is an option to choose from kids' lessons or family lessons. For the kid's surf lesson, your kids will learn how to gain confidence in the water while enjoying a safe and friendly environment. While for the family, they design lessons to suit your skills while having fun as a family together!
Starting Age: From 6 years. Children under 12 have to be accompanied by an adult.
Discover More Activities in Cornwall