As one of the UK's most popular holiday destinations, Newquay is the perfect place for a staycation in Cornwall with kids. As one of Cornwall's larger holiday towns, there are plenty of activities in Newquay. From the twelve beaches surrounding Newquay's coast to its fabulous position on the South West Coast Path and a wide range of Newquay attractions, you'll be spoilt for choice.
This post will take you through the best things to do in Newquay Cornwall, including the best Newquay attractions for families. We'll also take you through the best things to do near Newquay. Whether you're looking for the best things to do in Newquay in the rain or some very unusual things to do in Newquay, we've got you covered!
This post may contain affiliate links, which means I may receive a commission, at no extra cost to you, if you make a purchase through a link. Please see my full disclosure for further information.
Newquay Location
When is the best time to visit Newquay
Weather is variable in Newquay. The average temperatures are:
December-February (5-10 degrees)
March-May (6-14 degrees)
June-August (12-19 degrees)
September-November (8-13 degrees).
Newquay gets extremely busy in the peak season (July/August) and during the school holidays. The town is still relatively busy during the shoulder season (May/June and September/October) and the festive period in December.
If you have younger kids, try to visit in the shoulder season, and you'll benefit from less busy beaches and pleasant weather (hopefully!). If you choose to visit in peak season, book your accommodation in advance.
I like to use Lastminute.com for hotels and apartments. If you're looking for a holiday cottage, take a look at Cornwall Hideaways and Holidaycottages.co.uk.
How to get to Newquay
By Plane | The quickest way to get to Newquay is by plane. Newquay airport mainly flys to other UK destinations with seasonal routes operating no nearby destinations in Europe. The next nearest airport to Newquay is Exeter Airport.
By Bus | First Kernow operates most busses in Cornwall. The A5 route covers Newquay airport. You can enjoy the fantastic scenery on this bus route as the bus winds its way up the West coast of Cornwall. First Kernow also operates services around Newquay and the surrounding area.
By Coach | National Express coach services through Cornwall often stop in Newquay. Be aware that you will need to provide a car seat for smaller children, and journeys usually take much longer than train/car.
By Train | Newquay is served by a branch line that connects the town with the mainland station of Par. The branch line takes 48 minutes and stops at Quintrell Downs, St Columb Road, Roche, Bugle, Luxulyan and Par. From Par, trains can be caught South to the rest of Cornwall to Penzance or North towards Plymouth, Exeter, London, Scotland and the North.
By Car | Newquays location on Cornwall's East coast means the easiest way to get to Newquay, especially with kids, is by driving. A number of hire car companies serve Newquay airport, including Budget-rent-a-car, Europcar, Hertz and Cornwall car hire. Car parks often get full during peak summer months. Just Park is a good place to find parking for your stay in Newquay.
Newquay with kids | The best Newquay Attractions
#1 Newquay Zoo
Location | TR7 2LZ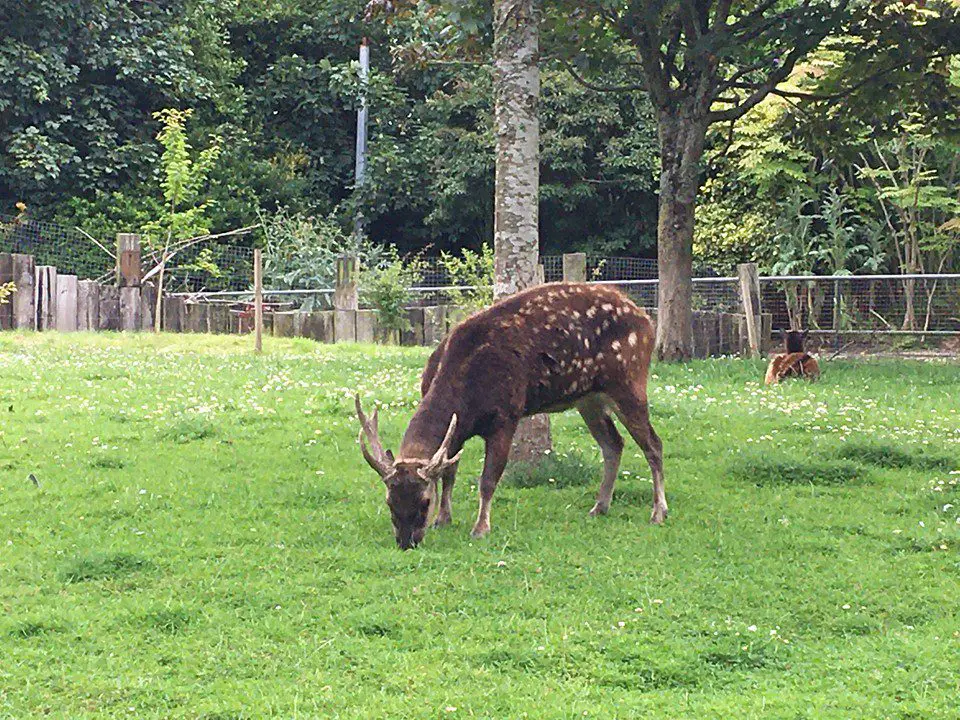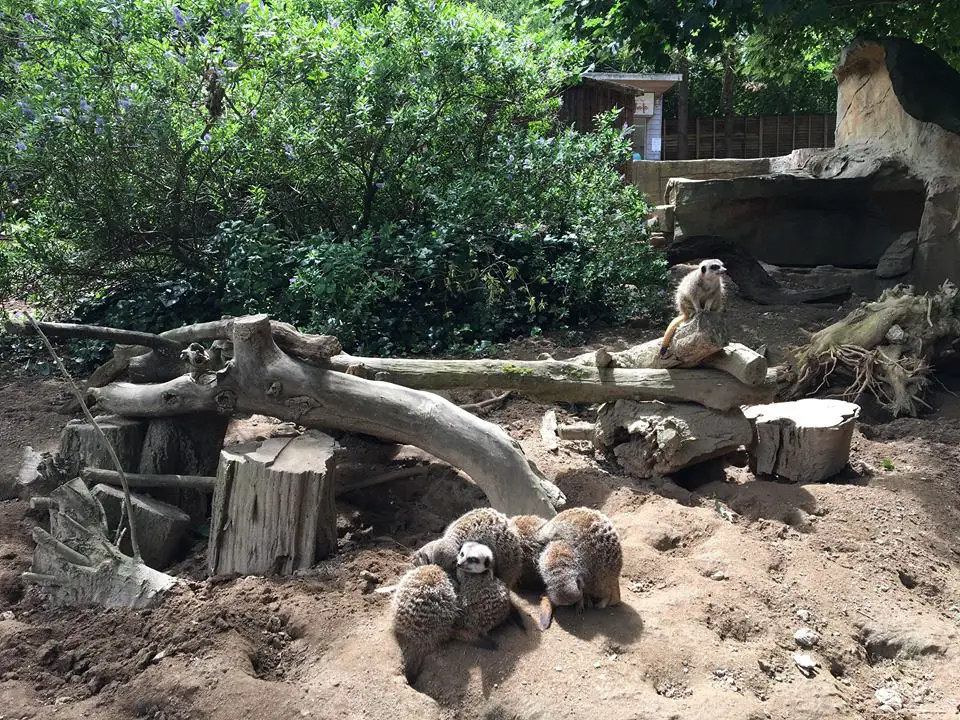 As one of Cornwall's most popular attractions, Newquay Zoo is one of the best places to go in Newquay. Nestled within 13 acres of gardens, the zoo hosts over 1000 of the world's rarest and endangered animals. When it comes to things to see in Newquay, some of the animals at Newquay Zoo are a must-see.
Watch the lions devour their lunch and then adventure into the Tropical House (if you're brave enough) and meet some of the more unusual residents including a sloth! If that isn't enough, there are activity trails, face painting, a children's play area, a Woodland Walk and a Dragon maze to keep the little ones busy.
#2 Blue Reef Aquarium Newquay
Location | Overlooking Towan Beach – TR7 1DU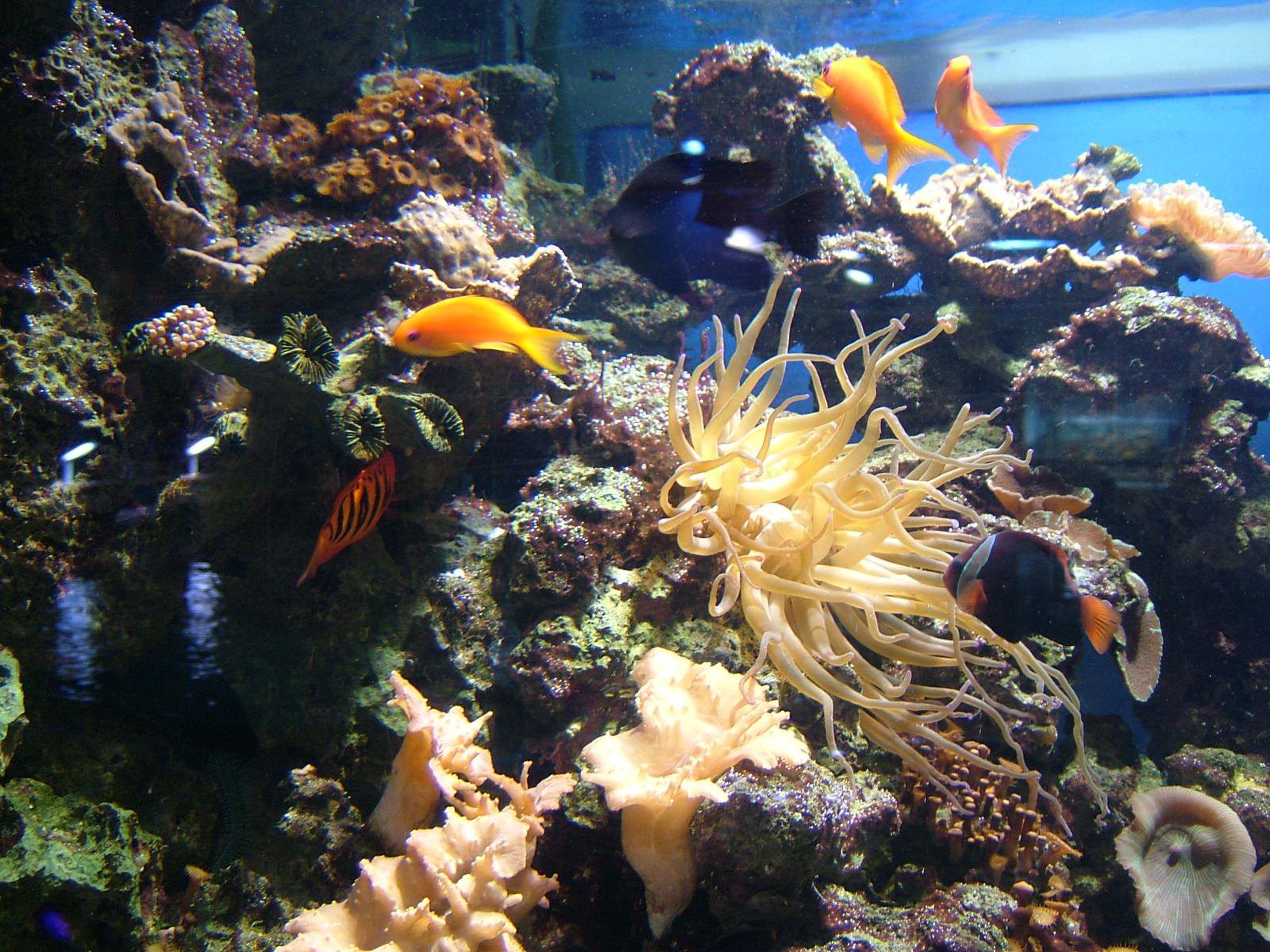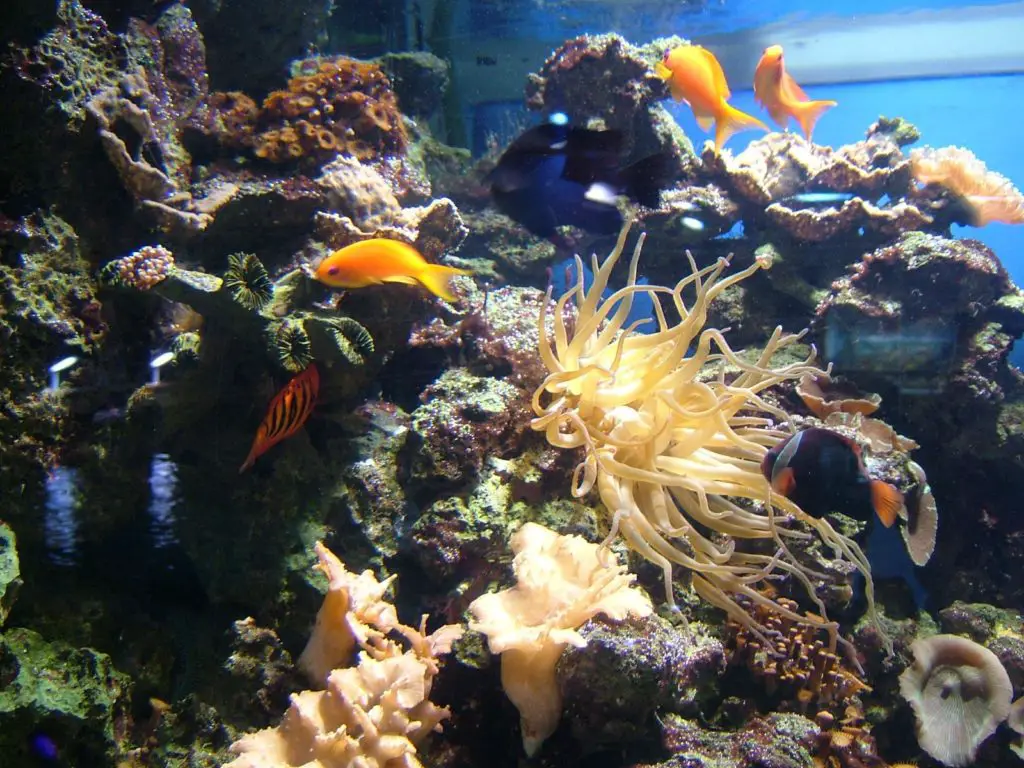 As one of the best places to visit in Newquay, Newquay Aquarium is located right in the heart of town overlooking Towan beach. Blue Reef aims to provide insight into the incredible underwater world and the wonders it contains! Get up close to a vast array of marine life from big fish to little fish and everything in between! Rainy day? Blue Reef Aquarium is one of the best things to do in Newquay in the rain.
#3 Visit the Oasis Fun Pool
Location | TR8 4NY
The perfect rainy day activity in Newquay. Take your pick between two pools. The pool has three flumes, a river rapid ride, a 30-meter fun pool, fountains and waterfall and a giant tap.
For the little ones, there's a toddlers area and slide.
Opening Times | Times vary due to occupancy throughout the day, especially during bad weather. For the latest and updated opening times please visit the official Facebook page.
Admission | Prices vary depending on the season. Click here for up to date prices.
#4 Ride on the Newquay Land Train
The land train is a perfect way to explore Newquay with kids. The train takes a 5-mile route through Trenance gardens and boating lake, the town centre and stunning beach views, all from the train's comfort. The journey lasts around 50. minutes. Tickets are flexible ticket allows full day's access to the service.
#5 Visit Pirate Quest
Learn about the history of piracy during a one hour guided tour and see what life was like in Cornwall during the 18th century. When you begin the tour, you'll be given a treasure map.
There are 3 quest options – each for different abilities. In the end, you can return your completed map in return for a gift. There's also the option to walk through the 'scare section' (This can be avoided by taking an alternative route if needed).
#6 Explore Trenance leisure park
Just nearby Newquay town centre, Trenance gardens feature numerous activities for kids. There's a range of free play parks to choose from as well as crazy golf, tennis and a miniature railway. For the older kids, Trenance leisure park features Cornwalls largest outdoor skatepark. Just a short walk away is Waterworld, a gym and swimming pool, great for a family day out. There's also a fun pool with slides.
#7 Get Back into Nature at Trenance Gardens
Location | TR7 2LZ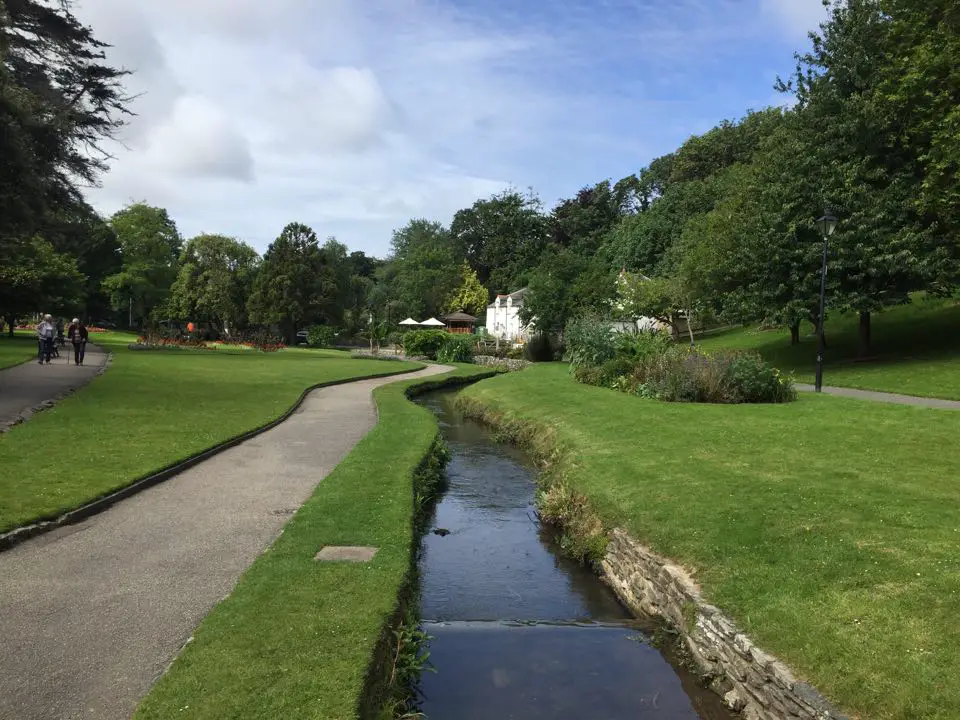 These beautiful gardens are great for a family walk. If you fancy more exploration, you can pick up a Tree walk guide from the Newquay tourist information centre that will tell you about the different trees and flowers growing in the gardens. Why not stop off at Trenance tea room and try a cream tea the cornish way.
#8 Visit Newquay Trampoline and Playpark
Location | TR7 2LZ
Newquay's trampoline and play park is the perfect activity for an active family or a rainy day activity. The PlayPark area features an epic jump area, featuring two dive towers, a timed obstacle course, foam pits and a trick zone.
There's also a special area for under 12's where kids can try their hand at crawl tubes, balance beams and slides, to a glowing ball pool, a treehouse and interactive cardio walls.
#9 Let off some steam at Jungle Jacks
Location | TR7 2QL
This highly recommended soft play area is the perfect place or the kids to let off some steam, and one of the best days out in Newquay Facilities include challenging climbs, a rope bridge, Astra-glide slide, crafty crawl tubes and peekaboo bubble windows.
There's also a range of slides to try. For the younger ones, there's a separate baby and toddler area, so they stay protected. The cafe has a varied menu, even for the fussiest of eaters and fresh coffee too.
#10. Visit Cornwall Aviation Heritage Centre
Location | TR8 4JN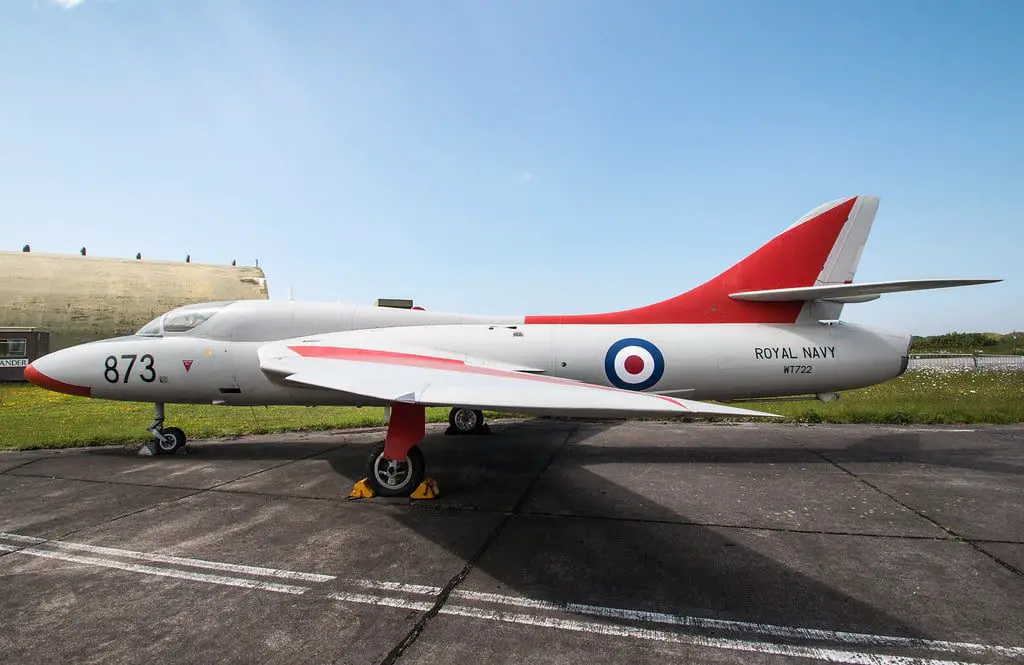 Located just outside of Newquay in an ex-RAF HAS centre, you'll be transported into the world of 1950's-70s flying.
#11 Visit Trerice House and Gardens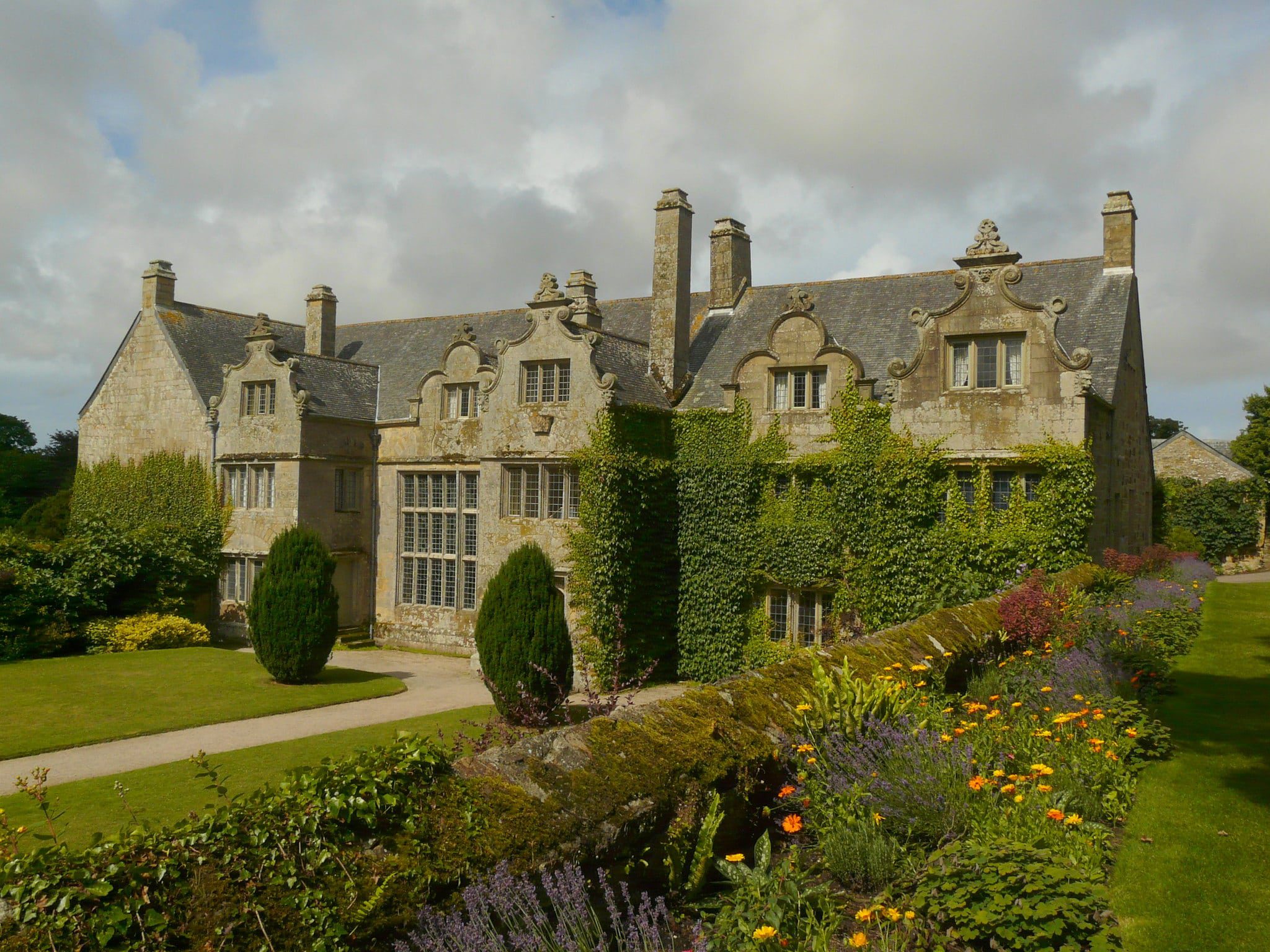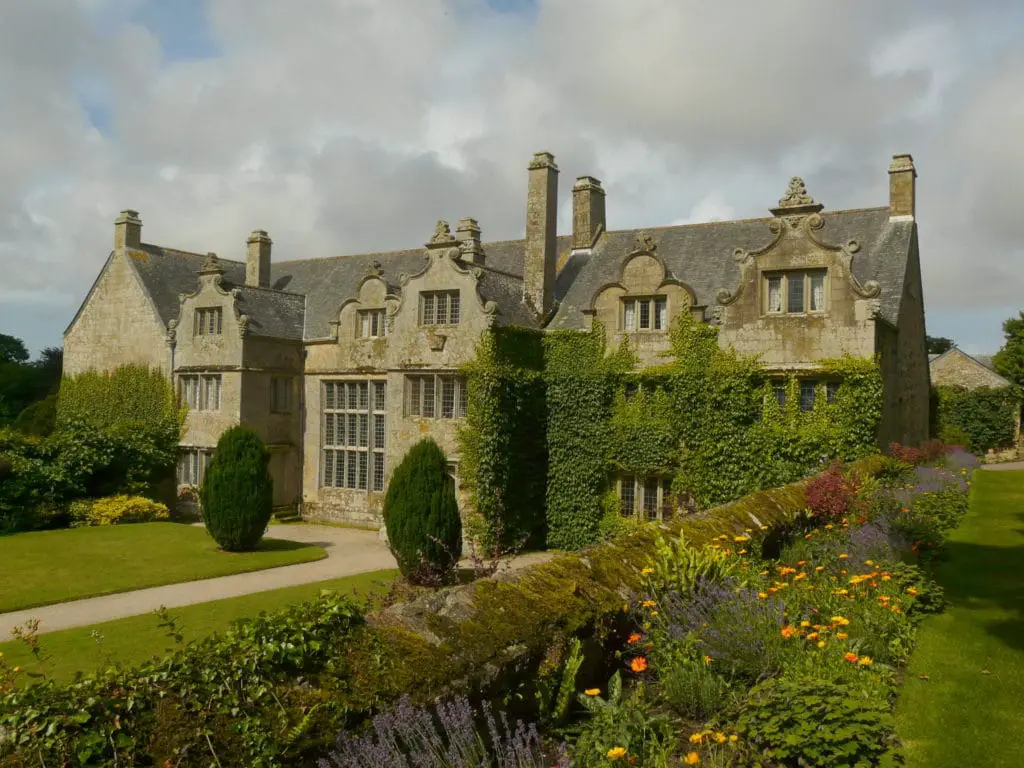 This National trust site consists of an Elizabethan manor house with fine interiors and a delightful garden.
Each room in the manor house will take you on a different journey through history. Although the gardens are small, they are very varied. There's also a shop, cafe and bookshop.
Website | nationaltrust.org.uk/trerice
Location | TR8 4PG
How to get to Trerice from Newquay
The best way to get to Trerice is to drive. The site is situated off the A3058 at Kestle Mill. Follow the brown signs in the direction of Saint Newlyn East. We are 1.5 miles from the A3058 junction. Parking is free. The nearest bus stop (Kestle Mill) is 3/4 mile away on route 25. You may want to consider hiring a car for your trip to Cornwall.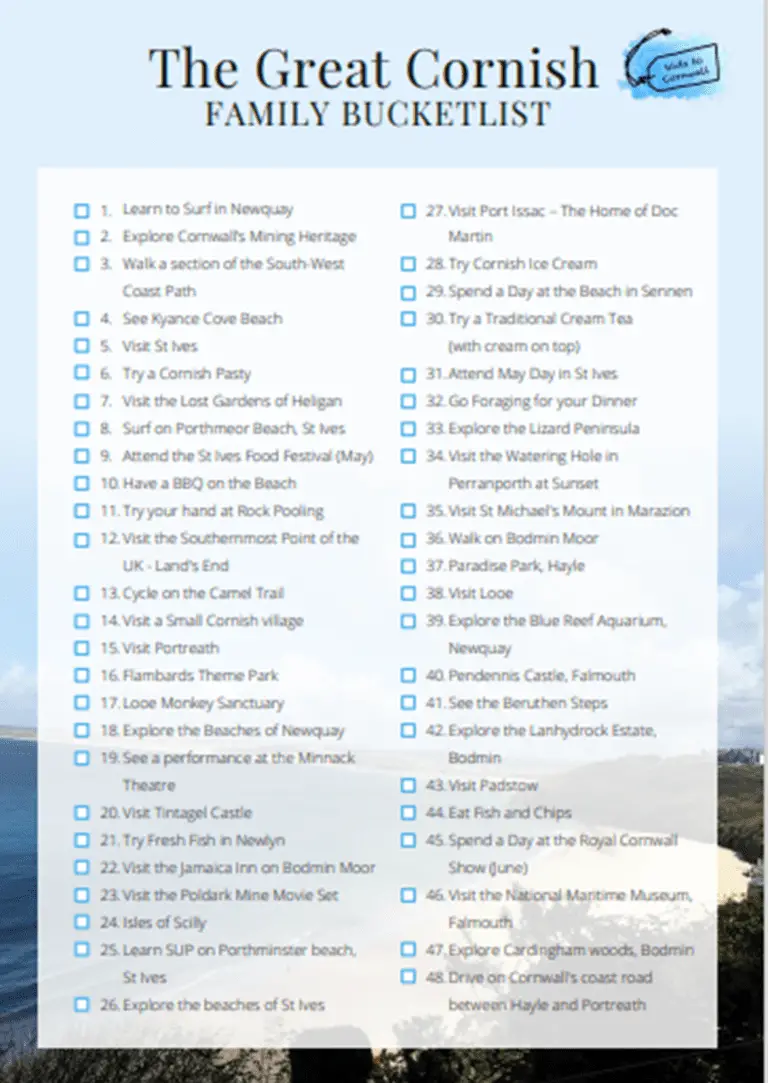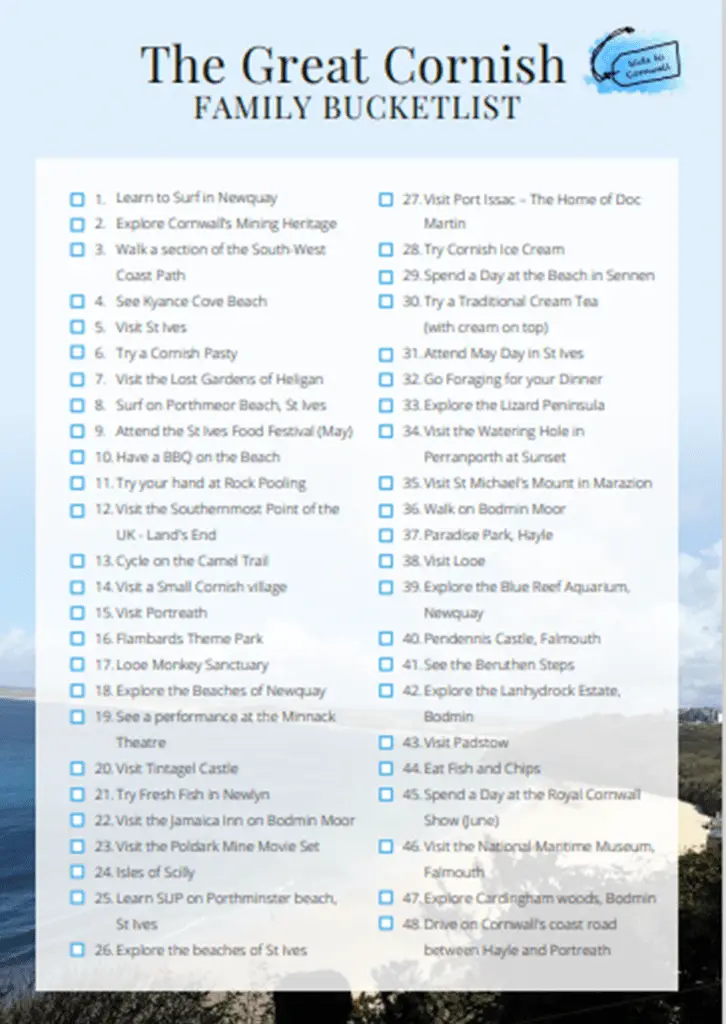 FREE FAMILY BUCKET LIST PRINTABLE
Subscribe to our email list today to gain access to our monthly newsletter and a FREE Ultimate Cornish Family Bucket List Printable:
Best Things to do in Newquay with Kids
#12 Try Bodyboarding
If you've ever dreamed of going bodyboarding, Newquay is one of the places to do it. Bodyboarding is great for younger kids too, there's less to learn, and you can stay in the shallow waters if needed. You'll find plenty of places hiring and selling bodyboards
#13 Spend the day at Crantock Beach
Location: TR8 5SE

This huge expanse of golden sand owned by the National Trust is great for families. Just a 15 minute drive away from Newquay, the beach is well worth the trip.
Crantock beach also benefits from being part of the South West Coast Path, a 630-mile mega-walk around Cornwall, Devon and beyond from Poole in Dorset to Minehead in Somerset. Walking the coast on either side of Crantock beach will enable you to experience the coast path.
The beach is backed on either side with dunes which also make a fabulous walk. Calm days make Crantock good for snorkelling and swimming, while windier days provide surfing and wind-surfing opportunities. Canoes are also available to hire.
Features: RNLI Lifeguarded
Amenities: Parking, toilets, coffee bar, shop
Stay: The Pentire Hotel
How to get to Crantock Beach
To drive to Crantock beach, take the A3075 towards Goonhavern. Take a right turn following local signage.
Using public transport, Bus 85 service between Newquay and Truro stops in Crantock village where it's a 1/2 mile walk to the beach.
#14 Discover Fistral Beach
Location: TR7 1HY
As one of the worlds most famous surfing beaches, Fistral is one of the best surfing beaches in Cornwall – the perfect place to learn to surf. Backed by cliffs and dunes, you'll be surrounded by beautiful scenery.
If you visit Fistral Beach at the right time, you might even see a surf competition. Famous events include Boardmasters, National surf championships and Groms. If you're planning on going in the water with kids, make sure you visit when the lifeguards are present.
Features: RNLI Lifeguards (1st April – 29th October).
Amenities: Toilets, showers, key holding, beach wheelchair, chargeable parking, bar, takeaway, restaurant
Stay: Fistral Beach Hotel & Spa
Best Places to Visit Near Newquay
#15 Port Isaac
Distance from Newquay: 23.8 miles (41-minute drive)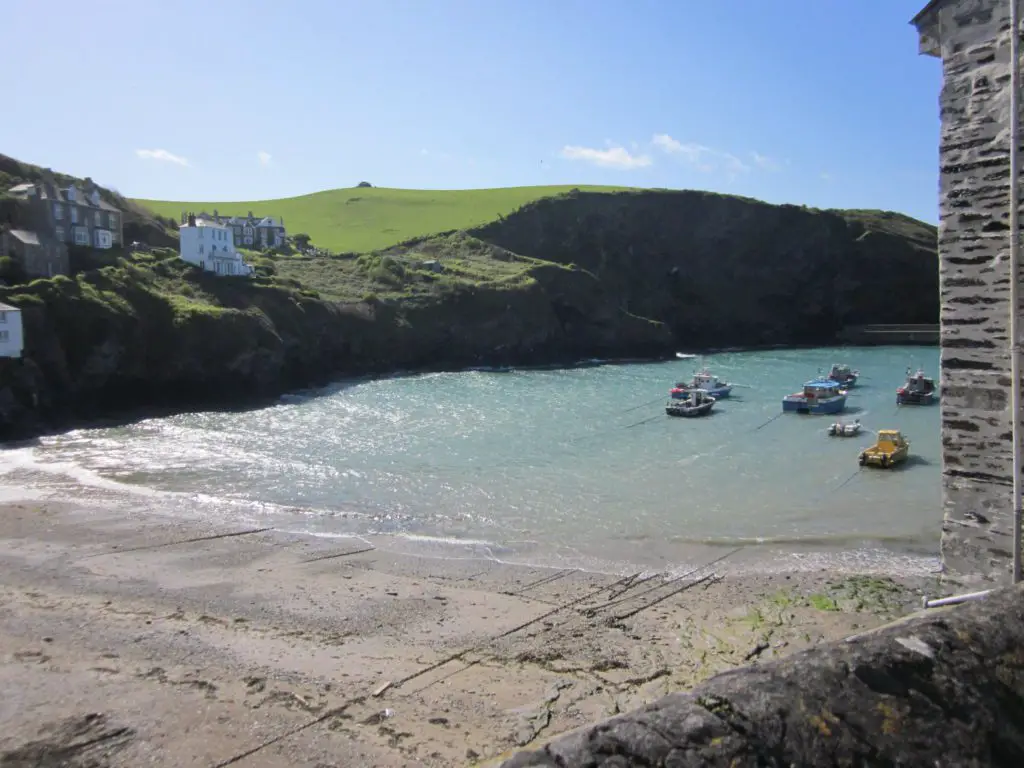 Port Isaac is a small fishing village, but it is a larger-than-life TV star among Cornish destinations. But the village has much more to offer than just stunning sceneries. Think of fascinating history, colourful culture, and phenomenal cuisine. A hodge-podge of cafes, pubs, shops, tea rooms, and flower-fronted cottages greets you as you descend the cliffside thoroughfare going to the vibrant village harbour.
#16 Padstow
Distance from Newquay: 16.9 miles (30-minute drive)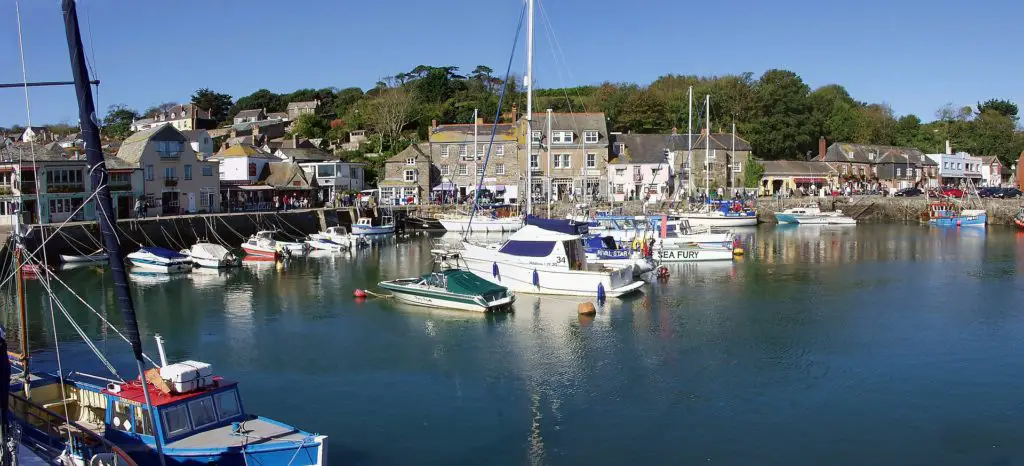 Padstow is a beautiful town located on the North Cornwall coast, surrounded by picturesque beaches, a pretty harbour, ample walking opportunities and plenty of attractions. There are plenty of things to do in Padstow as a family.
A day trip to Padstow will leave you with plenty of choices. Find out some history at the Padstow Museum or have a wildlife encounter at the National Lobster Hatchery on a boat trip on Padstow SeaLife safaris. To explore Padstow on foot, try out the Curious Detective Mystery. Nearby Padstow, you can visit Trevone and Harlyn Bay's world-class beaches or explore the pretty coves on the southwest coast path. Why not stay overnight in Padstow? Take a look at the best Padstow Camping here >>
#17 Rock
Distance from Newquay: 22.5 miles (37-minute drive)
Just across the Camel Valley from Padstow, you'll find Rock – a small picturesque coastal village that's well worth a visit. As an upmarket resort, Rock is popular with celebrities, millionaires and even some Royal Family members.
The main draw to rock is the amazing beach, with crystal clear calm waters perfect for swimming. If you have time, consider visiting Padstow on the same day by catching the small passenger ferry over the Camel Estuary.
#18 Port Gaverne
Distance from Newquay: 24.1 miles (43-minute drive)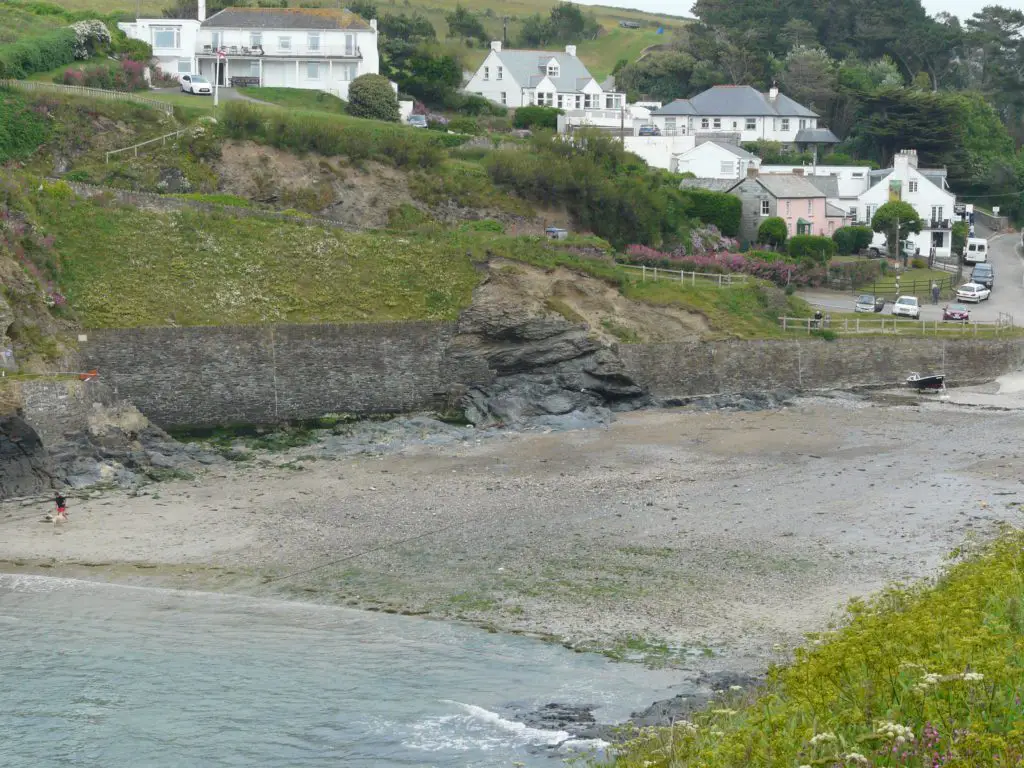 Located half a mile east of Port Isaac, Port Gaverne is a tiny hamlet that features a sheltered cove ideal for swimming, kayaking, and coasteering. The cliff-top trail from Port Isaac to Port Gaverne is a little hilly and challenging, but the spectacular views are all worth the effort. During low tide, Port Gaverne's numerous rockpools and crannies are perfect for crabbing.
Best Things to do Near Newquay
#19 Ride at the Camel Creek Adventure Park
Distance from Newquay: 12.8 miles (22-minute drive)
As one of the best things to do around Newquay, Camel Creek theme park is a must for adventurers of all ages. Wild rides, toddler areas, 5D cinema, petting farm, and much more is waiting for you on 35 acres of land.
There are also educational points throughout the park. Camel Creek Adventure Park was voted Best Family Attraction in Cornwall by the readers of Primary Times magazine in 2016.
Opening Times: Monday – Friday, 9 AM – 5 PM
Admission: Under 92cm FREE | 92cm – 105cm £28.95 |105cm+ £42.95
Website: camelcreek.co.uk
#20 Bask in the mystery of Tintagel Castle
Distance from Newquay: 30.1 miles (36-minute drive)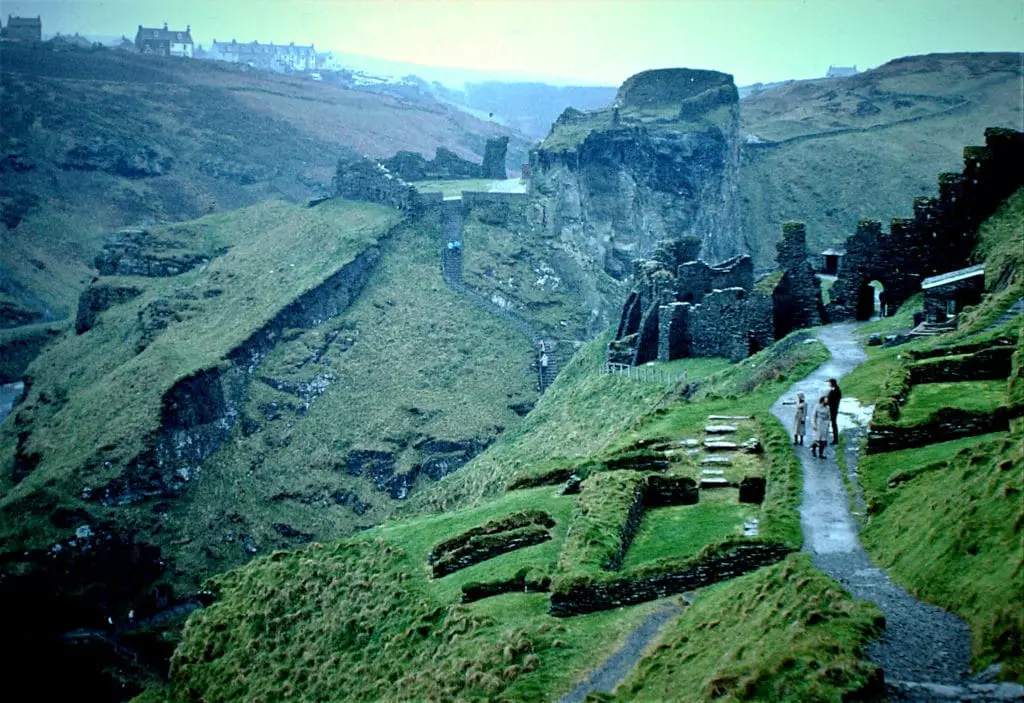 It doesn't matter whether you believe Tintagel Castle is the birthplace of King Arthur or the setting of Tristan and Iseult's love story; you can't miss a visit to this clifftop ruin.
The view is breathtakingly beautiful, and the romantic lore that permeates the area is otherworldly. Besides, it's on the list of top English Heritage Sites to visit.
Opening Times: Closed until early spring
Admission: Adult £16 | Child (5-17 years) £9.60
Website: english-heritage.org.uk
#21 Explore Prideaux Place
Distance from Newquay: 16.6 miles (27-minute drive)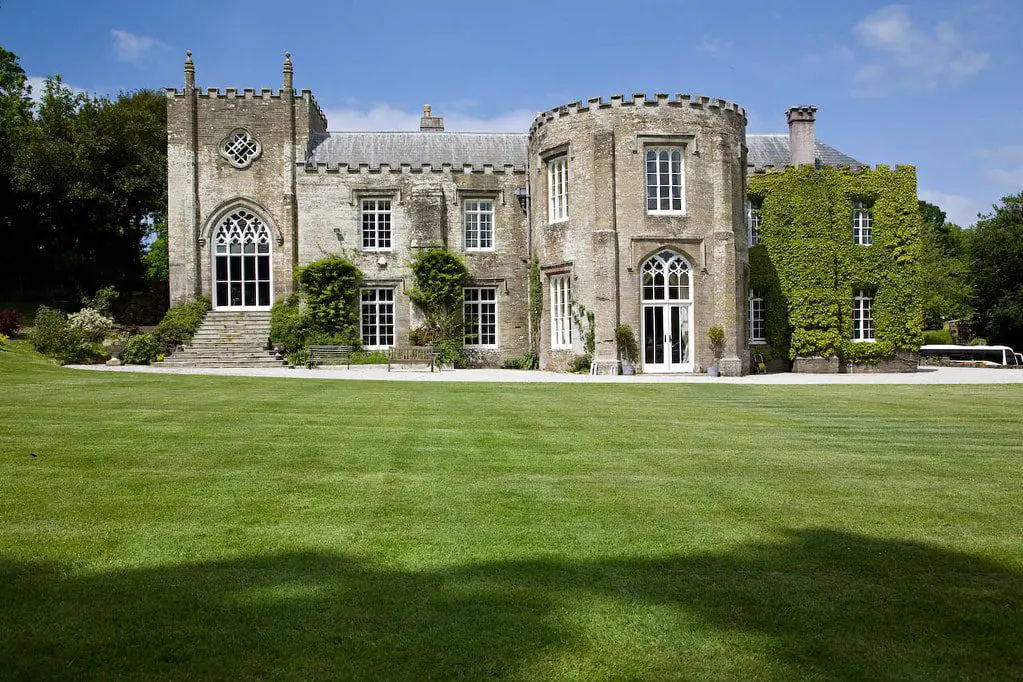 Prideaux Place is a charming country house with lots of history. Completed in 1592, it has been occupied by one family for more than 400 Years. There's masterful Elizabethan plasterwork in the Great Chamber in the house, as well as a rich porcelain collection, period furniture, and portraits depicting members of the Prideaux family and royalty.
Outside you can enjoy beautiful but simple gardens and a deer park, one of the country's oldest park herds.
Website: prideauxplace.co.uk
#22 Discover The Eden Project
Distance from Newquay | 19.2 Miles (32-minute drive)
As one of Cornwall's most popular attractions, The Eden Project is well worth the distance and a great day out for families. Kids will enjoy the innovative play equipment and warm welcome.
The Eden Project is nestled in a huge crater. Here, massive Biomes housing the largest rainforest in captivity, stunning plants, exhibitions and stories serve as a backdrop to striking contemporary gardens, summer concerts and exciting year-round family events.
Website | edenproject.com
What's you're favourite thing to do in Newquay with kids? Let us know in the comments below: