Truro is rich in history and culture and a must-visit on any trip to Cornwall. From fun days out bowling with the family to visiting fantastic beaches and attractions just a short drive away, you'll definitely find plenty of things to do in Truro with kids here.
This post may contain affiliate links, which means I may receive a commission, at no extra cost to you, if you make a purchase through a link. Please see my full disclosure for further information.
TRURO Location MAP:
Best Things to do in Truro with Kids
There are so many things to do in Truro, Cornwall! Here are the very best:
1. Pay a visit to Truro Cathedral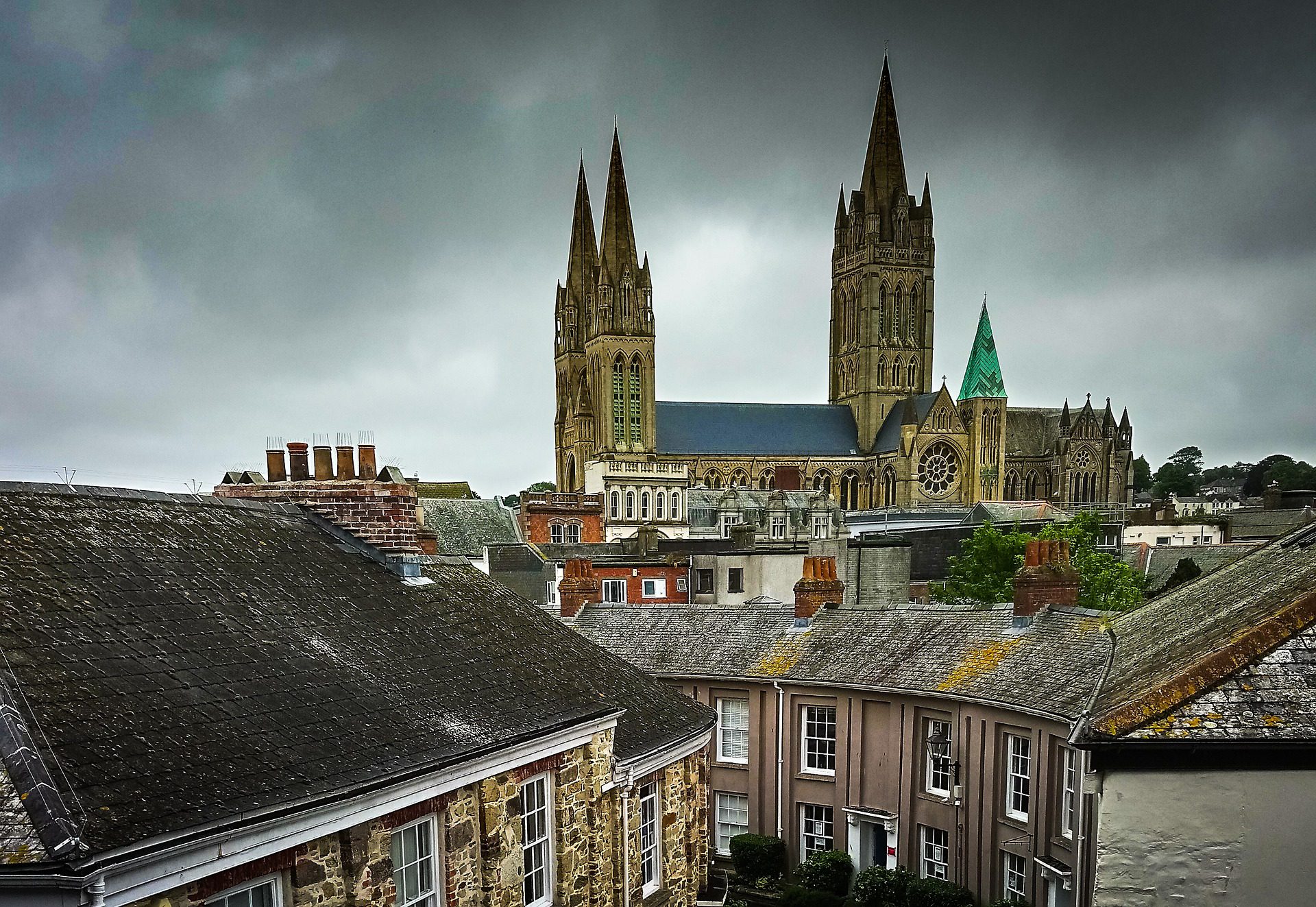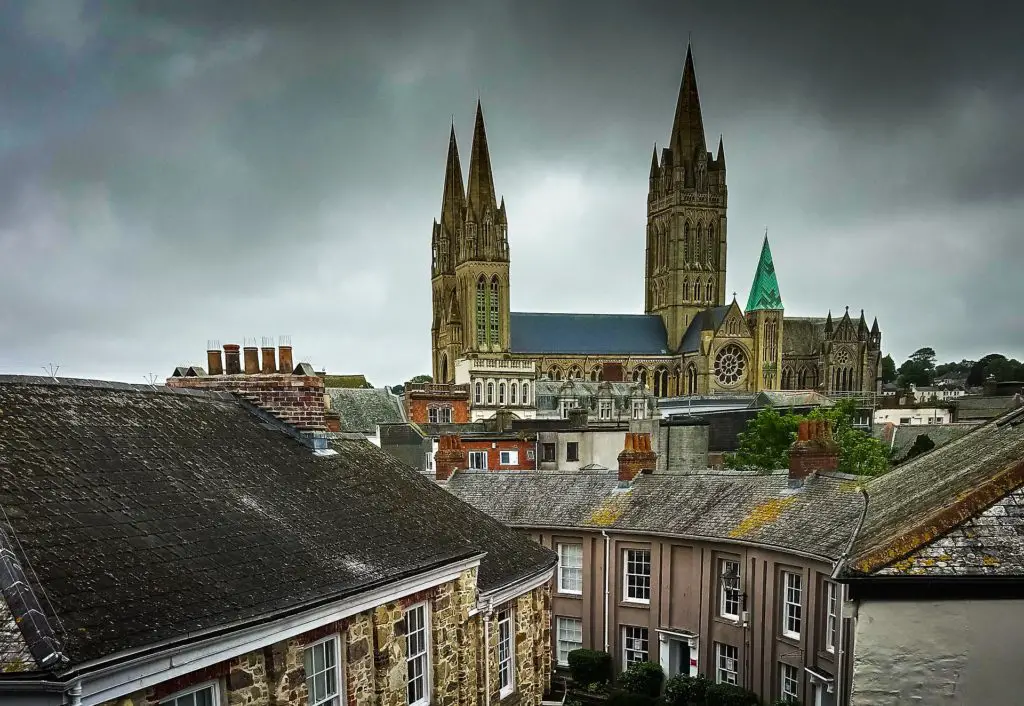 Rising majestically over Truro – a signature sight to those travelling by train through Cornwall's capital, Truro's cathedral is well worth visiting. There's plenty to spot while walking around the cathedral-like the brass eagle. The rose stained glass windows, the spectacular altar, and some impressive statues. There's also a shop where you can pick up some souvenirs and a cafe.
The cathedral has put on plenty of free activities to engage kids, such as the St Piran's trail and the Noah's Ark Challenge. From Monday to Wednesday, there's also a unique craft table for children during the school holidays.
Website | trurocathedral.org.uk
2. 'Shop Til You Drop' in One of Cornwall's Best Shopping Areas
Truro is one of the most popular destinations for locals to go shopping. There are many shops that kids will love too, from the entertainer to Toymaster.
Truro has one of the largest selections of high street chains in Cornwall, from Marks and Spencer to TK Max and Lush to Newlook. Some lovely independent shops sell everything from homemade bakes to handmade crafts. To find most of the independent shops, head to Pannier Market.
3. Visit the Farmers Market
The farmers market is an excellent place to pick up some delicious local produce!
Website | trurofarmers.co.uk/
4. Visit the Royal Cornwall Museum
Founded in 1818, the Royal Cornwall is the UK's greatest museum for Cornish life and culture. The museum aims to provide a welcoming, dynamic and lively cultural hub centred around collections that inspires people to explore, thrive and have fun. There are plenty of quizzes and activities for kids along the way to make the experience fun.
Website | royalcornwallmuseum.org.uk/
5. Try Your Hand at Bowling at Truro Bowl
Website | truro-bowl.co.uk
6. Visit the Shelterbox Disaster Relief Centre
Since 2017, this free visitor centre has welcomed people through the doors to learn about the issues people face after a disaster and how emergency shelter is a vital part of recovery.
ShelterBox is a charity which provides emergency shelter and tools for families robbed of their homes by a disaster; Transforming despair into hope. To see a world where no family is left without shelter after disaster.
Website | shelterbox.org/visitor-centre/
7. Watch a film at the Plaza Cinema (3+)
Featuring five screens, the Plaza cinema is the perfect activity for a rainy day in Cornwall.
Note | Children under 3 are not admitted unless the performance is parent and baby specific.
Website | wtwcinemas.co.uk/truro
8. Ride on the King Harry Ferry
The king harry ferry is the perfect way to see more of Cornwall with kids. The ferry connects St Mawes and the Roseland Peninsula with Feock, Truro and Falmouth by avoiding the alternative 27-mile route through Truro & Tresillian. Perfect for a day trip! Each year the King Harry Ferry saves 5 million car miles, 1.7 million kg of CO2 and ¾ of a million litres of fuel.
Opening Times | Runs every 20 minutes 7 days a week
Admission | Pedestrians (Charity donation) | Car £7 (£9 day return). Click here to see prices for other vehicles.
Website | falriver.co.uk/ferries/king-harry-ferry
9. Watch a show at the Hall For Cornwall
A thriving theatre right in the centre of Truro. The perfect place to watch a performance you'll never regret.
We're here for Cornwall's audiences to discover all that the arts can be. From 'I've never seen anything like it,' to 'I've had the time of my life,' to 'I feel a little bit braver now,' we'll always innovate, entertain, excite and connect, across our diverse music, theatre, community, dance and digital platforms.

We're for innovating not imitating, strengthening support for artists and practitioners who are creating original work and offering footholds for the next generation of talent to get their unique perspective out to the wider world. We house creative businesses forging the industries future. And we're constantly amazed by what our audiences, collaborators, participants and teams make possible.

Hall for Cornwall, Truro
Opening Times | Dependant upon shows
Admission | Dependant upon show chosen
Website | hallforcornwall.co.uk/
10. Roam free in Trelissick Gardens
A welcoming country house and garden set in an estate with stunning maritime views and lovely woodland walks

National Trust
Website | nationaltrust.org.uk/trelissick
11. Victoria Gardens
Victoria Gardens are the perfect outdoor escape on a trip to Truro. The gardens have an exotic feel, originally created in memory of Queen Victoria's diamond jubilee.
12. Boscawen Park
Located alongside the Truro River, you will find the refurbished children's natural play area with swings, slides, climbing equipment and sandpits, and the perfect place for small children to cycle, scoot, and enjoy the open space.
There are also sporting facilities consisting of 8 tennis courts, 3 football pitches and a cricket pitch, all available for hire through the year.
On the opposite side of the road at Trennick Mill, the duck pond is laid out with shrub and herbaceous borders and maintained with wildlife in mind.
Places to Visit Near Truro with Kids
Here are the best day trips form Truro with kids:
13. Healeys Cider Farm
Website | healeyscyder.co.uk/
Location | Penhallow, Truro TR4 9LW
How to get to Healeys cider farm from Truro
14. Callestick Ice Cream Farm Tearoom
Opening Times | Every day 10:30AM – 4:30PM
Admission | FREE
Website | callestickfarm.co.uk/
Location | Callestick, Truro TR4 9LL
How to get to Callestick Ice Cream Farm from Truro
15. St Agnes Beach
This pretty cove beach is right in the heart of St Agnes, a Cornish village with traditional character. The beach has safe swimming, and when the tide is out, you can walk to the neighbouring beach of Trevellas Porth.
Location | TR5 ORL
How to get to St Agnes Beach from Truro
St Agnes is 9.7 miles away from Truro. Depending upon traffic, the drive should take you around 14 minutes. To reach St Agnes by public transport, hop on the 87 bus by First Kernow from Truro bus station. The journey takes around 33 minutes.
16. Perranporth Beach
Best for: Snorkelling, Sailing, Isolation
Miles of golden sand backed with picturesque sand dunes – and all only a short drive away from Truro.
Location | TR6 OAQ
How to get to Perranporth Beach from Truro
Perranporth is 9.6 miles away from Truro. Depending upon traffic, the drive should take you around 20 minutes. To reach Perranporth by public transport, simply catch the 87 bus by first Kernow from Truro bus station. The journey takes 46 minutes.
Where to eat in Truro with kids
17. TRIBE: The Family Space Cafe
Website |View on Facebook here >>
More places to eat in Truro with kids
Truro Cathedral Coffee shop and Resturaunt
Hubbox
Pizza Express
Best places to stay in Truro with kids
Truro is the perfect place to base yourself for a trip with lots of excursions. Being in mid-Cornwall, you won't have far to go. Here is a selection of the best places to stay in Truro with kids:
As the only 4* hotel in Truro, it's definitely the luxury option. It is set within a 19th-century Grade II listed building with arched mullioned windows. Offering a bar and brasserie and free on-site parking, the hotel is just 25 minutes drive from the coast of Cornwall.
Rating | 4*
Rooms Available | Single, double, twin, suite, junior suite
Cots Available? | No
Age Restriciton? | No
Click here to view the latest prices and availability.
County Arms
The county arms is set within a traditional Cornish inn, with homemade food and fantastic views.
Rating | 4*
Rooms Available | Double, family double, twin, disabled access
Cots Available? | No
Age Restriciton? | No
Click here to view the latest prices and availability.
750 yards from the centre of town and near Truro Train Station. You can walk to all Truro's major sights from here.
Rating | 3*
Rooms Available | Single, double, twin, family room
Cots Available? | No
Age Restriction? | No
Click here to view the latest prices and availability.
More places to stay in Truro
For more help on planning the perfect trip to Cornwall with kids, visit our Cornwall Travel Planning Guide here.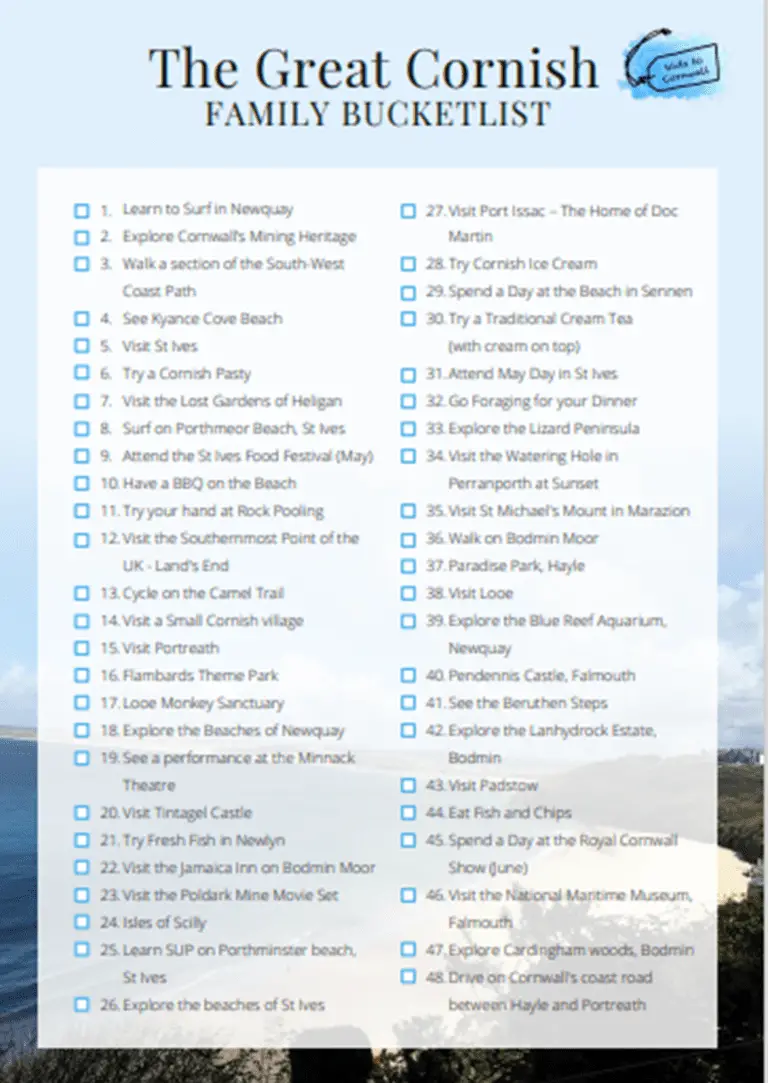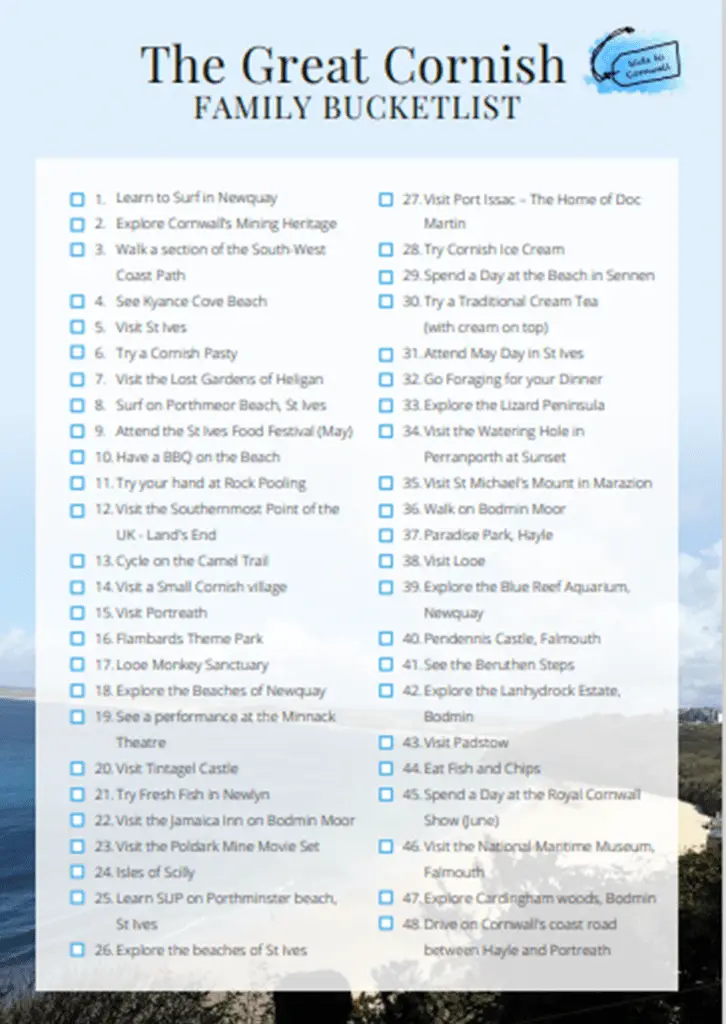 FREE FAMILY BUCKET LIST PRINTABLE
Subscribe to our email list today to gain access to our monthly newsletter and a FREE Ultimate Cornish Family Bucket List Printable: