Padstow is a beautiful town, located on the North Cornwall coast, surrounded by picturesque beaches, a pretty harbour, ample walking opportunities and plenty of attractions. There are plenty of things to do in Padstow as a family to keep you going for weeks, including a huge range of small Padstow attractions in the town itself and a little further afield. Here you'll find everything you need, from summer activities to the best things to do in Padstow in the rain.
This post will take you through the top things to do in Padstow Cornwall with kids as well as the best things to see in Padstow and the best places to visit in Padstow to add to your Padstow to do list.
This post may contain affiliate links, which means I may receive a commission, at no extra cost to you, if you make a purchase through a link. Please see my full disclosure for further information.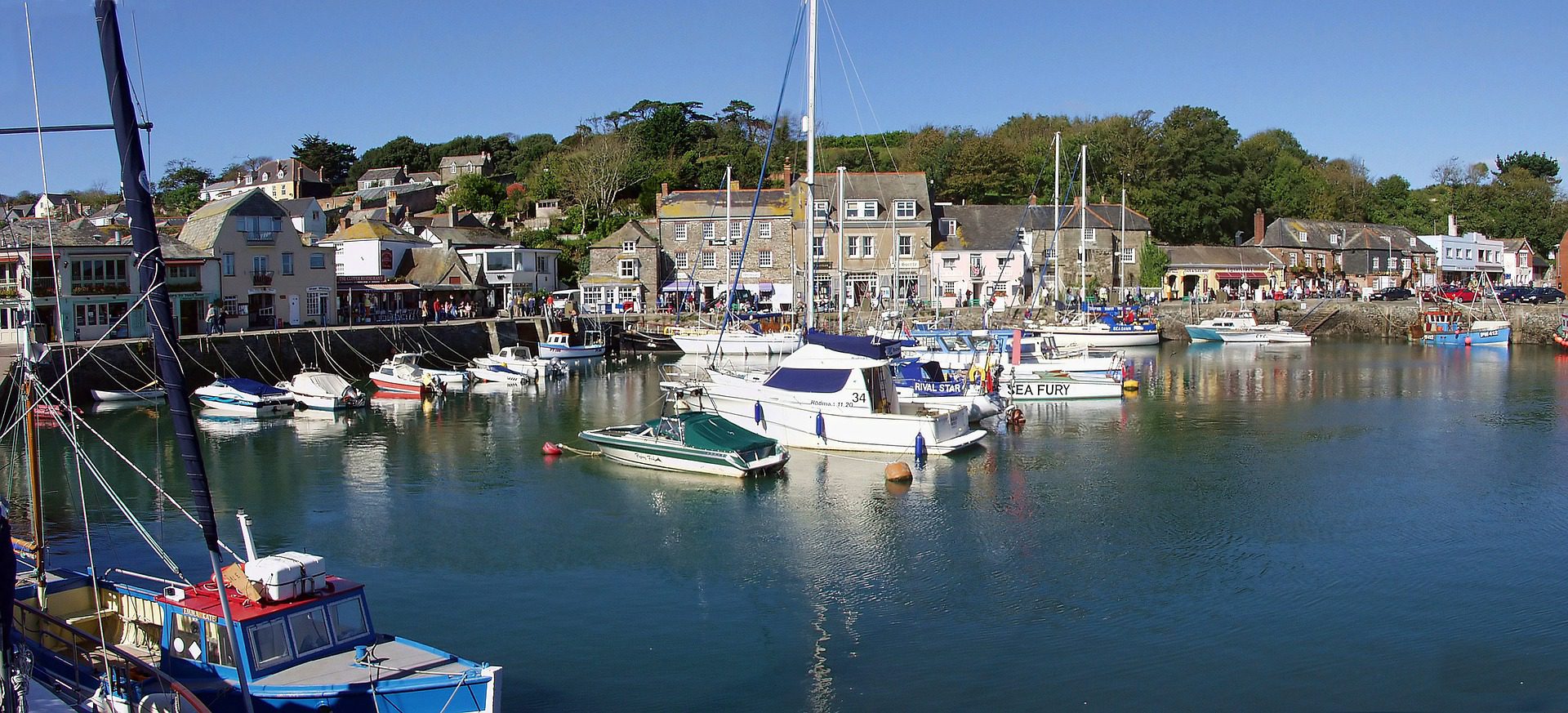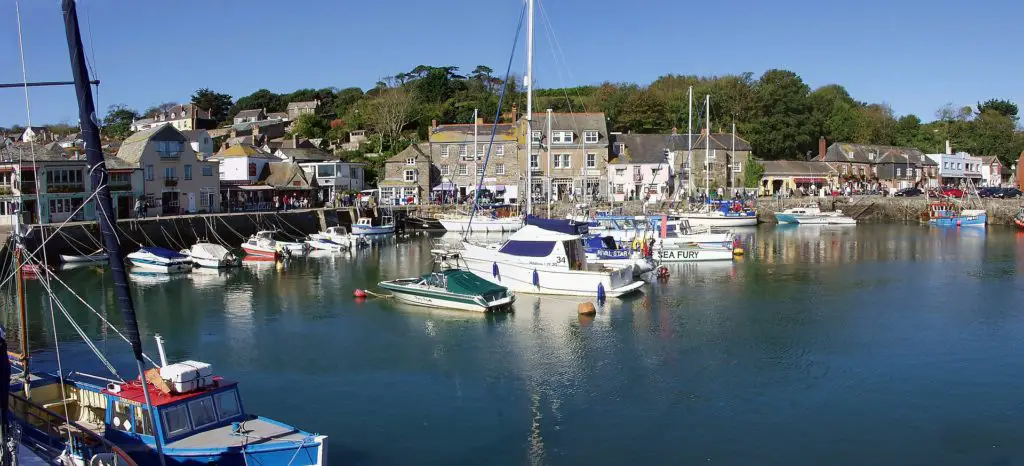 Padstow Things to Do Map
Best Things to do in Padstow with Kids
#1 Visit the Padstow Museum
The Padstow Museum was founded in 1971 by a group of locals. Dedicated volunteers staff the museum under the chairmanship of a local historian. The exhibits are well displayed and interesting for young children. You can learn a lot about the history of this unique seaport and its people.
The main exhibit is the town's famous may-day celebrations with the traditional 'Oss' costume. There is also a collection of old tools, early lifeboats, things rescued from shipwrecks, even artefacts used for cooking back in the day.
Website: padstowmuseum.co.uk
#2 Explore Padstow Harbour
To enjoy the slow pace of life, take a trip down to Padstow harbour. From people-watching to admiring the array of moored boats to viewing the Padstow galleries and shops from afar, Padstow harbour is the town's hub and a must-see when visiting Padstow.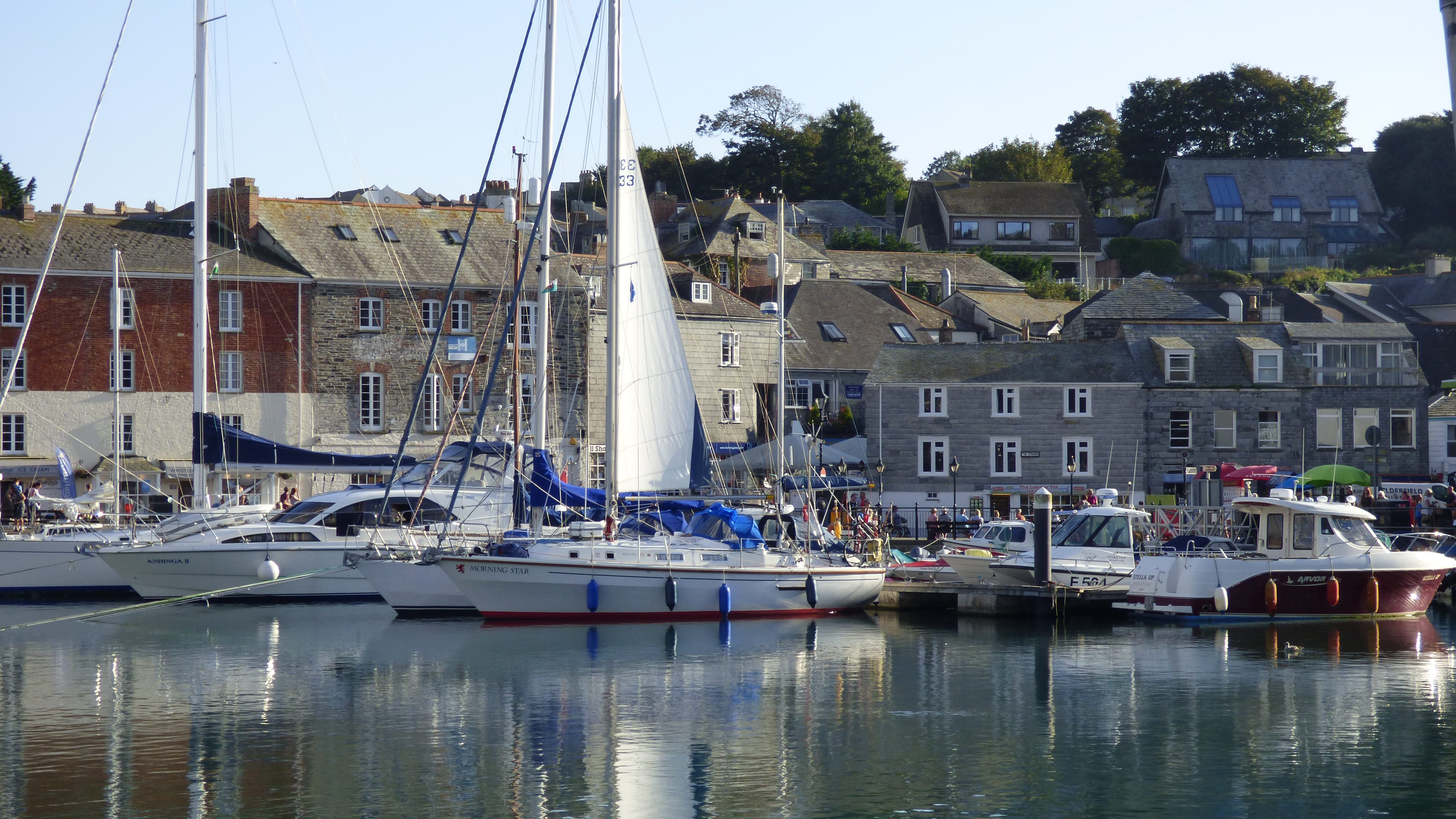 #3 Visit the National Lobster Hatchery
The National Lobster Hatchery is a conservation, education, and research museum. The museum helps conserve the vulnerable lobster population and preserve the coastal marine life.
Here you can see the maternity ward for the lobsters carrying eggs, baby lobsters being grown before release, as well as some adult lobsters.
Children can take part in lots of hands-on activities, and you can adopt a single baby lobster or a family and then track online and see when they have been released into the wild.
Website: nationallobsterhatchery.co.uk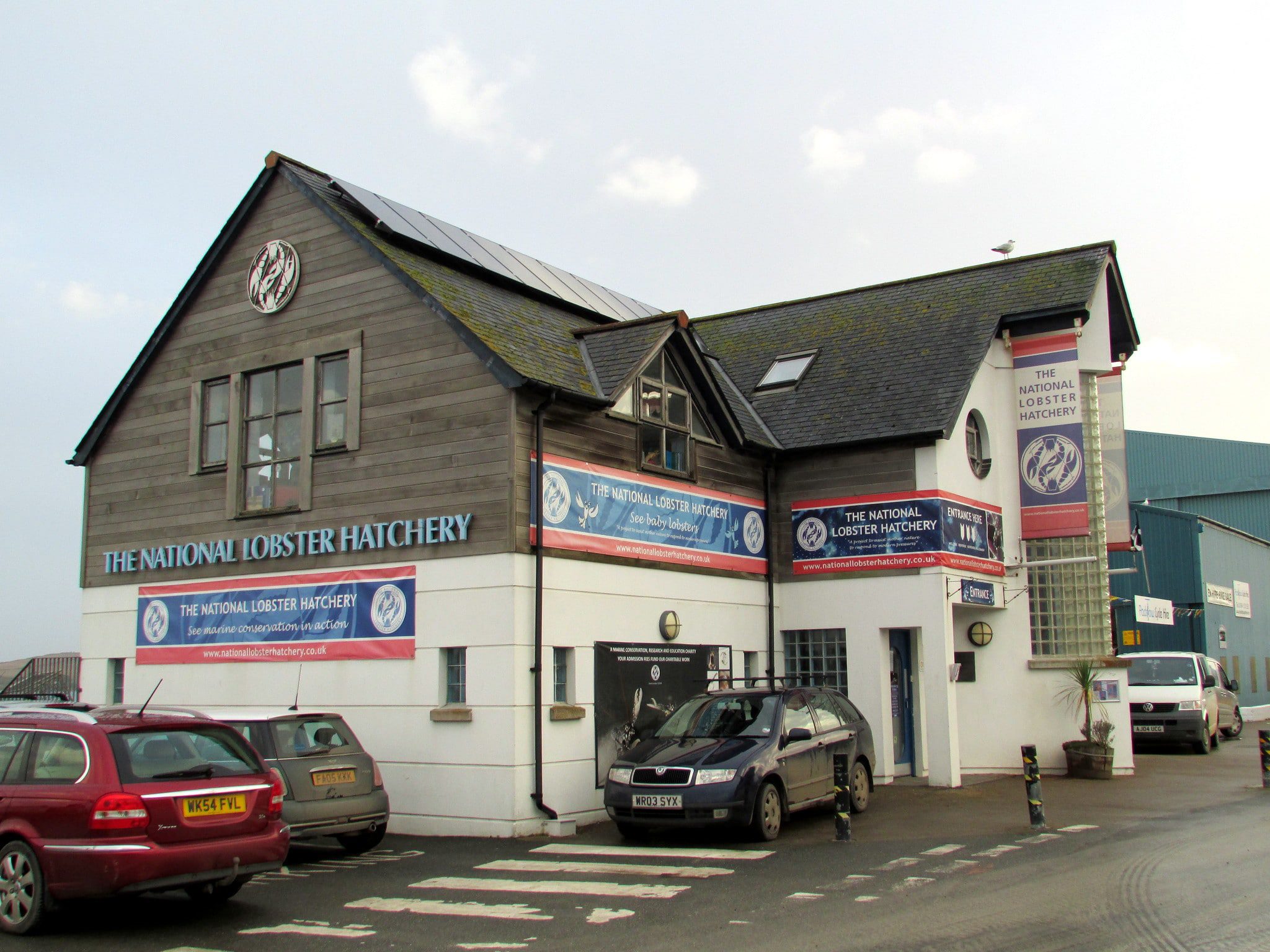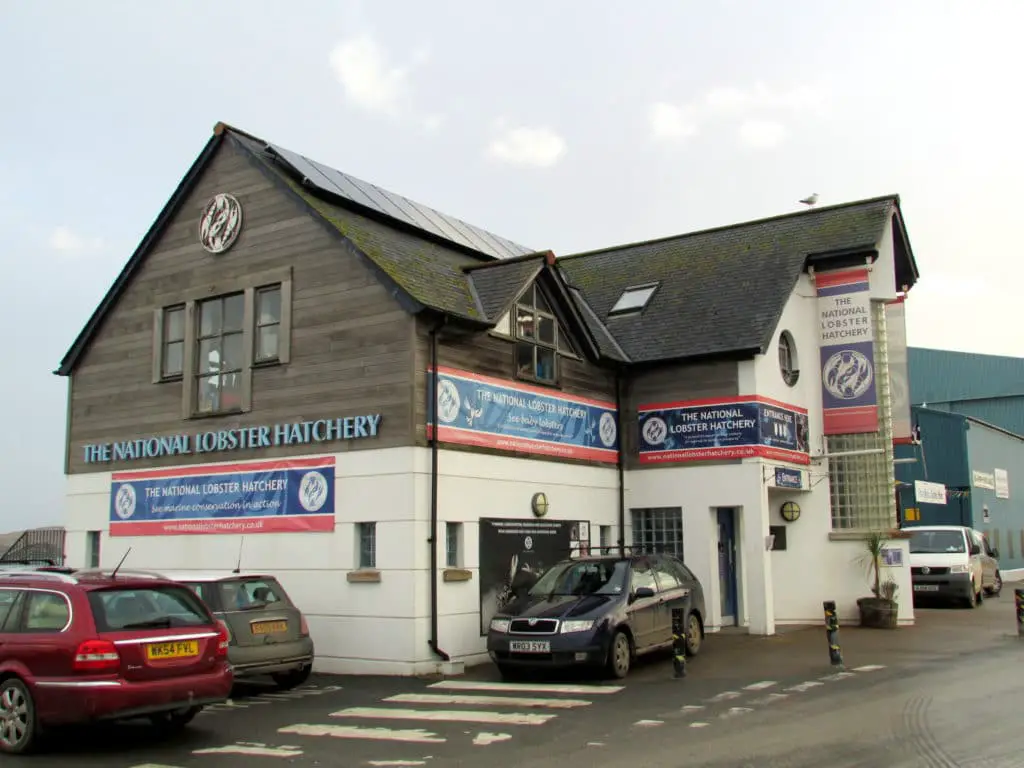 #4 Explore Prideaux Place
Prideaux Place is a charming country house with lots of history. Completed in 1592, it has been occupied by one family for more than 400 Years. There's masterful Elizabethan plasterwork in the Great Chamber in the house, as well as a rich porcelain collection, period furniture, and portraits depicting members of the Prideaux family and royalty.
Outside you can enjoy beautiful but simple gardens and a deer park, one of the oldest park herds in the country.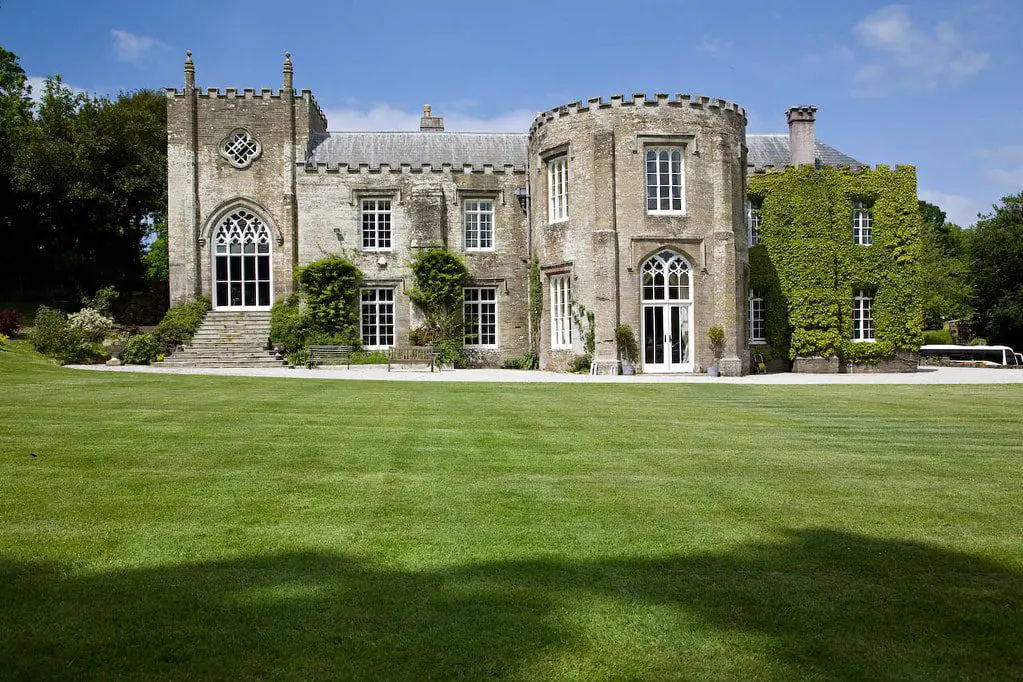 Website: prideauxplace.co.uk
#5 Solve the Padstow's Curious Detective Mystery
The Curious Detective Mystery is a good way to see more of Padstow with kids. It's an adventure that boosts your imagination and gets you exploring the most interesting parts of Padstow.
All you need to do is download the trail and start solving the mystery. You will hunt past medieval inns, through the ancient churchyards, and towards the haunted Abbey House, trying to find clues. It is ideal for everyone above the age of 6.

Website: treasuretrails.co.uk
#6 Go on a Shopping Spree
If you fancy some shopping in Padstow, the high street has a wide range of choices. Shop for clothes at popular cornish brands such as Seasalt, Anna Cottage Surf Shop and Whistlefish, or explore the range of Padstow galleries. Make sure you visit Stein's gift shop as well as a range of independent shops such as the Padstow Bookshop, Love from Padstow and Tidings gift shop.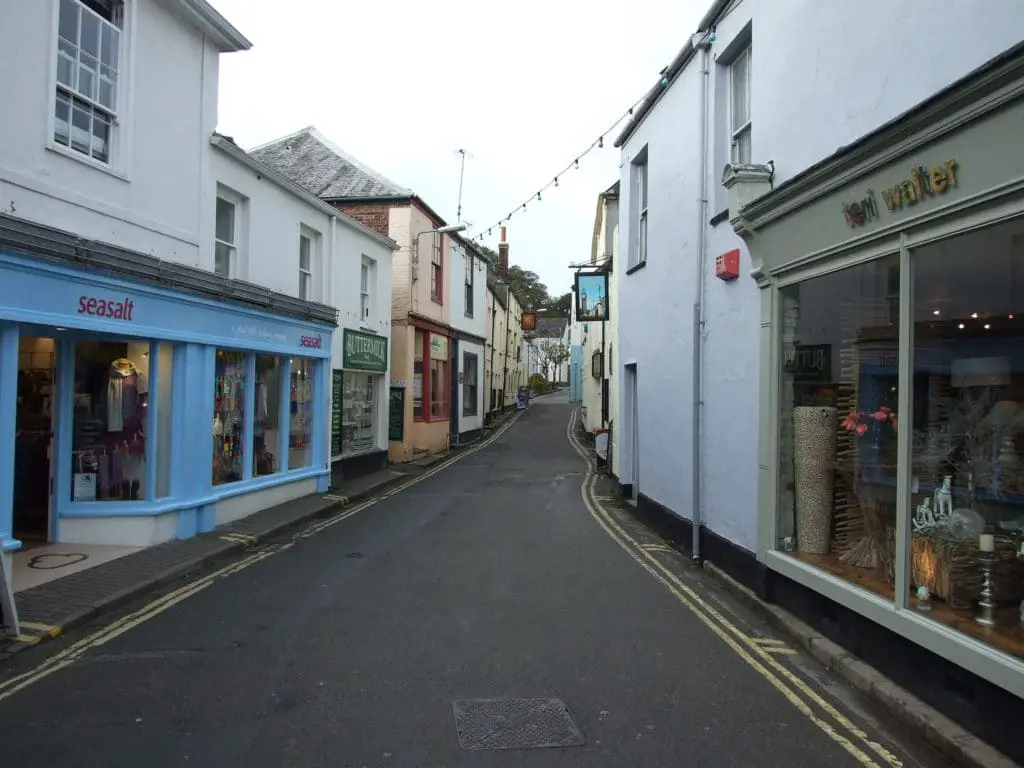 #7 Rick Stein's Cookery School
Designed by the world-renowned chef – Rick Stein, the Rick Stein, cookery school is located in the heart of Padstow. The school offers a huge range of courses including special kids courses for ages 8-12 to inspire young chefs into the cookery world. There's also a special course for teenagers (13-17) teaching more advanced techniques and recipes.
If you fancy a night off, there's a full range of adult courses ranging from short evening specials to multiple day courses specialising in particular countries or meal courses.
Website | The Rick Stein Cookery School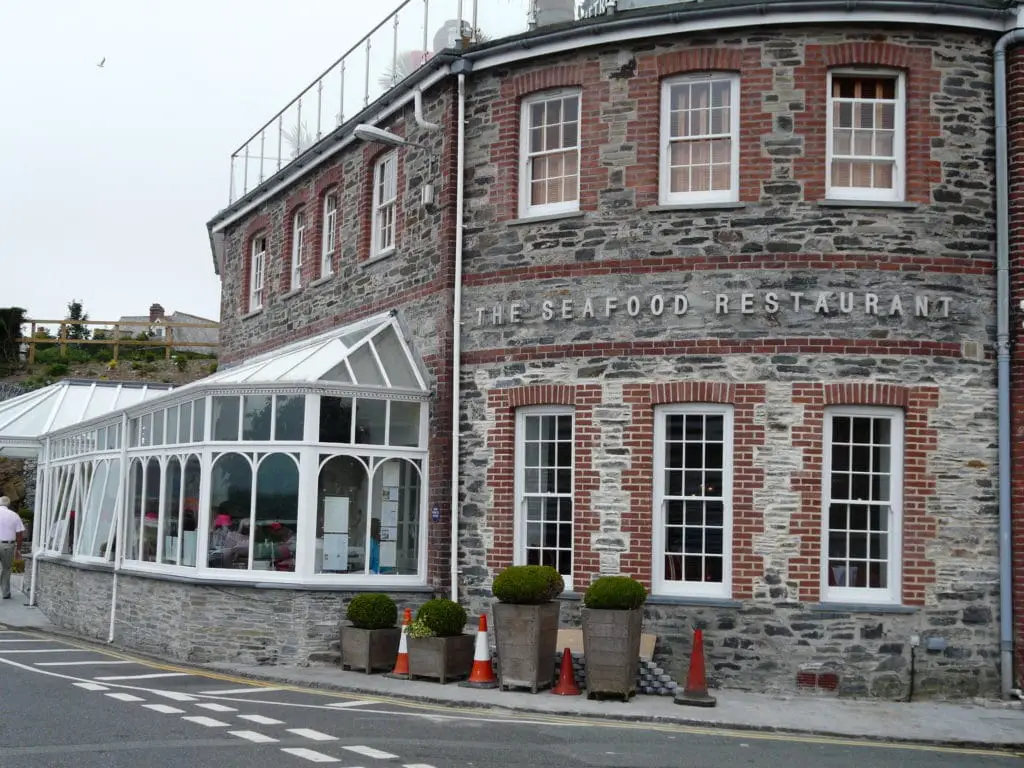 #8 Go Walking in Padstow and the Surrounding Area
With a prime location on the south-west coast path AND the Camel Trail, there's plenty of excellent walks in the Padstow area:
#9 Cycle, Walk or Ride the Camel Trail
The Camel Trail is a perfect outdoor escape when visiting Padstow. It is 18 miles (29km) long trail between Padstow and Wadebridge suitable for walking, cycling and horse-riding.  It is providing access to the beautiful Cornish countryside and the ocean along a disused railway line.
The trail is safe for families, it's traffic-free with a smooth surface, and it is pushchair friendly.
There are multiple bike hire shops at both ends of the trail with various bikes.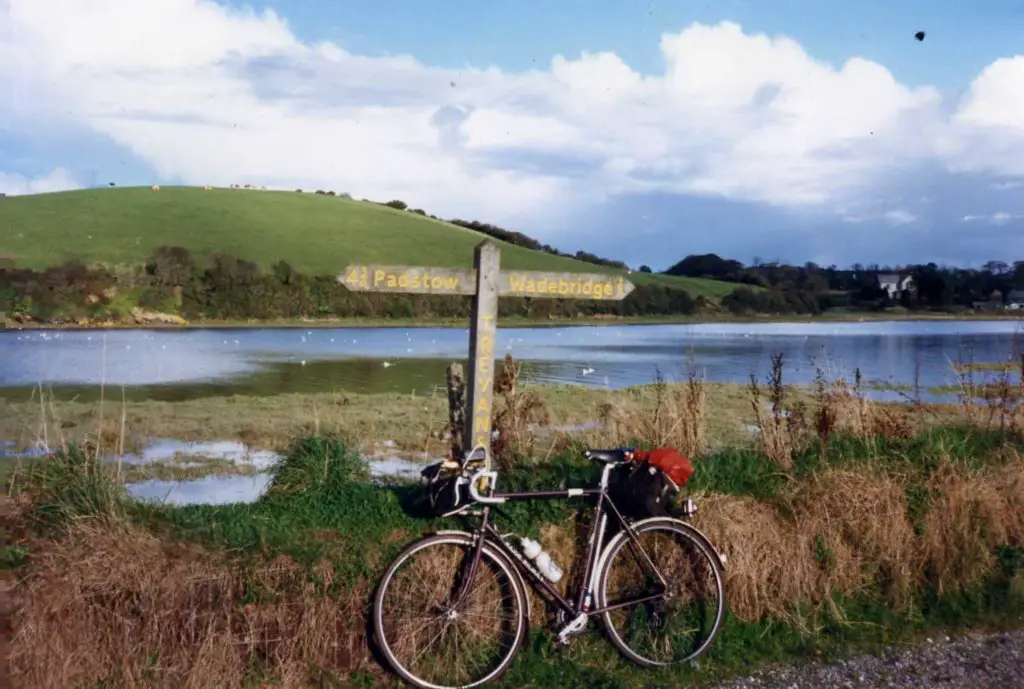 #10 Padstow Boat Trips with Sealife Safaris
Padstow Sealife Safari is the perfect way to see more of the Cornish coastline and marine wildlife – grey seals, dolphins, porpoises, and sharks.
You can choose a range of boat trips around the Camel Estuary and beyond – Sealife Safari Boat Trip, Seal Safari Boat Trip, Coastal Power Boat Tour, or Camel Estuary Boat Tour.
All passengers are personally fitted with life jackets, and a safety briefing is given before every departure.
Admission: Under 5 FREE | Prices vary depending on the length of trip chosen
Website: padstowsealifesafaris.co.uk
#11 Celebrate May Day with Obby Oss
If you find yourself celebrating May Day in the Padstow, your children (as well as you) will have enormous fun being part of this unique traditional event – Obby Oss.
At the centre of the event is the pair of Obby Osses – Hobby Horses, which are highly stylized (one of them is blue and another is red) horses going around the town's streets..
The horses are followed by a group of people in white outfits resembling Morris dancers, playing accordions and thumping drums. At the end of the day, there's a customary farewell to the Osses at the Maypole.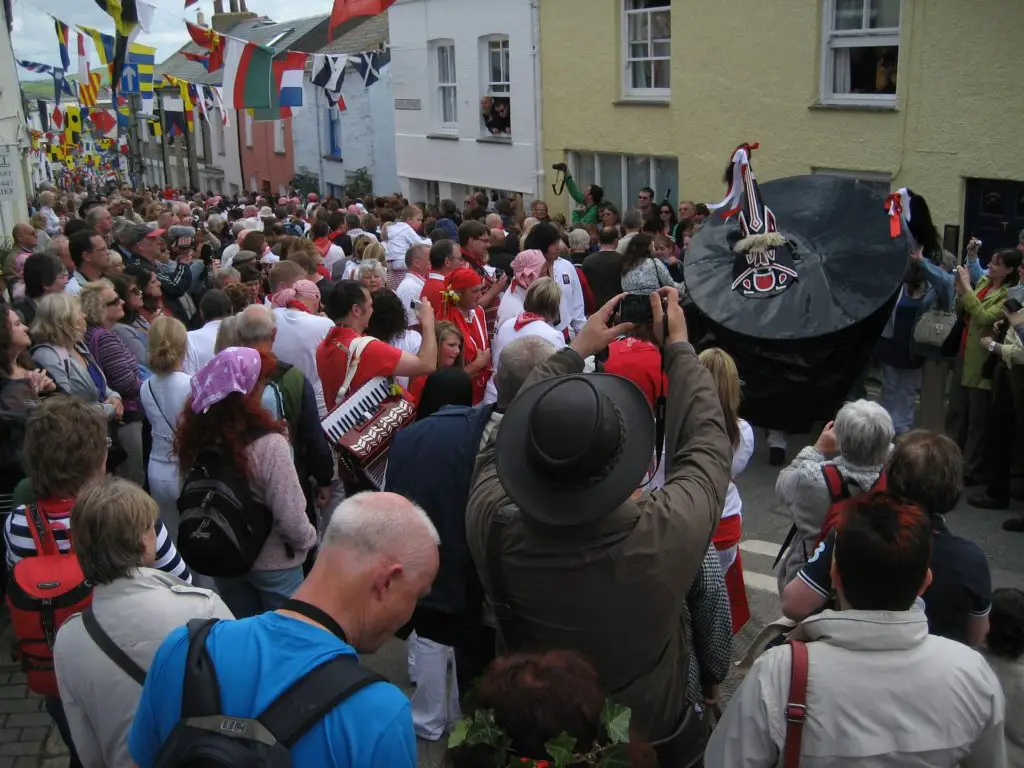 #12 Padstow Mini Golf
Location | North Quay, PL28 8AF
One of the best things to do in Padstow is heading to Greens of Padstow to play crazy golf! This well-kept mini-golf course within a restaurant's secret garden has a stunning panoramic view of the harbour and camel estuary. The course is decorated with unique sculptures and specimen planting to make your game even more joyful and memorable.
Price | Adult £6.5 | Child £5
Holes | 18 Holes
Website | greenspadstow
Padstow Beaches
#13 Spend the Day at Trevone Bay Beach
If you're visiting Padstow during the summer, Trevone bay is probably where you'll spend most of your time. This vast expanse of sand is located just 2 miles west of Padstow in the village of Trevone.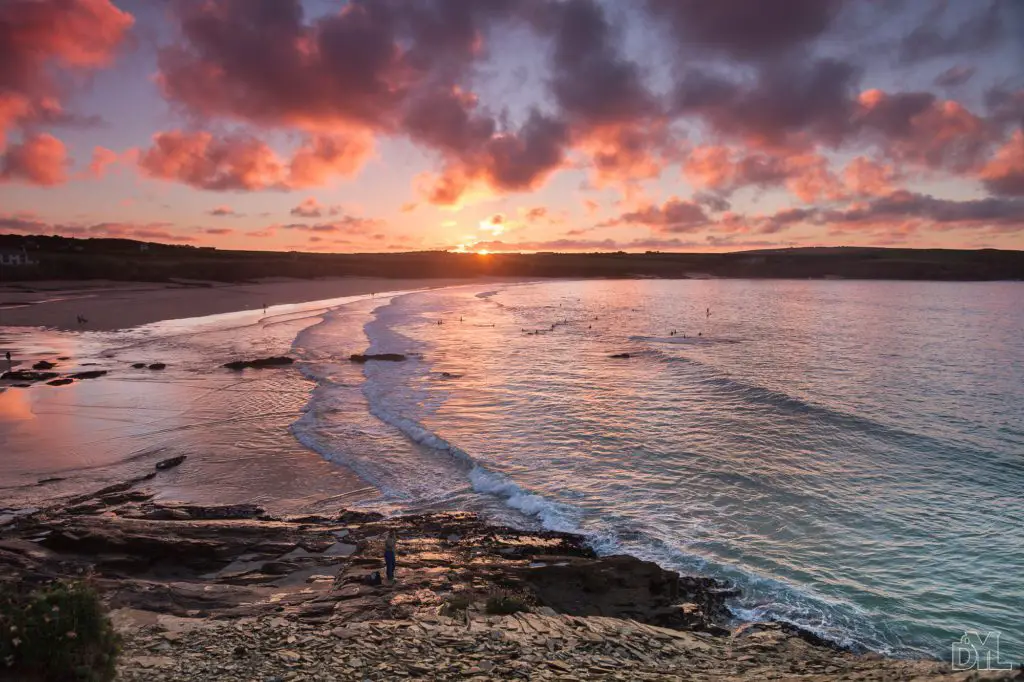 Location | PL28 8QY
Features and amenities | Blue flag award, summer lifeguard cover, parking
#14 Visit Harlyn Bay Beach
Just west of Padstow, Harlyn Bay Beach is one of the best to visit as a family. The vast expanse of beach is also popular with surfers, and the beach is an excellent place to learn to surf. Kids will love rock pooling; there are rock pools scattered around the edge of the beach.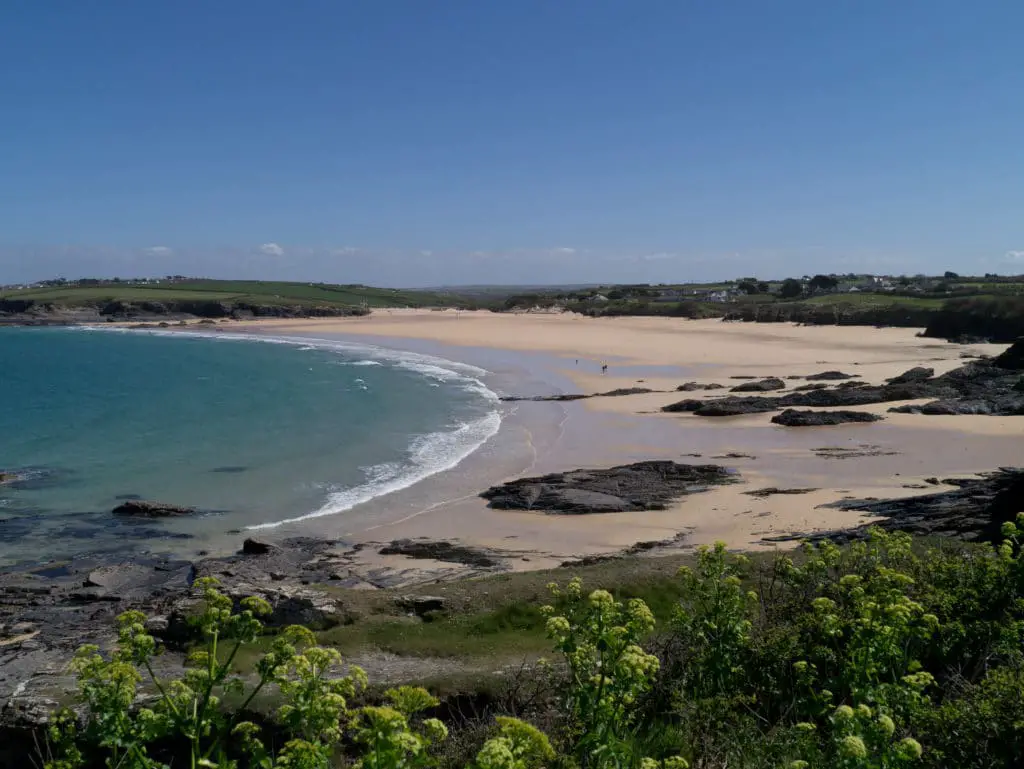 Note: Access from the car park is not pushchair friendly. However, there's a slipway just down the road from the car park to make access easier.
Location | PL28 8SQ
Features: RNLI Lifeguards (5 May – 30 September), Easter bank holiday and weekends during April)
Amenities: Surfschool, shop, toilets
Stay: The Pig at Harlyn Bay
#15 Surfing in Padstow – Harlyn Bay
The beaches surrounding Padstow are perfect for surfing for all ages and abilities. There are plenty of surf schools to choose from as well as options to hire boards and equipment.
Harlyn surf school provides a range of lessons for various abilities starting from age 5 with the '1-hour fun surf lesson'. Try your hand at a beginner surf lesson, or book yourself onto a surf course. Each summer, Harlyn surf school runs a surf camp for 8-14-year-olds. A range of other services is offered, including board hire, coasteering and kayaking for the perfect adrenaline-filled day for all the family.
#16 St George's Cove Beach
St George's beach is just half a mile from Padstow, making it the closest beach to Padstow – a perfect choice when visiting Padstow with kids. Backed by cliffs, you'll have fantastic views of the camel estuary too.
Location | PL28 8BY
Amenities | There are no amenities on the beach itself. Everything can be found half a mile away in Padstow.
#17 Tregirl's Beach (Harbour Cove)
Sheltered from the worst of the Cornish wind, Tregirl's beach is perfect for a family beach trip. At low tide, the beach expands to meet the next beach along – Hawker's cove. Tregirl's beach is still near Padstow, but it's a hidden gem, remaining quieter than other nearby beaches.
Amenities | Parking + other amenities at the nearby Lellizzick farm
#18 Hawker's Cove
This small stretch of sand is very nearby Padstow. Due to its size, most visitors bypass Hawker's cove for the nearby larger beaches. The beach is well worth a visit, and you'll have a more tranquil experience here.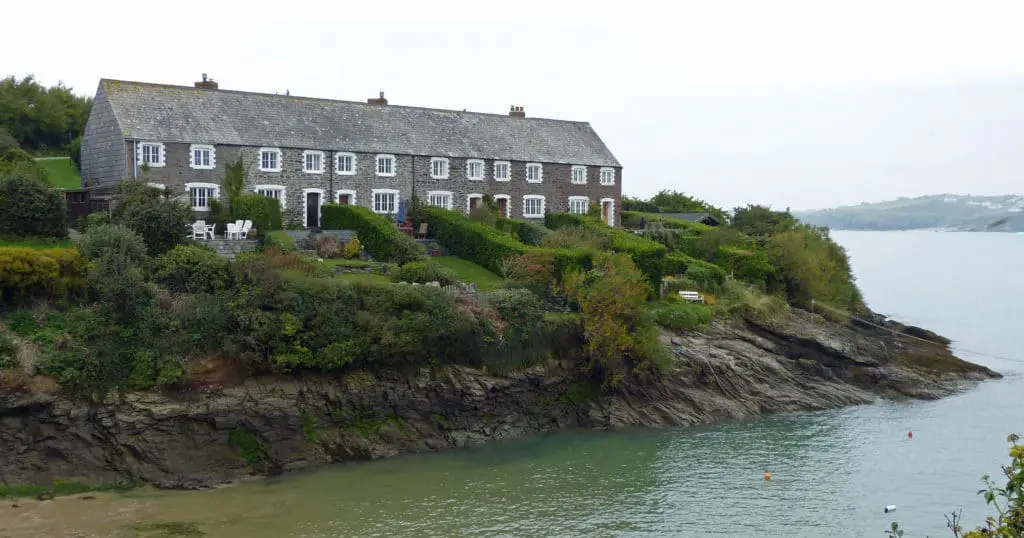 Where to eat in Padstow with kids
Suppose you're planning to eat out in Padstow and looking for some amazing places to eat in Padstow with kids. In that case, there are some excellent takeaways, cafe and restaurants in Padstow that will make eating in Padstow an experience you'll never forget. Here are some of the best places to eat with kids:
Rick Stein's Fish & Chips | This world-renowned restaurant and takeaway is led by the famous chef – Rick Stein. You'll be guaranteed to have some of the nicest fish and chips you've ever tasted. Make sure you book in advance as there are often long ques. There are plenty of easy kids' options, too and a laid back vibe.
Rojano's in the Square | Rojano's combines Cornish and Italian cuisine from delicious sandwiches to fresh sourdough pizza. The atmosphere is laid back, and you'll definitely find something for the kids on the menu.
Prawn on the Lawn | Named as one of the best seafood restaurants in the UK, prawn on the lawn offers fresh fish delivered straight from Padstow harbour. There are plenty of things on the menu for kids too. You can have something different every day as the small plates are regularly changed.
---
Best places to stay in Padstow with kids
Padstow is an excellent place to base yourself on a family trip to Cornwall. There are plenty of things to do in Padstow and nearby and plenty of amazing accommodation options. Here are some of the best hotels in Padstow to stay with kids:
The London Inn
The London Inn provides cosy accommodation attached to a pub and restaurant. Guests are treated to a full English each morning. Cots are available on request, and extra beds at a fee. Family suites are also available.
Rating | 3*
Rooms Available | Double, Superior King, Family Suite
Cots Available? | Yes
Age Restriction? | No. Those over 16 pay an adult rate.
View the latest prices and availability here >>>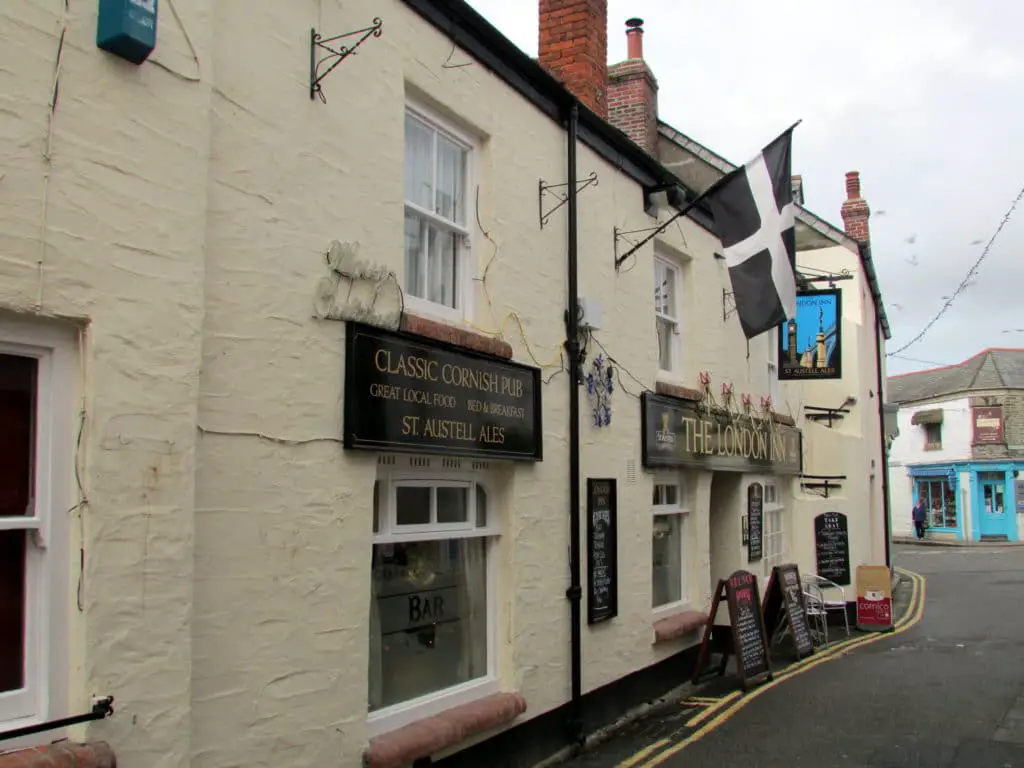 ---
Well Parc Hotel
Surrounded by two acres of land and overlooks the stunning Cornish coastline. You'll be just 5 minutes walk away from Trevone Bay – one of Cornwall's best family beaches and the southwest coast path.
Rating | 3*
Rooms Available | Double/Suite/Triple/Family
View Prices and Availability for Your Dates Here >>>
---
---
Holiday Cottages in Padstow
cottages to rent in Padstow
Holidaycottages.co.uk have a good range of family-friendly cottages in Padstow and the surrounding area. Accommodation can often be hard to come by, especially in high season, so make sure you book in advance.