Mevagissey is the quintessential Cornish fishing village – quaint, unassuming, and decidedly delightful. Every corner exudes rustic charm, from the fishing boats bobbing on the sea to the narrow lanes weaving through higgledy-piggledy hillside buildings. But what makes Mevagissey an ideal getaway is it packs something for everyone, even kids. Some of the best things to do in Cornwall are located in Mevagissey. Besides, this lovely port town is arguably the best place in Cornwall to catch crabs on the quayside, eat Cornish ice cream, and find lost gardens. Here are the best things to do in Mevagissey Cornwall and things to do near Mevagissey with your kids.
This post may contain affiliate links, which means I may receive a commission, at no extra cost to you, if you make a purchase through a link. Please see my full disclosure for further information.
Things to do in Mevagissey with Kids
#1 Visit the Mevagissey Aquarium and Learn About the Local Marine Wildlife
If you wander to the harbour's edge, you will find an impressive marine museum housed in a historic lifeboat building. The structure houses two large tanks containing various local marine species, including crabs, lobsters, and starfish. The attraction aims to raise awareness and educate the public about the diversity of local marine wildlife. It also touches a little on the maritime history of Mevagissey.
Website: www.mevagisseyharbour.co.uk
#2 Go Treasure Hunting at the Shipwreck Treasure Museum
Have you ever wondered what happened to the items recovered from the Titanic? Some of them are on display at the Shipwreck Treasure Museum, with 8,000 other artefacts salvaged from 150 different shipwrecks.
The collection includes gold bars, copper ingots, and cannonballs. However, one of the museum's most fascinating finds is the intact barrel of coins, the only one ever recovered from a sunken ship. You should also not miss the historic Charlestown Underground tunnels.
Website: www.shipwreckcharlestown.co.uk
#3 Visit the Mevagissey Museum
Did you know that Mevagissey was the first place in Cornwall to get electricity? You will find fascinating facts like this at the Mevagissey Museum. The building that houses the museum dates back to 1745 and is once a boatbuilder's workshop that repaired smuggling vessels.
But there's more to Mevagissey's than its infamous smuggling history. You will find an arrow and axe head from the Bronze Age at the museum.
It also displays a cider press and apple crusher locals used to make cider, a horse-drawn barley thresher, and a recreated Cornish kitchen equipped with a working cloam oven.
Opening Times: Daily, 11 am – 4 pm (Easter to October), 11 am – 4 pm (July and August)
Admission: Free
Website: www.seahorsecornwall.co.uk
#4 Check Out the Train Models in the Mevagissey Model Railway
Almost every child goes through a stage of train obsession. Who didn't love Thomas the Tank Engine growing up? At the Junior Junction at the World of Model of Railways, your little ones can finally meet Thomas and his friends. They can also marvel at over 40 miniature trains running through elaborately detailed sceneries, including the countryside, a coastline, and the snowy Alps.
Website: www.model-railway.co.uk
#5 Mevagissey Fishing Trips
Mevagissey has been one of Cornwall's most important ports for a decade. Once the centre of Cornwall's trade, importing china clay from St Austell, Mevagissey is still a working harbour and you can get a taste of what it's like going out fishing.
There's a variety of fishing charters and tours to choose from in Mevagissey. Here are some of the best:
Mevagissey Boat Trips
Mevagissey Boat Trips offer a 90-minute mackerel fishing trip around the bay of Mevagissey. Learn how the fisherman have done it for generations before bringing your catch back to shore for dinner.
Website: Mevagissey Boat Trips
Bessie Vee Charters
Bessie Vee is one of the largest and fastest charter boats in the South West. You'll get the chance to fish from over 50 recks in the area. Charters are available for 4-12 hour days. Choose from a group tour or a carter just for you and your family (4-10 people).
Charter Fishing Mevagissey
There's a variety of fishing trips with Charter Fishing to suit all ages and budgets. Choose from a short fishing trip to a full day exploring the wrecks around the Cornish coast.
#6 Walks Around Mevagissey
The coastline that surrounds Mevagissey is astounding. Some of the best stretches of the southwest coast path are located near Mevagissey. Even just walking a small stretch of the coast is worth it. Here are some of the best walks starting in Mevagissey:
Things to do near Mevagissey with kids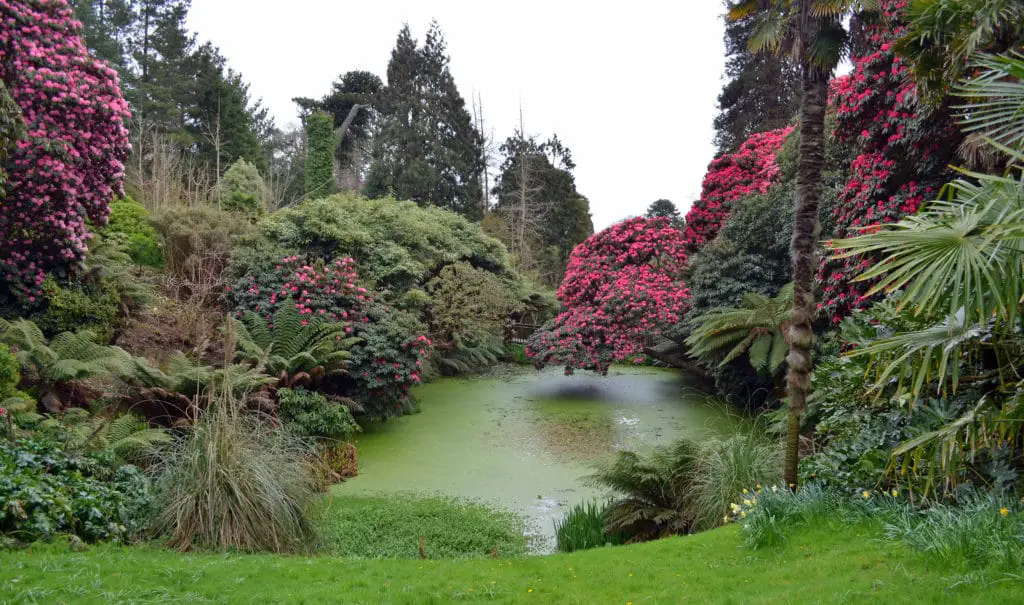 #7 Explore the Lost Gardens of Heligan
Set in one of the most mysterious estates in England, the gardens were lost under thick overgrowth after being abandoned by workers during WW1.
Their accidental discovery in 1990 led to the largest garden restoration project in Europe. Now, this 200-acre paradise is home to 150-year-old rhododendrons and camellias, over 20 kinds of fruits and vegetables, a tunnel of bamboos, and rare wildlife. If you're feeling extra brave, cross the 100 feet tall Burmese Rope Bridge, which hovers over a jungle of tree ferns and other subtropical plants.
Distance from Mevagissey: 2.8 miles (7-minute drive)
Website: www.heligan.com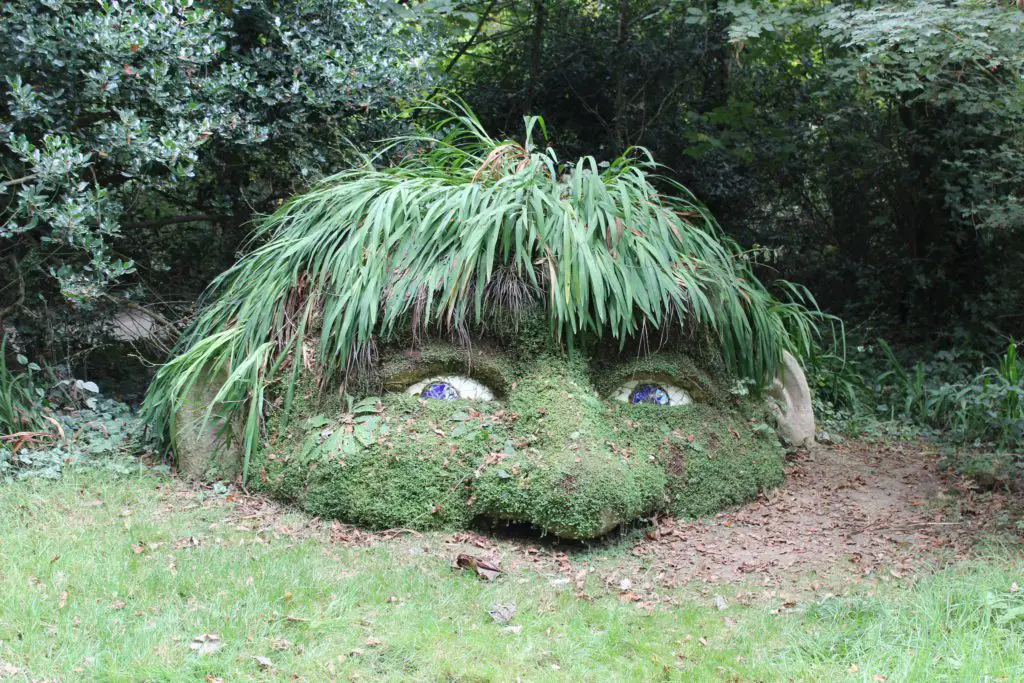 #8 Marvel at the Majestic Caerhays Castle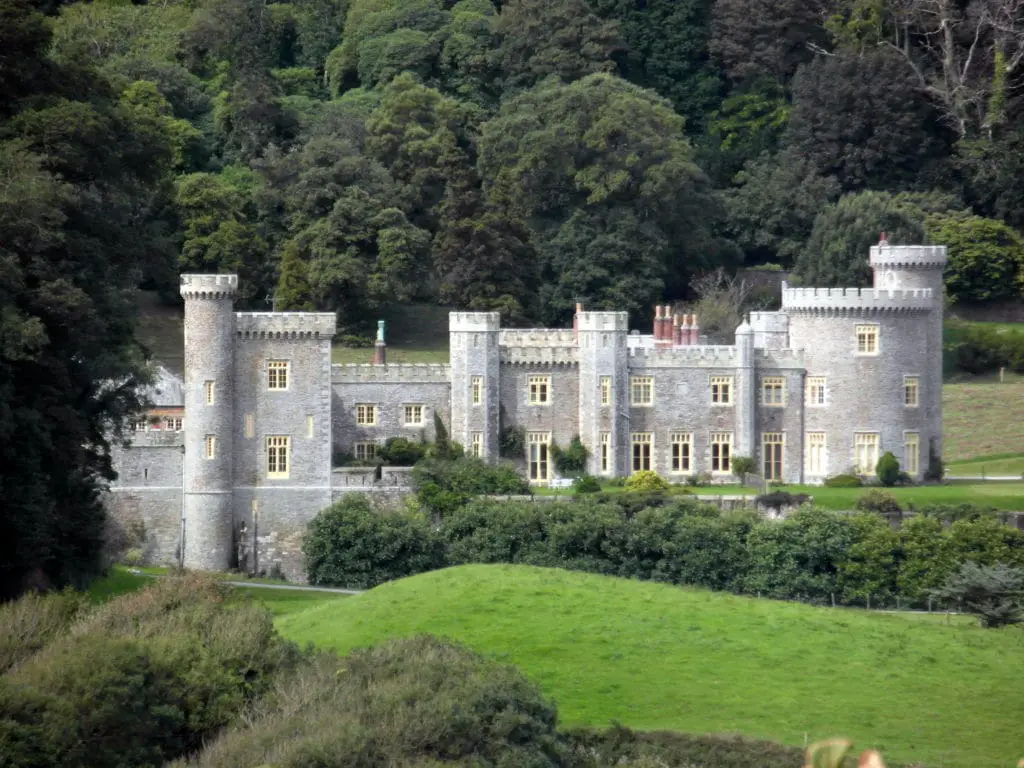 Whether you're an architecture enthusiast, an incurable garden romantic, or a secret beach lover, you should add Caerhays Castle to your itinerary. The castle overlooks the stunning Porthluney Cove (a must-see in its own right!) and is surrounded by 120-acres of woodland gardens, grassy paths, trails, and a lake.
Here, you'll find over 600 types of plants, including 250 varieties of rhododendrons, azaleas, camellias, shrubs, and trees. However, nothing is more impressive than its award-winning collection of magnolias, considered the largest in Britain.
Distance from Mevagissey: 16-minute drive (6.8 miles)
Website: www.visit.caerhays.co.uk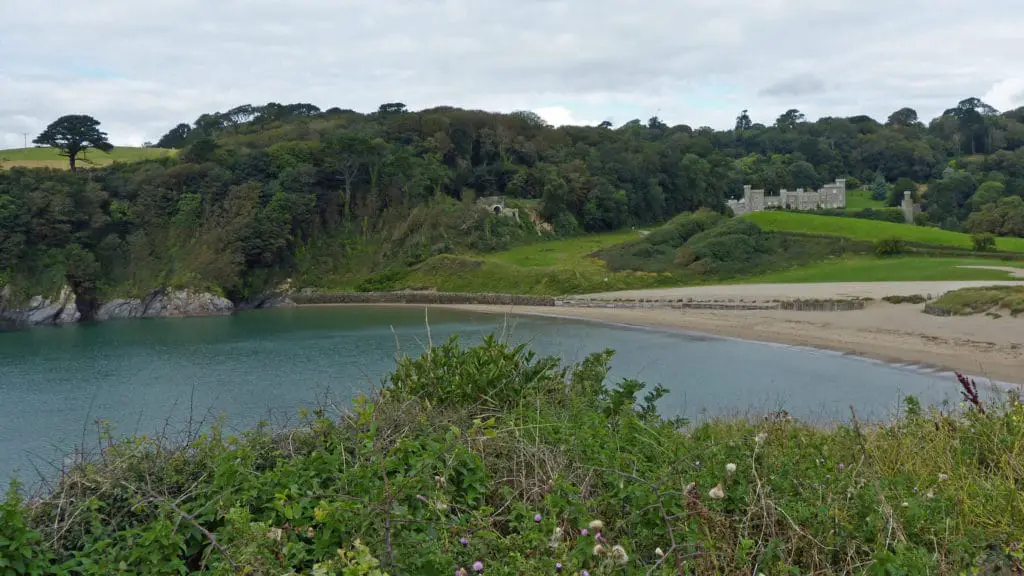 #9 Have Some Fun at The Seahorse Leisure Centre
The Seahorse Leisure Centre is an excellent venue for adventure and relaxation, whatever the weather. The complex features two indoor pools, one for experienced swimmers and another for younger children.
There's a separate whirlpool for parents who want to unwind complete with bubbles. Want your kids to burn off their extra energy? Try the three-tiered, indoor soft-play area complete with ball pools, twin slides, and padded climbing zones. While you're at it, check out the brand-new arcade and the recently refurbished tennis courts.
Distance from Mevagissey: 5-minute drive (1.8 miles)
Website: www.seahorsecornwall.co.uk
#10 Play Bowling at Ozzell Bowl
With its newly refurbished 8 MAD lanes, Ozzell Bowl is every bowling enthusiast's paradise. But even if you're not keen on the sport, you will still find something to enjoy in this fantastic venue – from arcade games to pool tables to air hockey. Children will love the soft play area, while adults can indulge in a drink or two at the well-stocked bar.
Distance from Mevagissey: 13 minutes (5.8 miles)
Website: www.ozzellbowl.co.uk
#11 Swim and Relax at Portmellon Beach
Nestled in a small, sheltered cove, Portmellon Beach receives few visitors, making it a perfect escape from the noisy crowd. The beach is no less stunning than its more frequented neighbours, though. Enjoy the feel of sand on your toes, soak up the sun, rummage through seaweeds, and take a dip at the crystal-clear rock pools.
Distance from Mevagissey: 6-minute drive (1 mile) OR 16-minute walk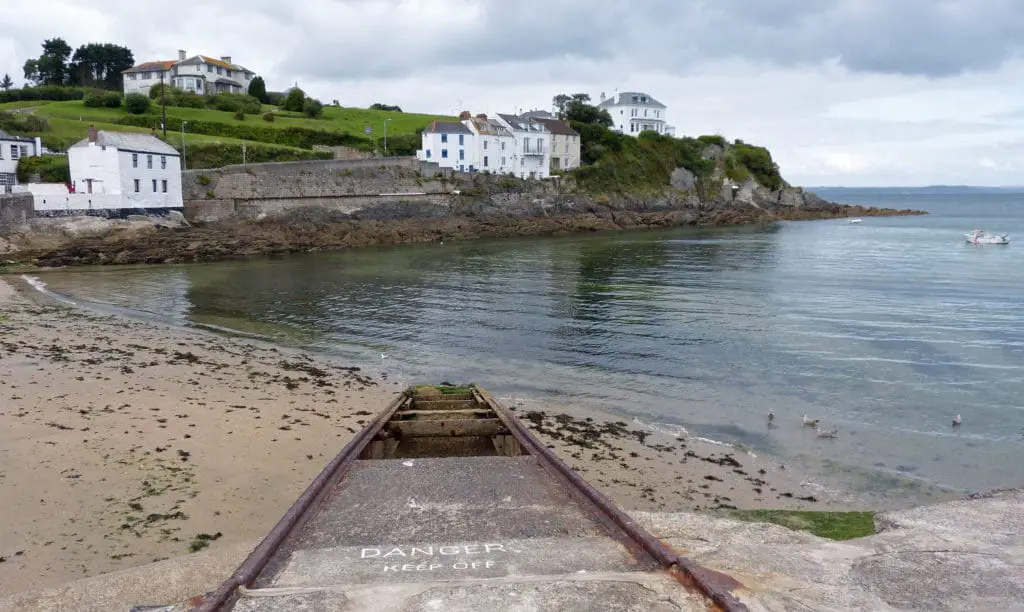 #12 Visit Portloe Beach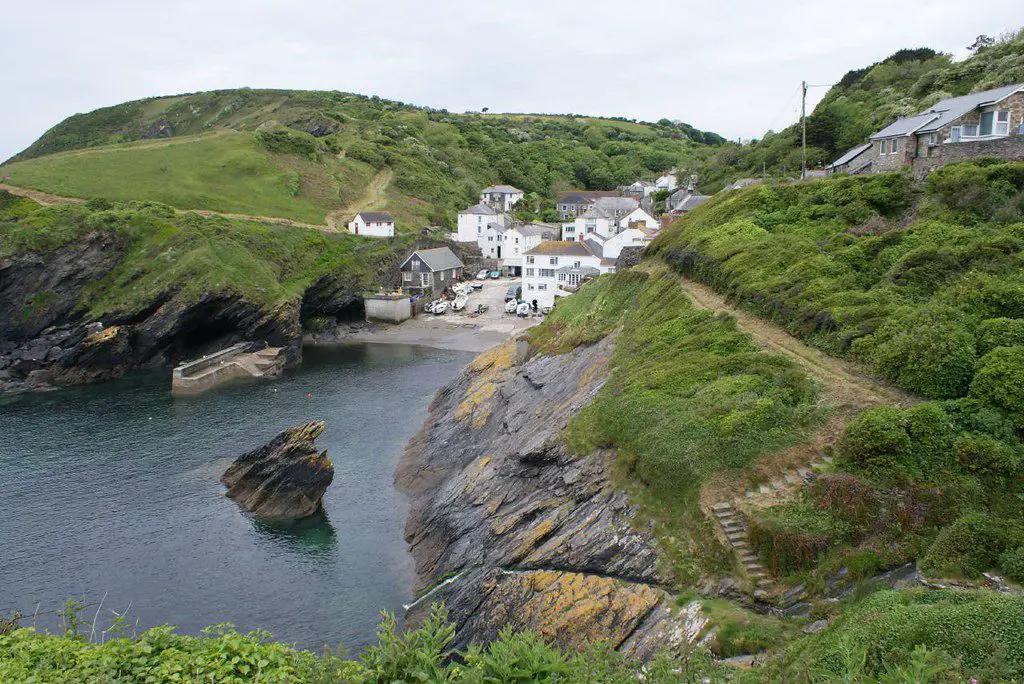 Though technically not in Mevagissey, Portloe Beach is a gem worth the side trip. You will love it, and your dogs, too. The unspoiled Portloe harbour turns into a sheltered sandy cove as the tide ebbs, creating a genuine hideaway.
You can swim in the pristine water or enjoy a peaceful stroll on the sandy coast. If you want to explore more, ramble through the cliff tops to Nare Head, past a restored Cold War Nuclear Bunker and a breathtaking view of the Whelps Reef.
Distance from Mevagissey: 26-minute drive (10.6 miles)
Golf Courses Near Mevagissey
This is definitely one for the teens and adults to enjoy together. Cornwall has some amazing golf courses with panoramic views of the cornish countryside and stunning coastline. The two closest golf clubs to Mevagissey are:
#13 Porthpean Golf Club
This gold course is suitable for all abilities. The front 9 is set in parkland whereas the back 9 has stunning views out to sea. Clubhouse facilities are open to everyone where you can enjoy a bar meal or a coffee.
Distance from Mevagissey: 4.5 miles
Opening Times: 8:00am -7:00pm 7 days per week
Admission: Prices start at the basic package for a 9 holes game at Adult £15 | Junior £8 with the option to upgrade to 18 holes. Trollies, buggies, and clubs can be hired at an additional fee.
Website: Porthpean Golf Club
#14 St Austell Golf Club
St Austell golf club is the perfect place for a day in the elements. Visitors can enjoy a meal or a drink in the bar or restaurant.
Distance from Mevagissey: 5.2 miles
Opening Times: 9:00am – 5:30pm every day
Admission: Admission varies by season but starts at £15 for 9 holes in low season and £25 in high season. 5, 7, and 14-day passes are also available.
Website: St Austell Golf Club
View more things to do in St Austell with Kids here
View the best crazy golf courses in Cornwall here
Where to eat in Mevagissey with kids
Best Takeaways
The Fisherman's Chippy
The Cornish Bakery
Best Mevagissey Restaurants and Cafes
Harbour Tavern
The Little Bay Cafe
She Sells Mevagissey
Best places to stay in Mevagissey with kids
Cottages to Rent in Mevagissey
Holidaycottages.co.uk have a good range of family-friendly cottages in Mevagissey. Accommodation can often be hard to come by, especially in high season, so make sure you book in advance.
Choices range from the Quarterdeck Apartment (3 bedrooms/5 guests) right in the centre of Mevagissey to traditional cottages such as The Old Barbers (4 guests/2 bedrooms) and Mevagissey Quayside cottage (4 guests/2 bedrooms) to Treleaven Farmhouse which sleeps up to 18 guests and has 9 bedrooms/bathrooms and a solar outdoor heated swimming pool.
More Things to do in Cornwall
If you're looking for things to do in other towns and villages around Cornwall, you may find these posts helpful:
Things to do in Truro with kids
Things to do in Newquay with Kids
Things to do in St Austell with Kids
Things to do in Hayle with kids
Best of Cornwall with kids…
For more help on planning the perfect trip to Cornwall with kids, visit our Cornwall Travel Planning Guide here.
To transport yourself to Mevagissey right now, why not look at the live Webcam? Click here to view the Mevagissey Webcam >>>
View more things to do on the south coast of Cornwall here >>>