As one of the top family destinations in the UK, Cornwall offers an immense range of things to do while on holiday with a family. Backed with its picturesque villages, spectacular seascapes, stunning beaches, charming gardens and parks, and unique architecture and sculptures, all provide exceptional scenery during a family day out. One of the best things to do while enjoying the panoramic view is to play crazy golf in Cornwall as a family.
Crazy golf is a must while holidaying with the family in Cornwall. You can find many crazy golf courses scattered all over the county. Here is a list of the best Crazy Golf Cornwall has to offer.
This post may contain affiliate links, which means I may receive a commission, at no extra cost to you, if you make a purchase through a link. Please see my full disclosure for further information.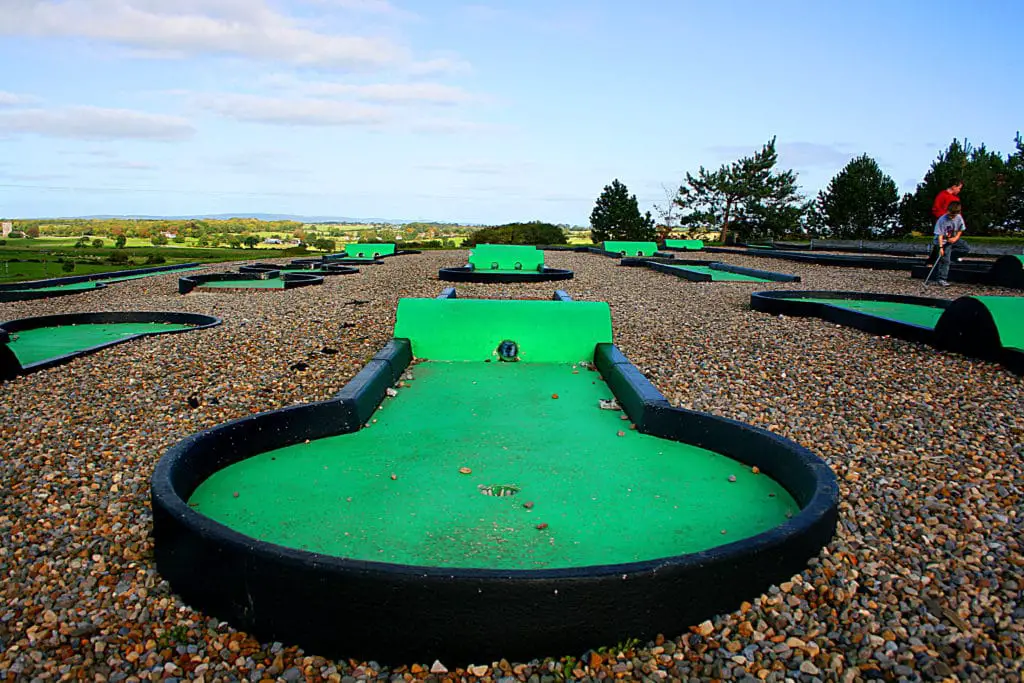 Cornwall Crazy Golf Map
#1 Cornwall Football Golf, St Austell
Location | Trenowah Rd, Saint Austell, PL25 3GD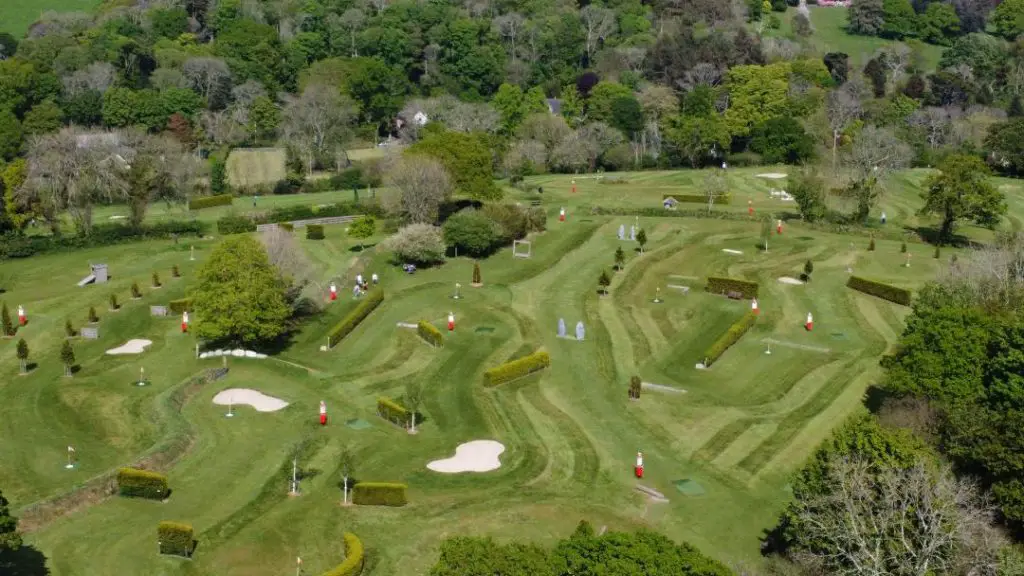 Rated as the UK's first and biggest football golf park, there are two crazy golf courses to choose from depending on your abilities and is suitable for kids from age 5. Those who prefer easy and fun obstacles on the ground can choose Parkland. Hillside can provide challenging slopes for families with older children.
What is interesting about this crazy golf course is instead of using the club, you will have to use your foot to kick the provided football into the hole! The course has well-kept and stunning surroundings besides an on-site clubhouse serving snacks and drinks, toilets and plenty of parking.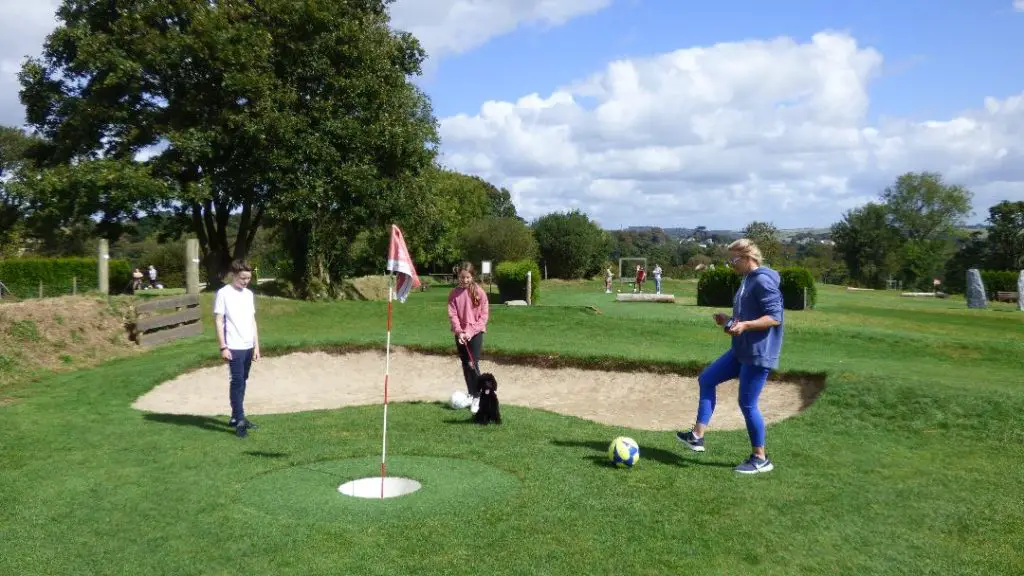 Holes | 18 Holes and Unlimited
Website | cornwallfootballgolf
View more things to do in St Austell for families here
#2 Mini-Golf, Holywell Bay Golf Club, Newquay
Location | Holywell, Newquay, TR8 5PW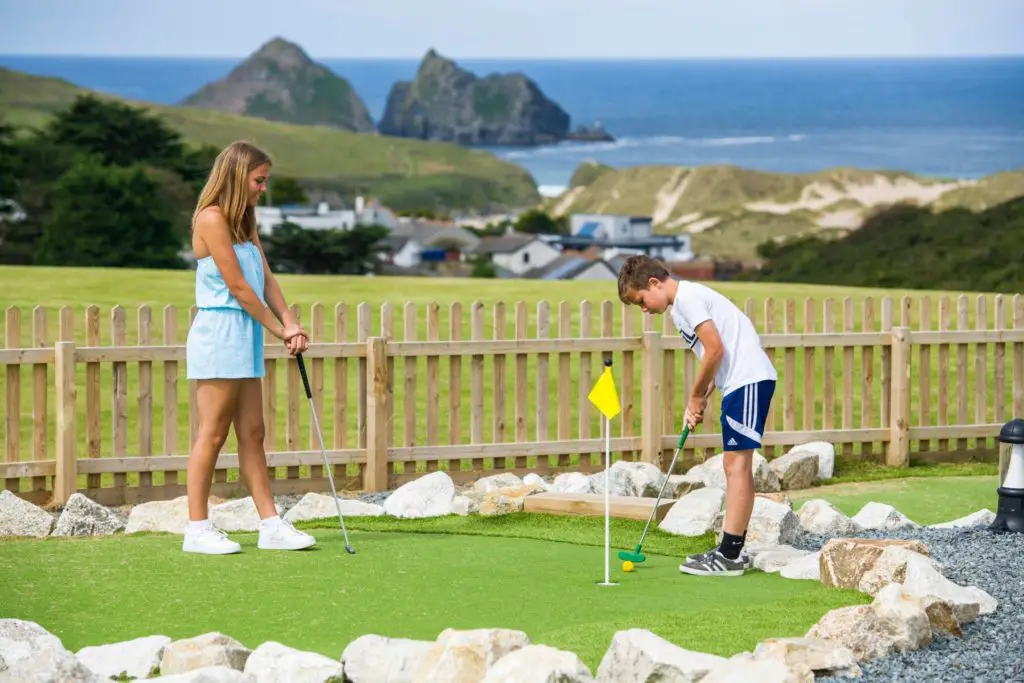 If you are looking for a competitive and challenging activity for the family equipped with the hired golf clubs, golf balls and score sheets, look no further than this mini-golf! Newquay has a selection of crazy golf courses to choose from, and this one is the best regarding conquering obstacles, tricky shots and practising perfect putts on the mini-greens.
You can enjoy the panoramic landscape and breathtaking coastal view overlooking Holywell Bay while dine-in at Woody's Bar and Restaurant, which is available on-site.
Website | holywellbaygolf
View more attractions in Newquay for families here
#3 Trenance Crazy Golf, Newquay
Location | Trenance Leisure Park, Newquay, TR7 2LZ
Without a doubt, Trenance Crazy Golf Newquay is one of the best crazy golf courses for families! Nestled in a well-kept and gorgeous landscaped garden within Trenance Leisure Park, this lovely crazy golf course has many different levels with quite large and long greens and is perfect for a family of all ages.
You will find numerous activities to keep your little ones occupied, such as a free play park with swings and slides, a miniature railway, Newquay Zoo, Waterworld Leisure Centre, a café serving coffee and ice cream, and a beautiful rose garden, a boating lake, and many more. 
Holes | 18 Holes
#4 Porthminster Beach Putting Green, St Ives
Location | Warren, St Ives, TR26 2EB
Set in a captivating family beach called Porthminster Beach, this putting green is considered one of the best St Ives crazy golf for families! With a tranquil setting, continental vibe, stunning sea view, beautiful soft sand, and other beyond-average facilities on-site such as a restaurant, café, toilets, watersports, shops, and many more, you will enjoy your family day out at this crazy golf.
Cornwall has a great selection of crazy golf courses, but this place is one of the best in terms of remarkable views and facilities! Not to mention that this place has been awarded the Prestigious Blue Flag Award as one of the best beaches in the UK.
Holes | 18 Holes
Website | porthminstercafe
#5 Penwith Pitch & Putt
Location | St Erth, Hayle, TR27 6HJ
Although this crazy golf course is not landscaped or surrounded by beautiful gardens or great scenery; however, it is one of the best places for a family to enjoy crazy golf. Hayle has several crazy golf courses, but this hidden gem deserves to be on this list due to its fun factor!
Suitable for all ages and abilities, each hole has different obstacles and difficulties that offer a fun and challenging game for the whole family. In addition to that, there is disabled access, an outdoor play area and baby changing units for your little ones.
Their tearoom called Tee Time offers a wide variety of locally baked cakes besides freshly brewed coffee, tea, and hot chocolate.
Holes | 18 Holes
Website | penwithpitchandputt
#6 Rosewarne Manor Pitch & Putt, Hayle
Location | Gwinear Road, Hayle, TR27 5JQ
The award-winning family restaurant, which is very popular for hosting numerous events and celebrations, provides a place within its beautiful garden for families to play crazy golf. Cornwall offers a huge range of crazy golf courses, but this place is not one to be missed!
Your family will have so much fun at this crazy golf course with a wonderful atmosphere and a reasonable price. What more can you ask if you can enjoy the superb food prepared by award-winning chefs at their large garden with patio ala al fresco dining after spending a great time playing the crazy golf?
Website | rosewarnemanor
View more things to do in Hayle + Nearby here
#7 Swanpool Beach Leisure Complex, Falmouth
Location | Swanpool Beach, Falmouth, TR11 5BG
When you visit Falmouth, a trip to Swanpool Beach is a must for family days out. Cornwall is packed with many fascinating activities for families, and this place is one of them!
After enjoying an entertaining and challenging crazy golf course that is suitable for the whole family, you can wander along the nearby nature reserve that is a habitat to over 100 species of birds and mammals. Kayak hire, watersports, and a fun bouncer to keep your kids entertained are also available on-site!
Holes | 18 Holes
#8 Kidzworld, St Austell
Location | Par Moor Road, St Austell, PL25 3RP
Visiting Kidzworld Adventure Play will make you acknowledge that this centre is one of the best places that offer a wide range of family fun and one of the best things to do in St Austell. Cornwall has many places that offer a fun activities for families; however, this centre provides a great range of fun activities at one-stop!
From a small-ball pool for tiny babies to drop slides, a fun jungle-themed mini-golf course which is suitable for all ages, roller skating, trampolines, a games zone, a canon area, and many more. Not to mention that there is a competition to be won for the mini-golf!
Holes | 12 Holes
Website | kidzworldcornwall
#9 Flambards, Helston
Location | Clodgey Lane, Helston, TR13 0QA
Flambards, Helston is another one-stop centre that offers an immense range of fun activities and family attractions. Cornwall offers numerous family attractions, and this theme park is one of the best!
From a pre-historic landscaped mini-golf course to the world-class attractions such as Victorian Village and Britain in the Blitz, to the fun family rides such as Ferdi's Funland, Jurassic Journey, and Pirate Ship or even the amazing rides for thrill-seekers such as Hornet Rollercoaster, SkyRaker and Space Race, this place has everything you need for everyone! Flambards is one of the best theme parks in Cornwall for families.
Website | flambards
#10 Padstow Mini Golf
Location | North Quay, Padstow, PL28 8AF
One of the best things to do with families while in Padstow is heading to the Greens of Padstow to play crazy golf! Padstow is known for its food and drinks culture. Still, surprisingly this well-kept mini-golf course within a restaurant's secret garden has a stunning panoramic view of the harbour and camel estuary.
The mini-golf course is decorated with unique sculptures and specimen planting to make your game even more joyful and memorable.
Holes | 18 Holes
Website | greenspadstow
#11 Cornwall Gold, Redruth
Location | New Portreath Road, Nr Redruth, TR16 4HN
Nestled on 18 acres of the beautiful landscape that used to be a traditional mining district, you will find a perfect place to play crazy golf. Cornwall has the biggest jewellery showroom in the UK that creates a piece of unique jewellery from Tolgus Tin and mixes with silver and gold. Somehow this place has a traditional crazy golf course which presents different challenges at each hole!
There are so many activities available for families, such as watching the jewellery designer create their masterpiece by hand, learning the process of tin streaming at Tolgus Mill or enjoying the other fun and creative activities available for the family, such as creating and painting pottery, making a teddy bear and many more. For more things to do in Redruth, take a look at the best mining heritage sites in Cornwall here.
Holes | 9Holes
Website | cornwall-gold
#12 Gwinear Pitch and Putt, Hayle
Location | Gwinear, Hayle, TR27 5HE
If you wonder where you can find a crazy golf course perfect for beginners, golfers, non-golfers, and even those who just want to have fun instead of a serious game, Gwinear Pitch and Putt is the location for this family day out. Cornwall has many crazy golf courses for families, and this wonderful crazy golf course set in charming Cornish countryside has to be on this list due to several factors!
With its fun and quite challenging course packed with defined tees, created bunkers, ponds, and fairways are suitable for adults and children of all ages. besides being a dog-friendly place, it has disabled access, toilets, a free car park, and a clubhouse that offers an amazing vegan food menu!
Holes | 9 Holes
Website | gwinear-golf-pitch-and-putt
#13 Bossiney, Tintagel
Location | Bossiney Lodge, Tintagel, Pl34 0AY
Situated in a nice and quiet location with some sloping pitches alongside Bossiney Tea Room, this crazy golf course provides fun and challenging activities for all the family.
This lovely little gem with Bougainvillea plants and plenty of outside seating offers an authentic Cornish Cream Tea and a huge selection of great food while playing or even after spending time at the course. Not to mention that this place is dog friendly, and plenty of free parking is available on-site!
Holes | 9 Holes
#14 Bude Haven Crazy Golf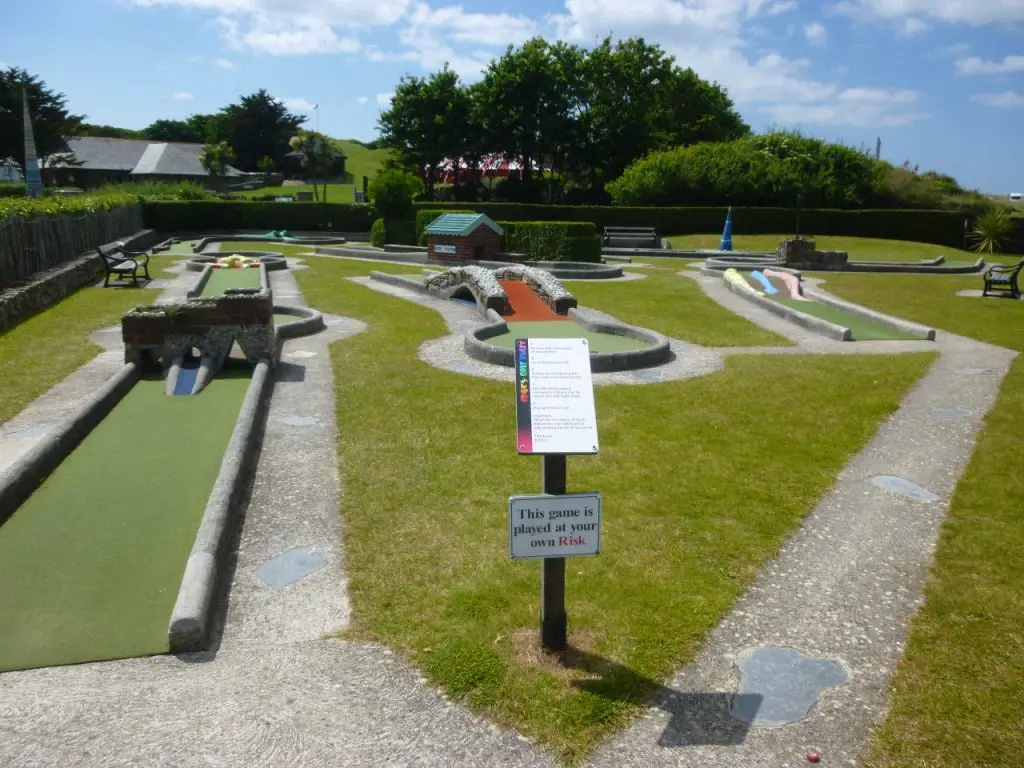 Location | Leven Terrace, Bude, EX23 8LA
If you intend to have fun at such a reasonable price by playing crazy golf, Bude Haven Crazy Golf is definitely worth your visit! Situated in Budehaven Recreation Ground, this crazy golf course provides great fun and easily accessible from the beach and high street.
There's also a very nice, well-run cafe, with a comprehensive menu which caters for all tastes and preferences is one of the main attractions as well as other great variety of outdoor and indoor facilities such as tennis, table tennis, squash, putting and bowls, all available at an affordable price.
Website | budehavenrec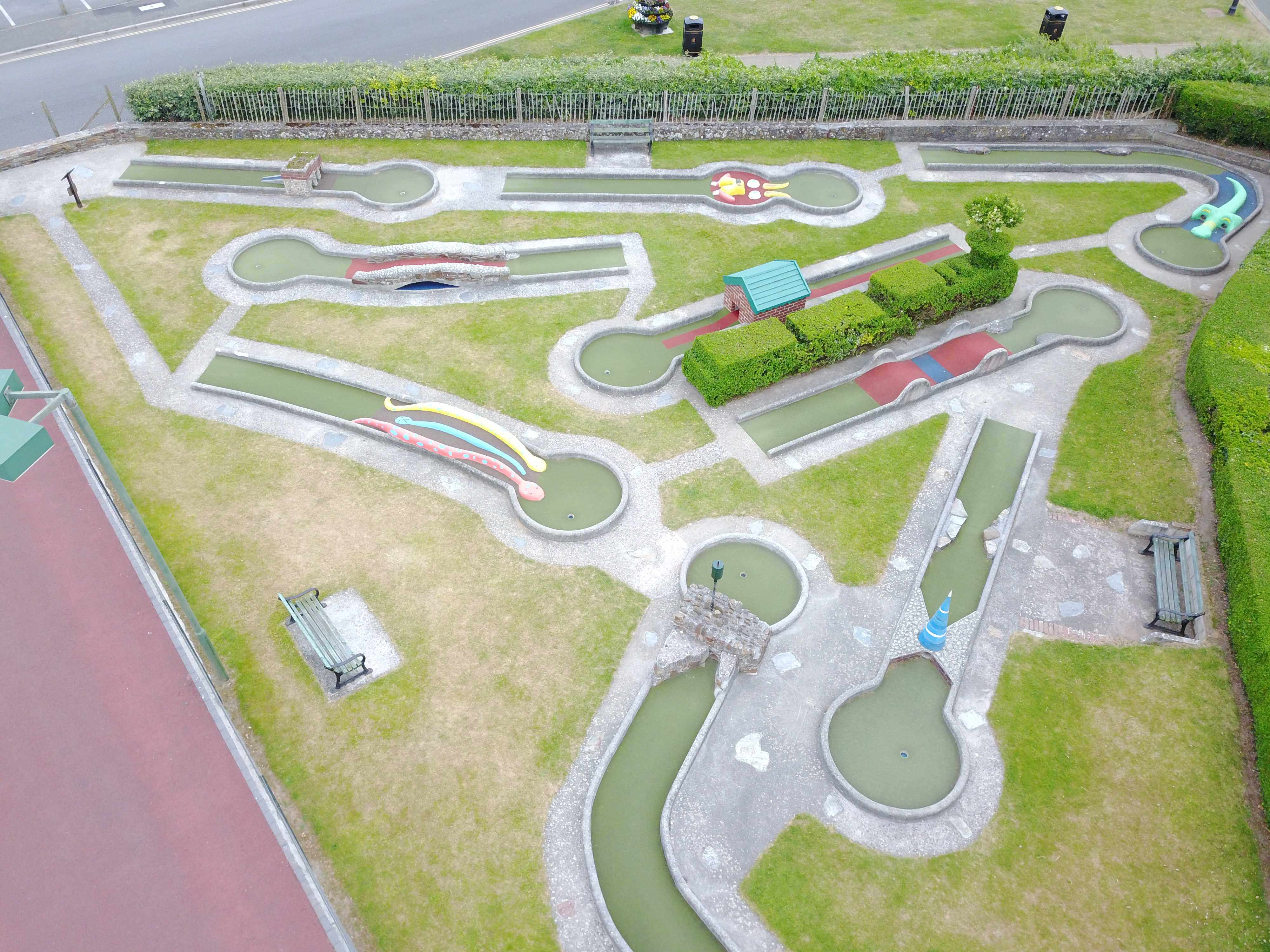 Popular Posts
Best Family Beaches in Cornwall
Things to do in Padstow with Kids
Things to do in Mevagissey with Kids