Port Isaac is a small fishing village, but it is a larger-than-life TV star among Cornish destinations. It is, after all, the real-life Portwenn of the hit series Doc Martin. Some tourists arrive here curious about the fictional town from the show. Most end up falling in love with the real deal. Who can blame them? With its cobbled alleyways, white-washed cottages, and a bustling medieval harbour, Port Isaac is picture-perfect.
But the village has much more to offer than just stunning sceneries. Think of fascinating history, colourful culture, and phenomenal cuisine. And it's not only for solo travellers and couples but for the entire family as well. Yes, kids will definitely love it here.
This post may contain affiliate links, which means I may receive a commission, at no extra cost to you, if you make a purchase through a link. Please see my full disclosure for further information.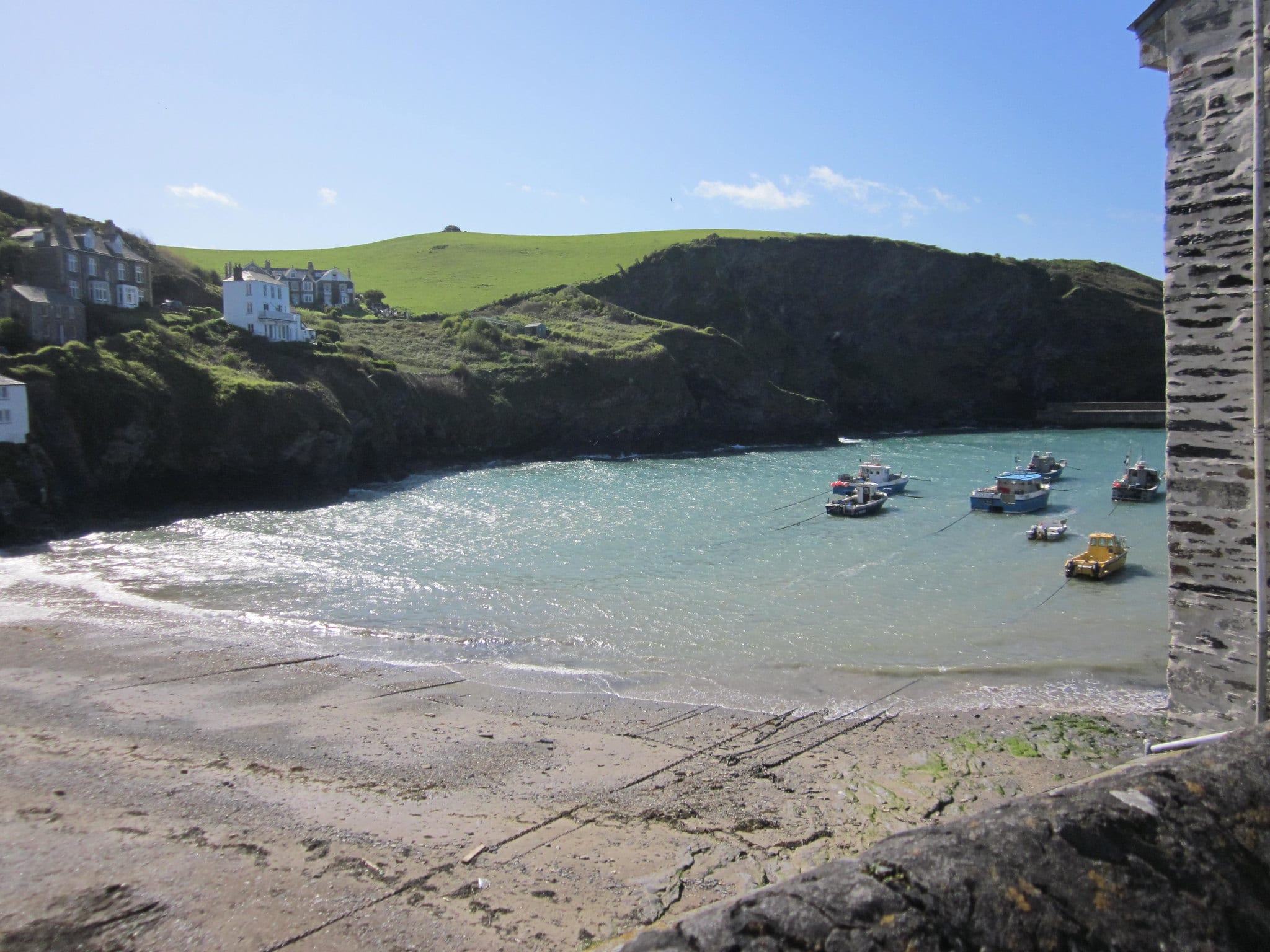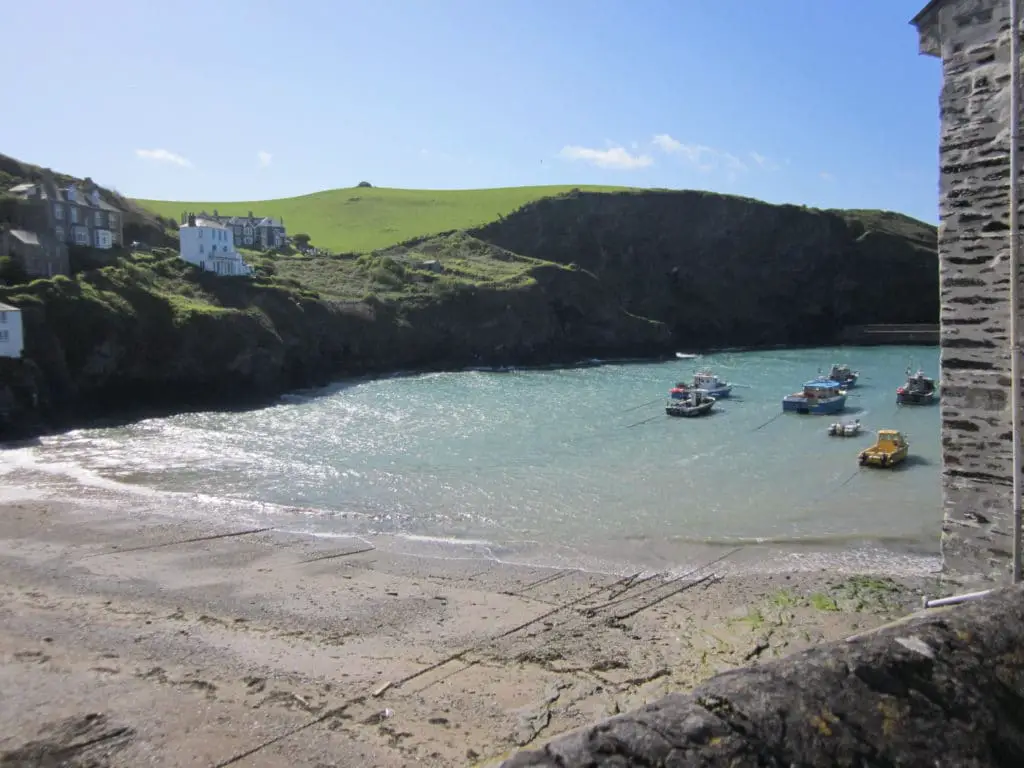 Things to do in Port Isaac with Kids
#1 Wander around the harbour
A hodge-podge of cafes, pubs, shops, tea rooms, and flower-fronted cottages greets you as you descend the cliffside thoroughfare going to the vibrant village harbour. While you're at it, look for Squeezy Belly Alley, once dubbed the world's narrowest street.
Want to witness Port Isaac fishing the traditional way? Watch fisherfolks bring their catch of crabs, fish, and lobsters at the Platt.
Buy Cornish pasty at a bakeshop and eat it by the slipway as you enjoy the stunning sea views.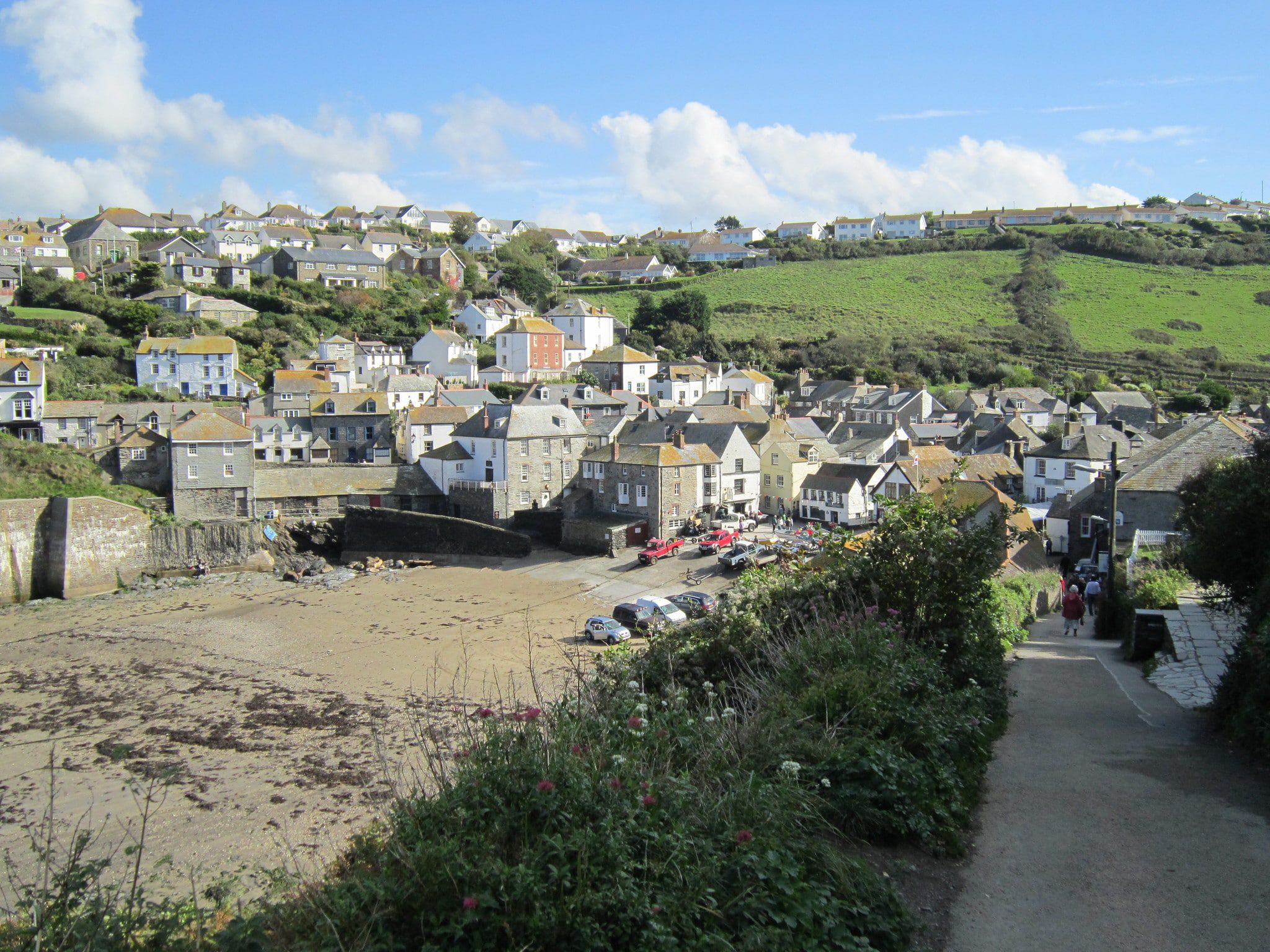 #2 Listen to the music of the sea
We don't mean sirens, but the world-famous Port Isaac Fisherman's Friends – the village's homegrown talent of shanty singers. The group combines traditional songs of the sea with enthralling folk music and a bawdy sense of humour. When in Port Isaac, they perform for free at the Platt.
Warning: the songs could be a little lewd, but it's all in the spirit of good fun. Bring warm clothes as the sea breeze could get chilly at night.
Admission: Free but they collect charity donations
Website: thefishermansfriends.com
#3 A-Treasure Hunting we will go
One of the best things to do in Port Isaac with kids is to go on a treasure hunt. Your adventure starts at the car park, then wounds around an exciting walking trail of steep hills and narrow dirt roads into the harbour and back.
Look for hints in old buildings and monuments for a chance to win a real hidden treasure. Don't worry about getting stuck on a mystery; a mobile text service will give you clues.
Opening Times: Monday – Friday, 9:00am – 17:30pm
Admission: £9.99 per trail, good for a group of 4 to 5 people
Website: treasuretrails.co.uk
#4 Learn a thing or two about pottery
You will find the Port Isaac Pottery workshop and gallery in the Methodist Church. Located at the foot of Roscarrock Hill overlooking the harbour, the view from the building is striking.
The Port Isaac church itself is perfect for exploration, having retained many of its 19th-century frills. In addition to pottery, you will find plenty of locally crafted arts, paintings, jewellery, children's clothing, and a photography collection detailing the chapel's history.
Opening Times: Check the website for updated times.
Admission: Free
Website: portisaacpottery.co.uk
#5 Walk the steps of Doc Martin
A trip to Port Isaac, Cornwall's TV star, is incomplete without exploring the scenes behind the series Doc Martin. Visit the locations you see in the show: Mrs Tishells' pharmacy, Louisa's school, and Doc's home and surgery.
Doc Martin's residence is, in fact, Fern Cottage, a self-catering, two-bedroom holiday house, where you can stay the night. But if you are short on time, at least have your photo taken outside the cottage.
View the tour on Viator here >>>
#6 Look for the freshest harvest at Trevathan Farm
Get on a tractor ride and escape to a rural paradise, where you can spend the entire day looking for the biggest, juiciest and ripest strawberries.
Let your kids experience authentic farm life as they help collect eggs, feed cute animals, and see the lambs and calves. You can also fish for trout on the lake or pick seasonal vegetables.
Don't forget to try the farm's locally made jams, pickles, cheese, clotted cream, and a ton of other goodies.
Opening Times: Tuesday – Saturday 9 am-4 pm
Admission: FREE – Pay for what you pick
Website: trevathanfarm.com
#7 Go on a coast adventure to Port Gaverne
Located half a mile east of Port Isaac, Port Gaverne is a tiny hamlet that features a sheltered cove ideal for swimming, kayaking, and coasteering. The cliff-top trail from Port Isaac to Port Gaverne is a little hilly and challenging, but the spectacular views are all worth the effort. During low tide, Port Gaverne's numerous rockpools and crannies are perfect for crabbing.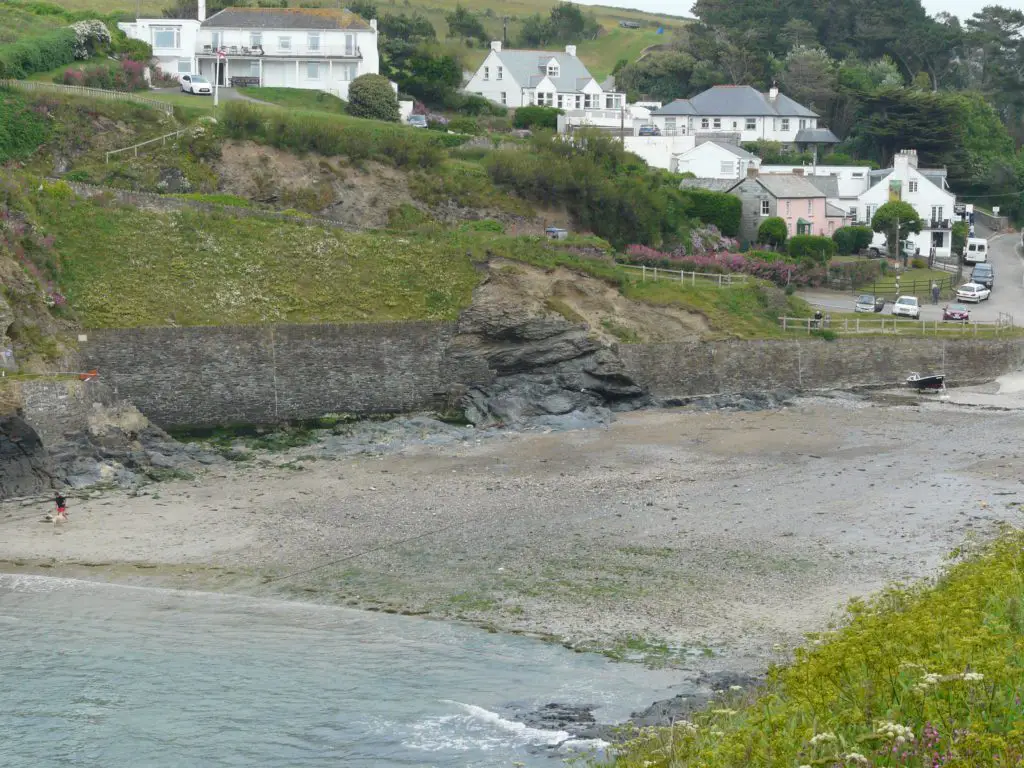 #8 Embrace arts and spirituality at St. Endellion
The Church of St. Endellion is a 15th-century structure made of granite moor stone. Its wooden roofs are full of elegant carvings. The Port Isaac church hosts the celebrated St. Endellion Music Festival at Easter and in summer.
The church sponsors a year-round of activities that range from classical, jazz, and folk concerts to literary events and art exhibitions. While you're near the area, don't forget to visit the Longcross Victorian Gardens.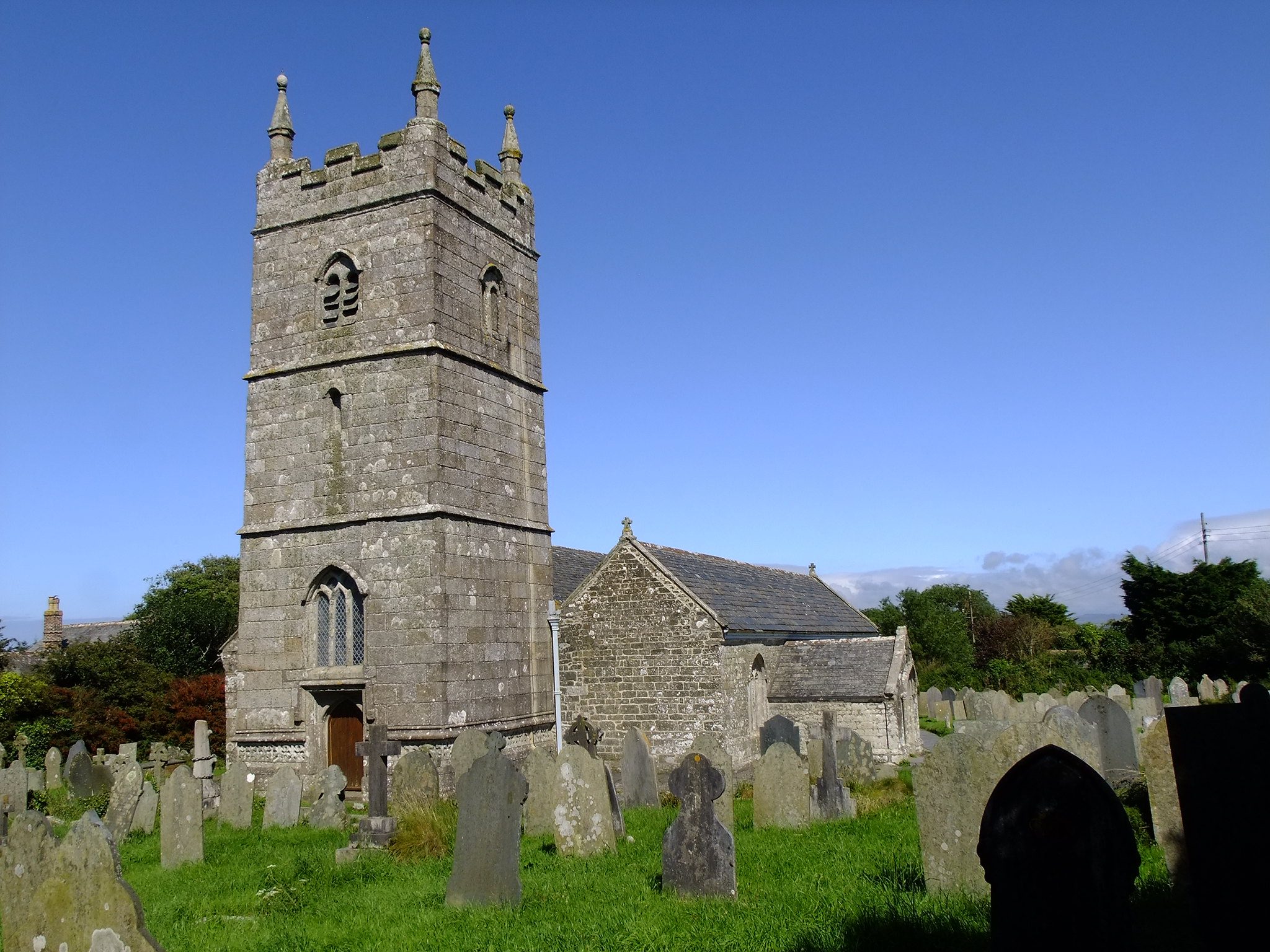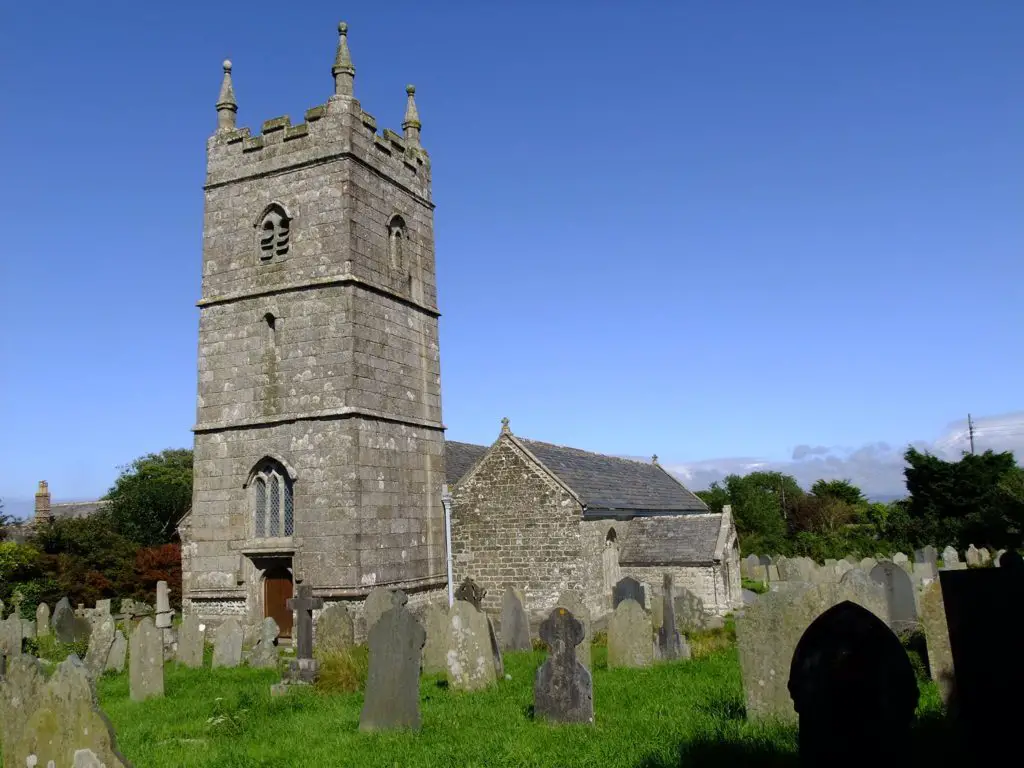 Things to do near Port Isaac with kids
#9 Take a scenic walk to Port Quin
Distance from Port Isaac: 2.8 miles via Church Hill
One of the best things to do in Port Isaac is to hike to the idyllic hamlet of Port Quin. In summer, the nearly deserted cove is a portrait of serenity with its rugged harbour, crystalline waters, and the lone Doyden Castle looming in the background.
Legend says a storm wiped out an entire shipping fleet and drowned all the men, prompting their widows to abandon the land. Today, the hamlet belongs to the National Trust. If you're feeling extra adventurous, get on a kayak or paddleboard and head from Port Quin to Port Isaac.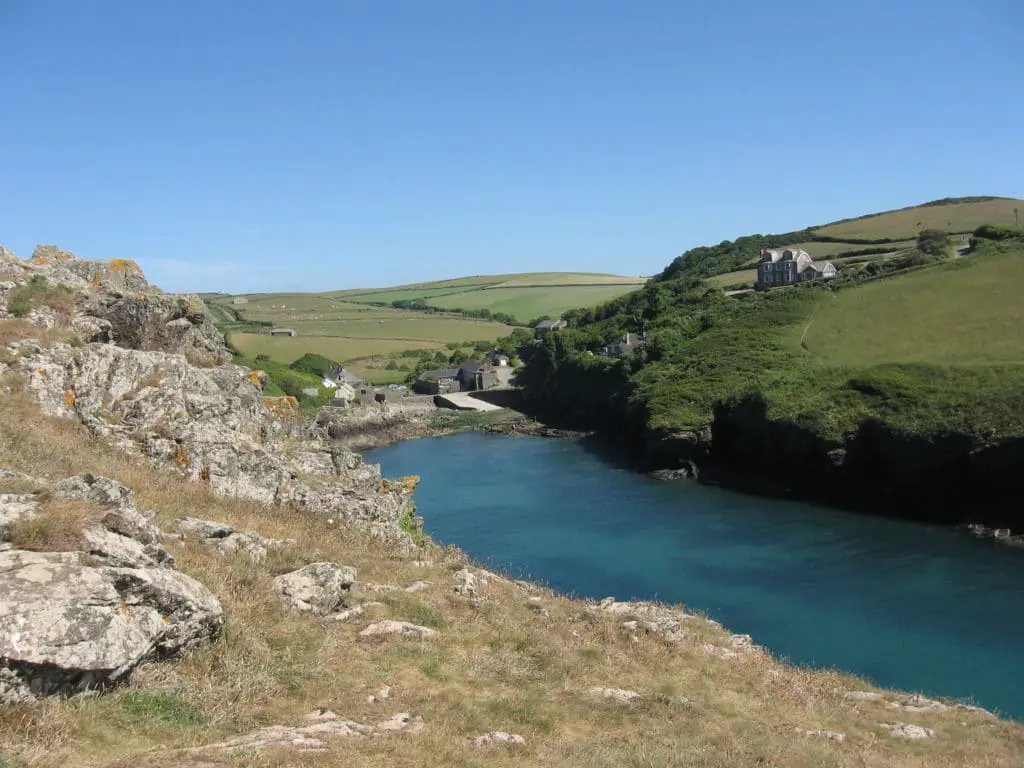 #10 Bask in the mystery of Tintagel Castle
Distance from Port Isaac: 9.4 miles
It doesn't matter whether you believe Tintagel Castle is the birthplace of King Arthur or the setting of Tristan and Iseult's love story; you can't miss a visit to this clifftop ruin.
The view is breathtakingly beautiful, and the romantic lore that permeates the area is otherworldly. Besides, it's on the list of top English Heritage Sites to visit and a respectable distance from Port Isaac.
Opening Times: Closed until early spring
Admission: Adult £16 | Child (5-17 years) £9.60
Website: english-heritage.org.uk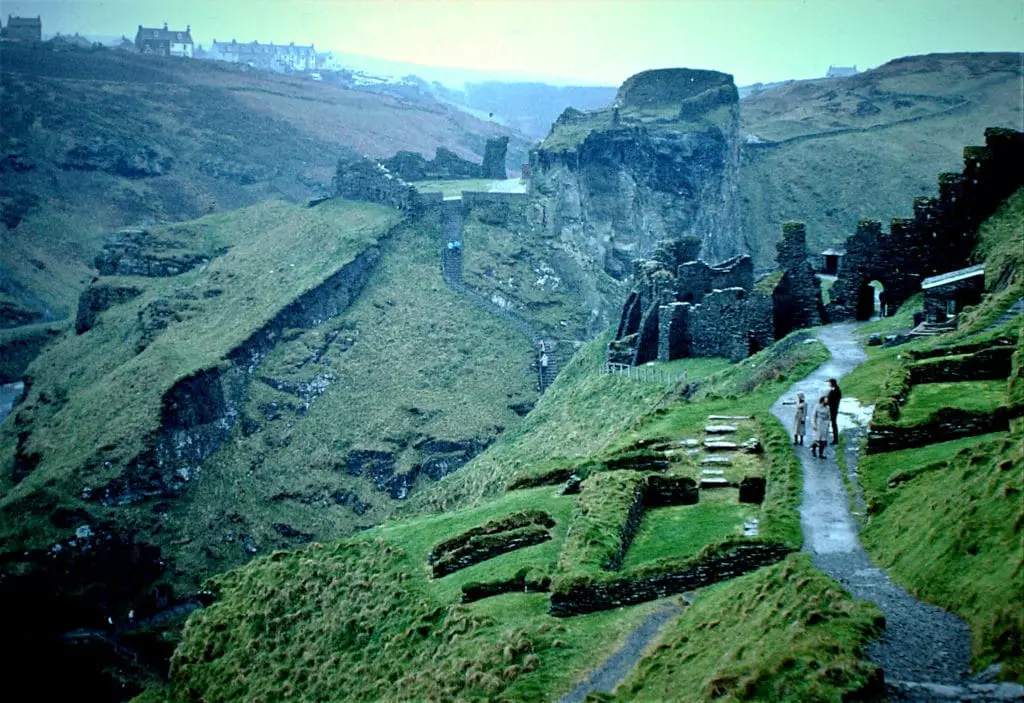 #11 Tour the Camel Trail on two-wheels
Distance from Port Isaac: 8.1 miles
If you want unobstructed access to the Cornish countryside, explore the Camel Trail on a bike. The stunning cycling route connects Padstow and Bodmin, passing through woodlands, vast moorlands, and an estuary.  Along the way, you will spot wildlife such as otters, egrets, dormice, and kingfishers.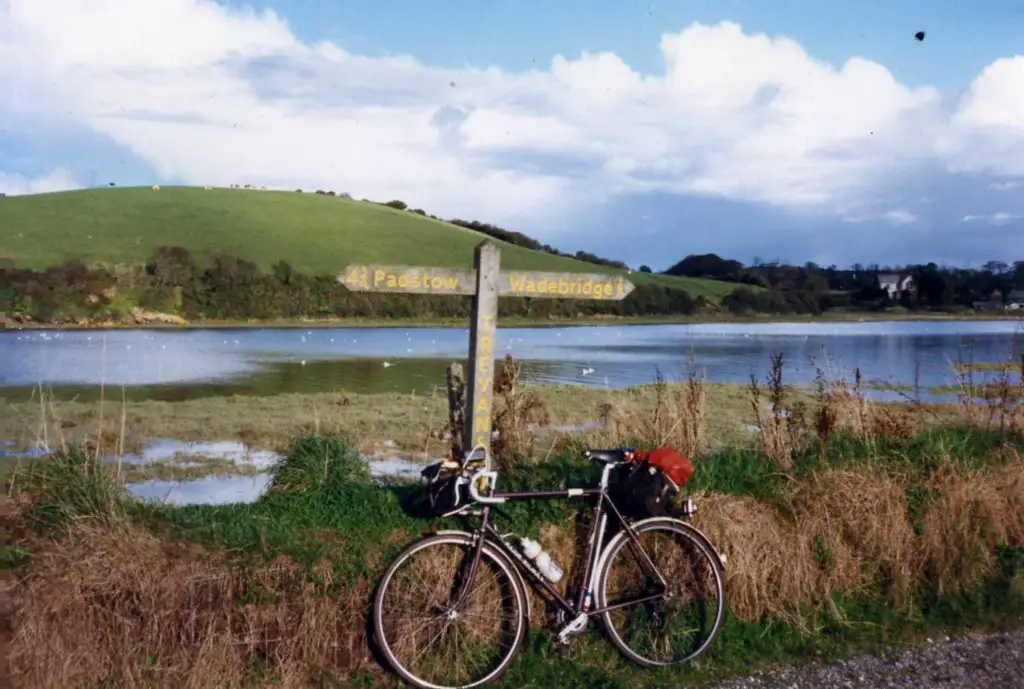 #12 Relax at Pinetum Park and Pine Lodge Gardens
Distance from Port Isaac: 24.3 miles
Thirty acres of marvellously manicured grounds, woodland trails, Japanese gardens, ponds, and lakes – this paradise is your ultimate escape to nature in St Austell. The park and gardens house 6000 varieties of plants and numerous waterfowl, ducks, and black swans.
Opening Times: Daily 10:00am – 4:00pm
Admission: Adult £14 | Child (11-15) £7.00 | Child (under 11) Free
Website: pinetumgardens.com
Best Beaches near Port Isaac to Visit with Kids
#13 Polzeath Beach
There are plenty of things to do in Port Isaac, but the village has only a pebble beach. Fortunately, it is near Polzeath Beach. With its long sweep of fine sandy coast, Polzeath Beach is a popular getaway for families.
If you like water adventure, you will love the beach even more as its waves are great for surfing or bodyboarding.
Amenities: Lifeguard service, sand chairs, cafes, pubs, dog-friendly, parking, and disabled access
#14 Daymer Bay Beach
If you are looking for someplace relatively secluded, go to Daymer Bay Beach. At low tide, the coast turns into a stretch of golden sand fringed by dunes and sandhills, while the grassy knoll of Brae Hill borders the south end of the beach. At the foot of the hill, you will find the mysterious St. Enodoc Church.
Amenities: Large car park, dog friendly, shops and cafes nearby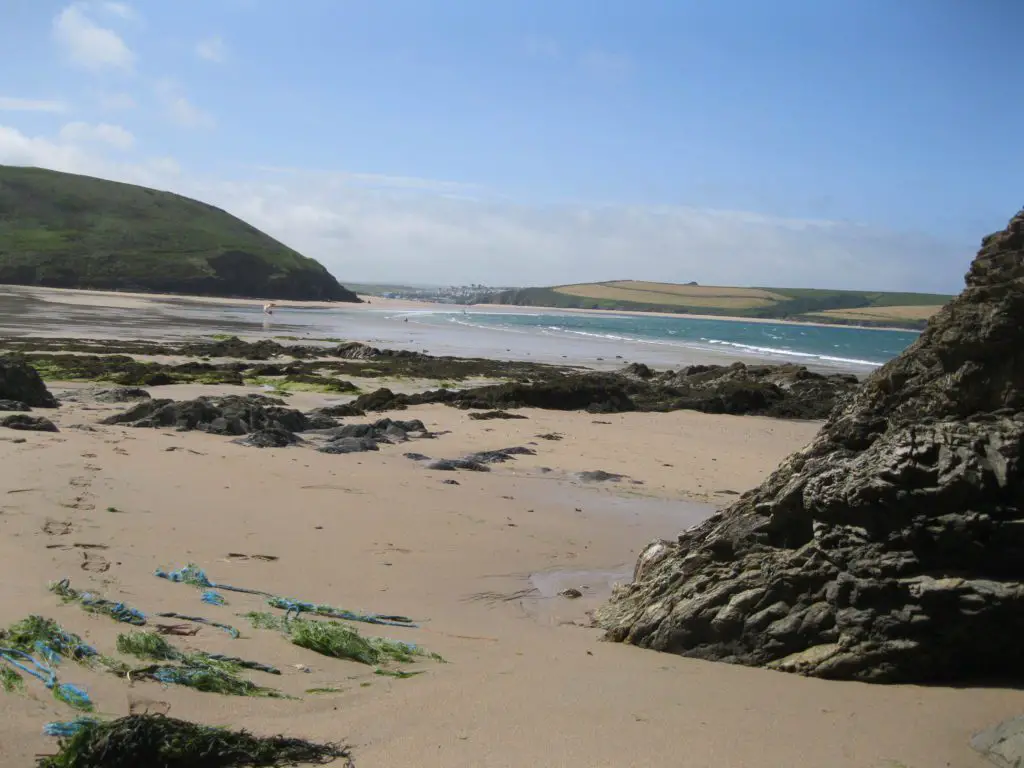 Best Places to eat in Port Isaac with kids
#15 The Angry Anchovy
Who doesn't love pizza? The Angry Anchovy is Port Isaac's only pizzeria. Its fresh ingredients come from local producers, including the fennel and anise salami on their famous Cornish Pastis pizza. One of the best things about this restaurant is it is dog friendly. And they have vegan and gluten-free pizza if you are interested.
#16 The Mote
From lobsters to bread to meat and vegetables, everything in The Mote is locally sourced, guaranteeing the tastiest and freshest ingredients. The good thing about the restaurant is they have a menu that features child-friendly meals. Does your little one want some I Don't Want That (homemade burger, chips, and salad) or Whatever (scampi, chips, garden peas)?
#17 Chapel Café
There are hundreds of fantastic things to do in Port Isaac, England, and one of them is to sample the Award Winning Fish Finger Sandwich in Chapel Café. The restaurant offers a sumptuous Cornish-style homemade breakfast and lunch. If you want some caffeine fix, try the exclusive and locally-sourced coffee from Cornwall's Olfactory Coffee Roasters.
Best Places to Stay in Port Isaac with Kids
The Port Gaverne Hotel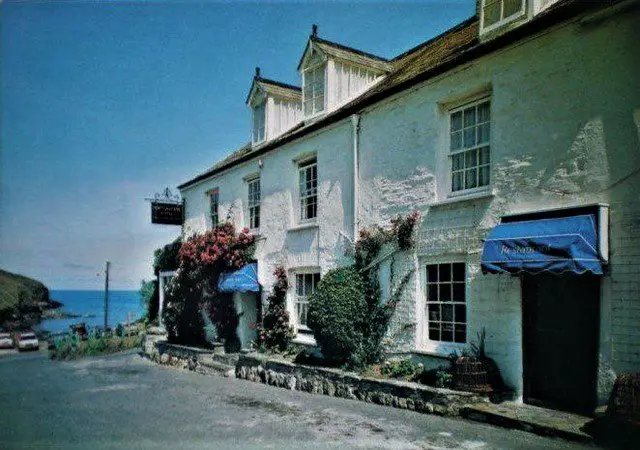 Located in the cove of Port Gaverne, just around the corner from Port Isaac, the Port Gaverne Hotel dates back to the 17th century. Rooms are very modern – some with amazing views and guests can enjoy an amazing breakfast at the on-site restaurant.
Budget | High End £££
Rating | 5*
Rooms Available | Double, Twin & Family – Garden or sea view
Cots Available? | For an extra charge
Age Restriction? | No
The Stargazy Inn
Located on the stunning south-west coast path, just 5 minutes walk from Port Isaac, the Stargazy Inn features modern rooms, amazing views and an on-site restaurant.
Budget | High Roller £££
Rating | AA 5*
Rooms Available | King, Double, Family Room, Family Suite
Cots Available? | No
Age Restriction? | No
Holiday Cottages to Rent in Port Isaac
Hotels in Port Isaac can be costly, so you may get more value for money by renting a holiday cottage whatever your group size. The huge range of cottages available means you can pick the perfect cottage for your families needs. Holidaycottages.co.uk has a huge range of cottages in Port Isaac to suit all family sizes and budgets. View the full range of cottages in Port Isaac here.
For more help on planning the perfect trip to Cornwall with kids, visit our Cornwall Travel Planning Guide here.