Eden Project Cornwall, is the perfect day out for young and old alike. By visiting, you can take your kids worldwide without leaving the UK!
From the Mediterranean countries such as Spain, Africa, Australia and Southern America to the rainforests of South America and Africa.
With space age Biomes, brilliantly designed eco-friendly play spaces, educational exhibits that are fun and engaging, weird plants, and intriguing artworks, you and the kids will enjoy everything you find on your visit.
Every member of your group will find something to enjoy that is both fun and thought-provoking. You'll be able to connect with nature in surprising ways and gain inspiration and practical tips on how to look after our beautiful planet.
Here's our complete review of visiting The Eden Project, Cornwall with kids!
This post may contain affiliate links, which means I may receive a commission, at no extra cost to you, if you make a purchase through a link. Please see my full disclosure for further information.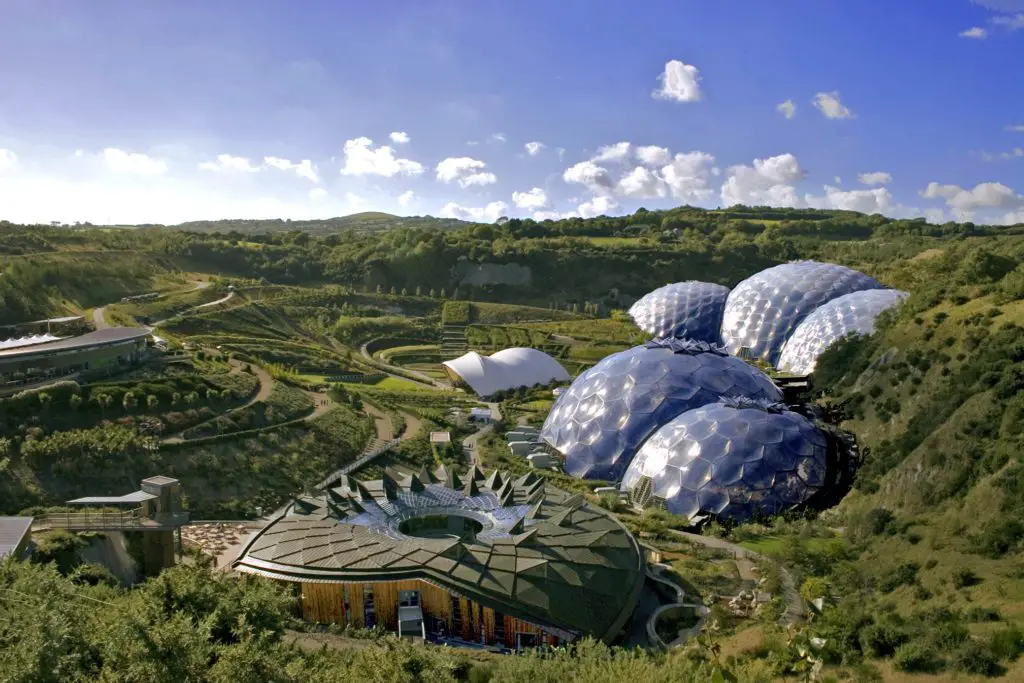 What is The Eden Project?
The Eden project is an educational charity aiming to create a movement that helps build relationships between people and the natural world. The Eden Project also aspires to demonstrate the power of working together for the shared benefit of ALL living things.
Originally a clay mine, the site now boasts a beautiful global garden showcasing plants from around the world. Two massive, covered Biomes take centre stage: hosting the world's largest indoor rainforest and the opportunity to immerse yourself in the calm fragrances of plants from Mediterranean-type climates.
Outside the Biomes, the huge crater has extensive outdoor gardens, play areas, contemporary artworks, picnic areas, allotments, and a Pollination trail. Every square inch of the Eden Project in Cornwall builds awareness of, and educates visitors on, what most of us take for granted; the planet we live on.
Eden Project Location
Eden Project PL24 2SG is close to the village of Par, off the A390 or A391 near St. Austell. It is well signposted on the main routes for miles around!
Eden Project Admission Prices
Eden Project entrance fee starts from £11 for children over five and £32.50 for adults. Concessions are available, and children under 5 go free.
Depending on the day of your visit, there may also be additional activities you can book in advance. These can include ice skating, live shows, timed activities and seasonal events. These are all clearly detailed on the website when you book.
Eden Project Locals Pass
You can access the Eden Locals Pass if you live in Devon or Cornwall. This allows unlimited access (you still need to book online, but it's free!) for a discounted rate all year round.
For children, prices start at £8, and for adults, £16.00 for the year, and passes can be purchased between April and July.
Eden Project Opening Times
Eden Project, Cornwall, is open most days from 9 am until 6 pm. Extended hours, later openings and days when closed are all advertised on the website here.
Booking online is essential to set an arrival time slot, and there is no option to pay on the day. The weather will have little impact on your visit, so do not worry about booking too soon in advance! This means you can check opening times and events before you plan your trip.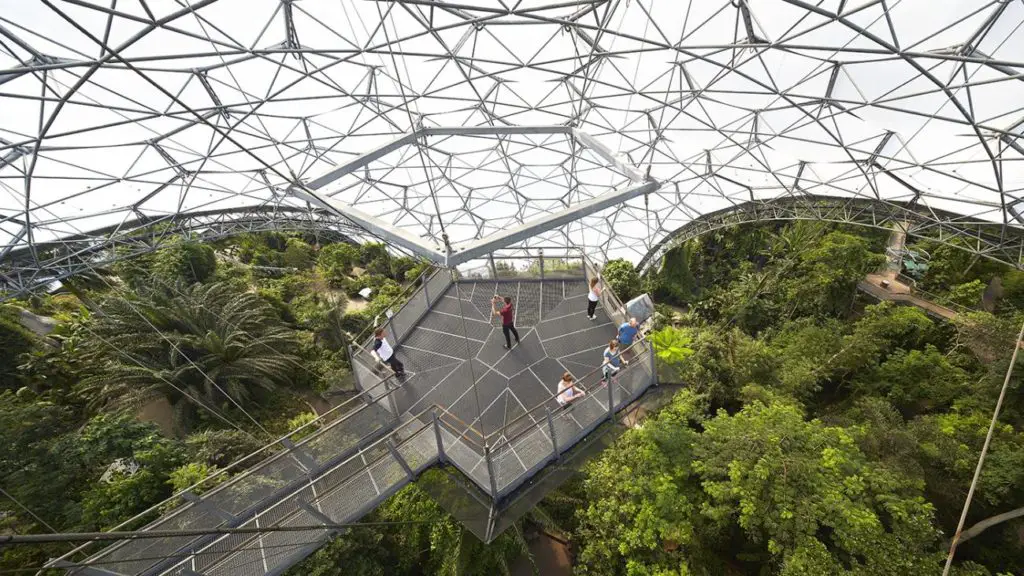 The Eden Project Cornwall Review
Here's our complete review of visiting The Eden Project with kids: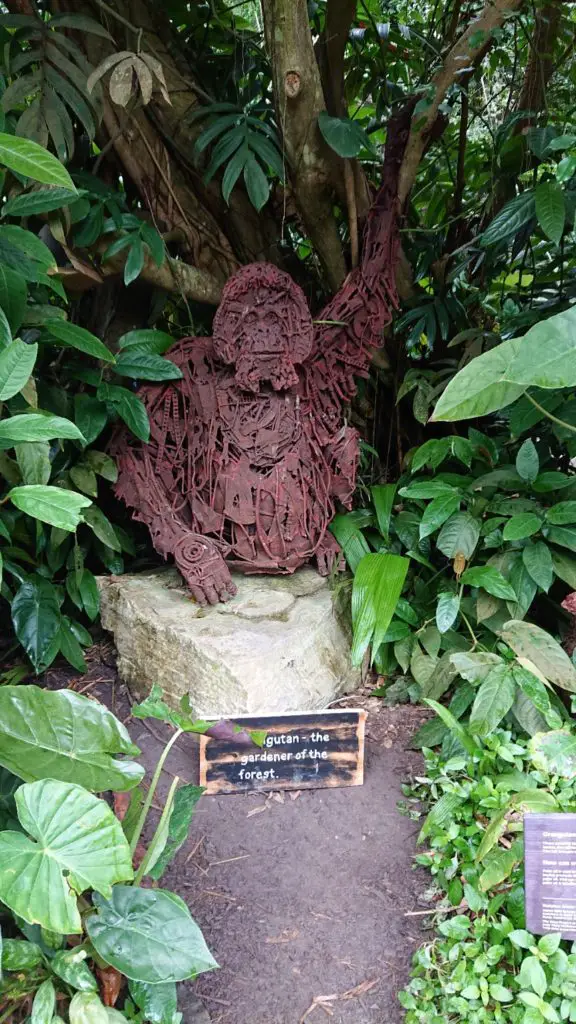 Mini-Beast Hotel And Other Play Areas
Under 10s have access to their own giant' minibeast mansion' between the Biomes and stage area. They can clamber, creep, slide and crawl through the hexagonal wooden structure. Designed to encourage 'wild play by exploring the intricate compartments, the mansion also introduces children to pollination. The ice cream and coffee shop next door to the mansion is also perfectly placed to give the adults a little break!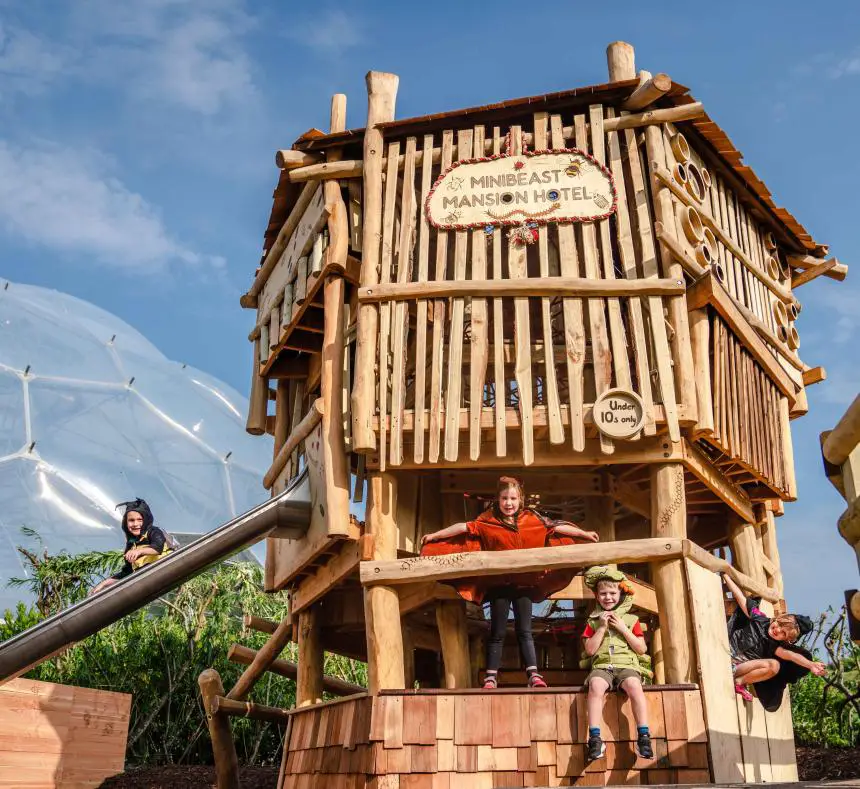 A newly created wooden play area with a slide, an open-sided house and balancing beams on the other side of the Biomes entrance. Some soft spinning discs and interactive displays are inside the Core building. And behind the Core is a sensory garden with a maze and water features.
The Core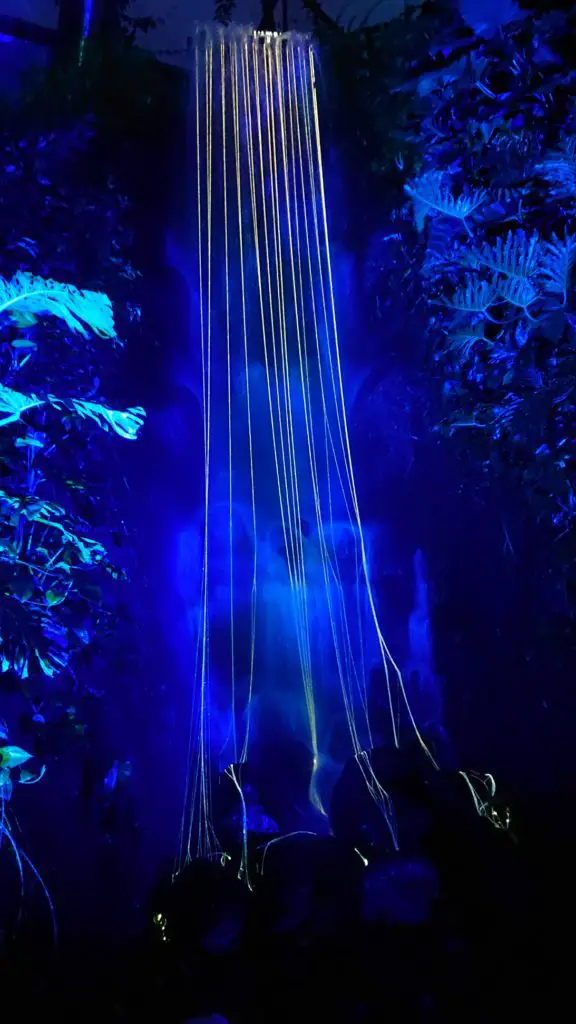 The Core houses Infinity Blue, the Seed, and displays that will show you the microscopic elements of our planet. There is also a café on the top floor, a large toilet, and baby change facilities.

Activities
Each half term Eden hosts activities designed around themes and the time of year. Recent collaborations have included the Moomins and Dennis the Menace. There are always trails to follow, problems to solve, and exhibits to explore. Interactive storytellers make their home in the Mediterranean Biome, and live shows or demonstrations take place in the Tee-Pee.
The stage area hosts a selection of live music and events during the summer months.
The Biomes are lit up after dark in a kaleidoscope of colours, accented with live music and mulled wine for the adults. An ice rink arrives in the stage area, and there is also a chance to meet Father Christmas himself! Christmastime is especially special.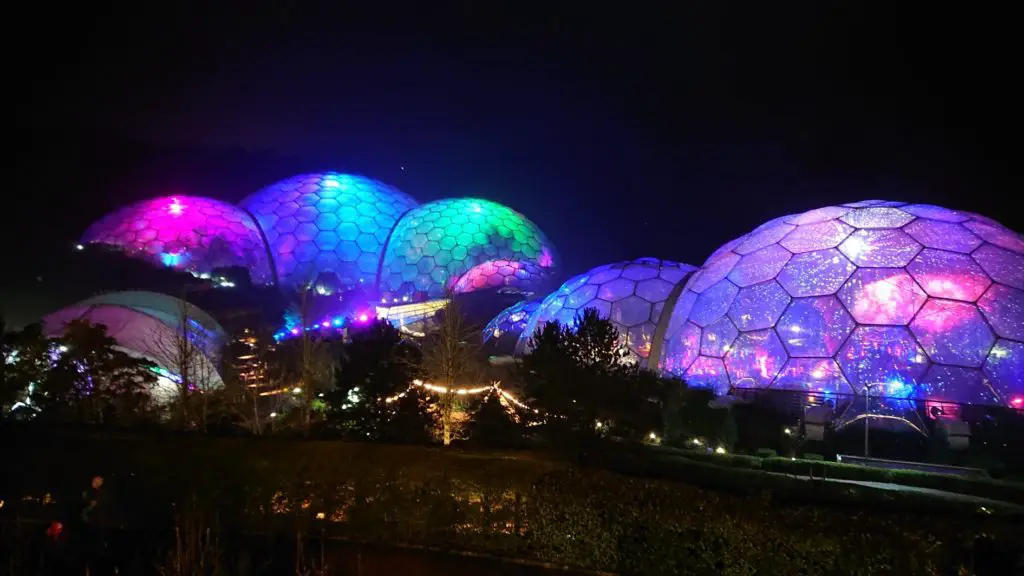 Eden Project Food
Eden Project Food is simple, freshly prepared, healthy, and very tasty. Not to mention all from sustainable sources! From sweet treats and hot drinks to pizzas and salads, you will find something to fill you up! Dietary requirements are catered for, and the staff are wonderfully helpful.
Eden Project Shop
Selling only responsibly sourced, organic, and eco-friendly products, the Eden shops are definitely worth a visit. From cuddly toys to re-useable bamboo cutlery and handmade soaps to chocolates and tea bags. Everyone will be able to find something to change a habit that benefits them and the planet. Not to mention it all being good quality, the food items taste amazing, and the educational toys!
Places to Stay Near The Eden Project, Cornwall
If you are not local, finding somewhere to stay near Eden Project Cornwall is a great idea! Not only will you be able to arrive earlier and leave later, but you won't have to worry about getting worn out from all the amazing activities you and the kids do!
There are many hotels near Eden Project Cornwall. As well as a local Premier Inn, these three options are the best and closest places to stay near Eden Project.
The official onsite glamping accommodation! offers a YHA Eden offers a unique, eco-friendly place to stay with Airstream caravans, bell tents or Landpods for a memorable night's sleep under the stars. Wild camping is also available here. Breakfast and evening meals are available, and all accommodation includes simple self-catering facilities. WiFi is available, and dogs are welcome.
View prices and availability for your dates here >>>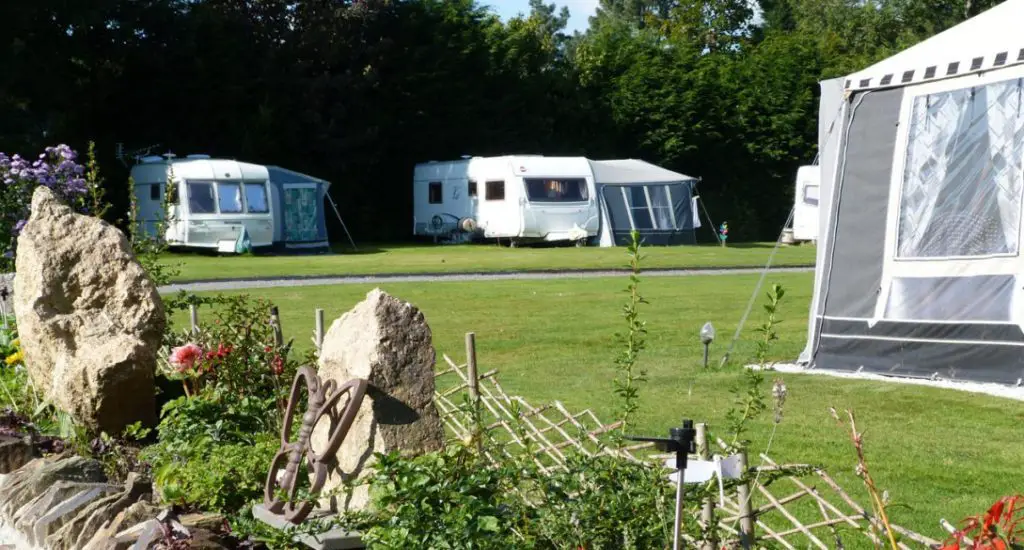 The Eden Valley campsite is a 15/20minute drive from the Eden Project, England. With well-maintained pitches and comfortable facilities, this site offers space for your tent, caravan or motorhome. There are also onsite lodges available. There is an onsite playground, lots of green spaces, and places to explore.

An 18th Century coaching inn with luxury rooms, a lovely restaurant and a Freehouse pub. It is family owned and managed with attentive staff and delightful dining. Delicious Sunday Carvery and menus to suit all tastes. Well-behaved dogs are welcome, and rooms can be adapted to meet your needs with pull-out beds and other facilities.
View prices and availability for your dates here >>>
Is The Eden Project Worth It?
100% yes!
Eden is an extraordinary day out where you can discover the natural world as you've never experienced it before. The activities put on during school holidays are really engaging. The food is great. An atmosphere of peace and tranquillity, regardless of the kids running around! Outside of school holidays, there is plenty to do on the site. You will all learn something new while enjoying the fresh air and a great location.
Search for Eden Project Reviews, and all will comment on how amazing this place is. The staff are friendly and knowledgeable. Booking and the website are easy to use. The landscaping has been done with education and aesthetics in mind, and there are plenty of places to sit while the children run off their energy!
Have you booked your visit yet?
View More Cornwall Attractions
0 shares Share Tweet Pin Eden Project Cornwall, is the perfect day out for young and old alike. By visiting, you can take your kids worldwide without leaving the UK! From the Mediterranean countries such as Spain, Africa, Australia and Southern America to the rainforests of South America and Africa. With space age Biomes, brilliantly…

As much as we love them, travelling with kids can be stressful. Sometimes the only way to take the drama out of your holiday is, well… more drama. There are many spectacular theatres in Cornwall, but none are as beautiful or as unique as the Minack Theatre. Like something out of a fairy tale, this…

This post will take you through some of the very best theme parks in Cornwall to visit with kids as well as some other action-packed and adrenaline-filled attractions in Cornwall for families for the ultimate UK family holiday. Best Theme Parks in Cornwall Map Top Theme Parks in Cornwall For Families #1 Flambards (Helston) Flambards…